It's that time of year again! Our one-of-a-kind Super B RV show is coming back to Phoenix on April 12th for 4 inspiring days. The event is packed full of meet and greets with industry influencers, factory representatives ready to answer all your RV questions, insight on new RV products and so much more. In honor of this epic bash, we got ahold of one of the event's special guests to pick their brains about their ever so desirable wanderlust lifestyle.
Joe and Kait Ruosso of We're the Russos are an inspiring duo. They've been on the road for 3 years and have chronicled their travels on their website and YouTube. Most recently, Joe published his first book Take Risks: One Couple's Journey to Quit Their Jobs and Hit the Open Road, which documents their decision process in living out their dream to travel. We caught up with the couple to talk road life, Class B travel and everything in between.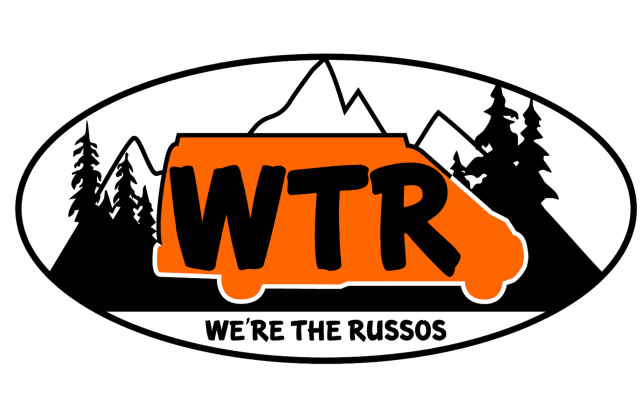 La Mesa RV: Hi Joe and Kait! Nice to meet you. What made you decide to trade your home for life on the road?
We're The Russos: We wanted to make a positive change in our lives and really live on our own terms. So in 2015, we quit our jobs and got rid of most of our possessions in effort to live our dream, which was to travel and work for ourselves.
LMRV: How many years have you been on the road? Traveling in your Class B?
WTR: We got on the road in September 2015 and moved into the van May 2017.
LMRV: Is there a particular region of the country that is your favorite?
WTR: We've enjoyed everywhere we've been but Texas, Arizona and Oregon are among our favorites.
LMRV: Where do you typically stay while road tripping?
WTR: We try to boondock on BLM or Forest Service land whenever possible. It allows us to get back to nature and get away from the hustle and bustle of city life. One of our favorite spots is in Flagstaff, Arizona where we can camp for free among the ponderosa pines.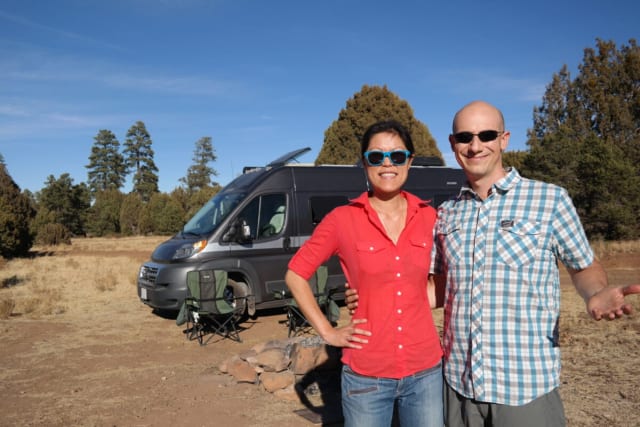 LMRV: What is it like to live out of a class B?
WTR: Living out of a Class B van is completely different from our previous Class A motorhome. The smaller size of the van allows us to get in wherever a car can. Being small and nimble has allowed us to see and do more. Imagine driving through Yosemite and pulling into a small overlook, opening the sliding door and making lunch all while having an amazing waterfall as the backdrop. We like to tell people you don't live in a van, you live out of it.
LMRV: What a dream! Why did you choose the Hymer Aktiv 2.0?
WTR: We chose our van because of the open layout in the front and fold down bed in the back. Being able to leave the bed down all the time was important because we didn't want to "convert" our bed everyday into a couch or another space. Since we prefer to boondock, the EcoTrek system with VoltStart, lithium Ion batteries and solar was the ideal setup for us.
LMRV: What's one thing that most people don't know about the Russos?
WTR: That's a tough one. We can't think of anything right now. Since we share so much of our lives, most people know quite a bit about us. Sometimes they even remind us of things we've experienced that we forgot about.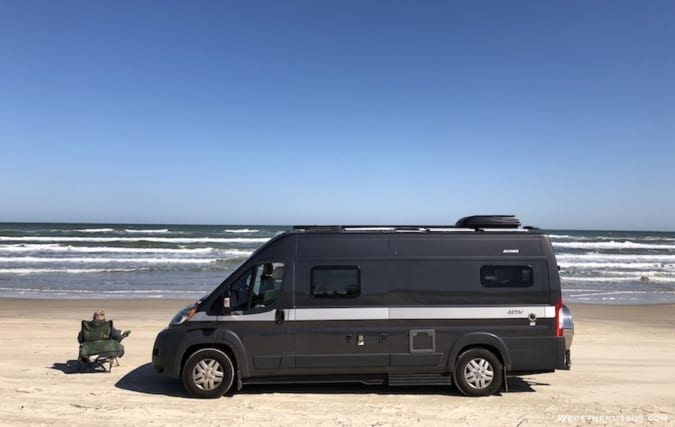 LMRV: Do you plan on living on the road indefinitely?
WTR: We tell people that we plan to do this until we're ready to do something else. We don't have an end in mind and always try to live in the moment.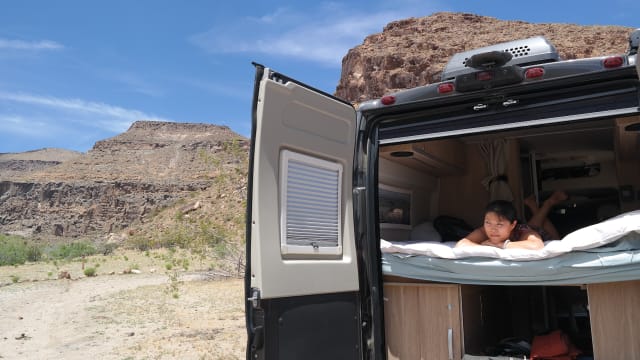 LMRV: Tell us a little about traveling in a Class B with furry family members. Anything new timers traveling with pets should know?
WTR: We started this journey with two large rescue dogs with the purpose of spending more quality time together as a family. Unfortunately, Duke and Leo are no longer with us. It has been especially difficult adjusting to life without Leo because we don't know van life without him. Looking back, our only regret was not doing this sooner so that we could have shared more of this journey with Duke as well. For those interested in traveling with pets, we'd recommend doing some research on how you plan to travel. We also have an article about full time RVing with dogs.
LMRV: We've really enjoyed chatting with you two. Before we go, do you have any advice for folks who are looking into buying a van for pleasure or to make the leap to living on the road?
WTR: Go for it! Just make sure you do your research and know what you're getting into before you drive off into the sunset. Figure out how you plan to travel, who you plan to travel with, and where you want to go. Then find the vehicle that will get you to the places you want to go, with the people you want to go with. For example, if you want to visit Yellowstone National Park in the winter, look at vans that are built for winter travel.
Are you in the market for a Class B van? If you have questions you want answered from a first hand source, now is your chance! Join Joe and Kait at the Super B RV show in Arizona where they will be hosting a Meet + Greet.
Check out the Russos episode on Camper Van Life below and join their journey here: We're the Russos.