It's that time of year again! Our one-of-a-kind Super B RV show is coming back to Phoenix on April 12th for 4 inspiring days. The event is packed full of meet and greets with industry influencers, factory representatives ready to answer all your RV questions, insight on new RV products and so much more. In honor of this epic bash, we got ahold of the event's other special guests (last week we featured inspiring duo, We're the Russos). Today we're thrilled to introduce you to the Wendland's of Roadtreking.
Mike and Jennifer Wendland are seasoned road warriors. They have just begun their 7th year of travel and run a brilliant podcast, blog (with over 350,000+ weekly views), YouTube channel and newsletter on, you guessed it, all things RV travel. We got ahold of the couple while they were lake side in Texas to get their insight on traveling in a Class B, why they decided to live on the road and everything in between.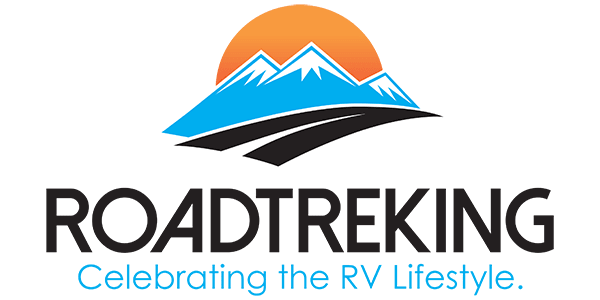 La Mesa RV: Hi Mike and Jennifer! Great to e-meet you. What made you decide to trade your home for life on the road?
Mike Wendland: We still have our sticks and bricks home in Michigan but we are on the road half to three-quarters of the year. I was an investigative reporter, so as a journalist I was always traveling for stories. Crime, corruption and disasters were my beat. A lot of it was typical parachute journalism, in and out and on to the next story. I was burned out, cynical and had seen way too much tragedy. When I left day to day journalism, I wanted to go back and see those places I had visited to spend time, meet people and tell the great stories I knew were there. Now, the once cynical investigative reporter known as "Bad News Wendland" is traveling the country telling "Good News" stories.
LMRV: I love that. What a transition. Is there a particular region of the country that is your favorite?
MW: We love all of North America. The mountains are a favorite. Then the desert. Then the deep woods of Michigan's Upper Peninsula. And we love the beautiful beaches of Florida's Emerald Coast so much, we bought a condo to use as our winter travel base.
LMRV: Can you share one quintessential 'on the road story' that sums up your experience living on the road.
MW: We like to call our RV an adventuremobile. It transports us to wonderful places where we create awesome memories. It allows us to experience a lifestyle of adventure. As such, every trip is different, every day an adventure waitng to unfold.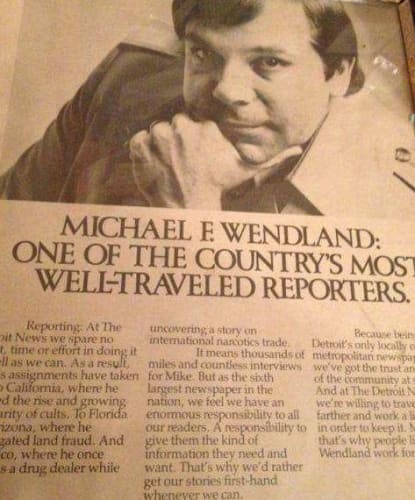 All photography provided by the Wendlands
LMRV: Tell us a little about your background in journalism.
MW: I worked in daily journalism for more than 30 years, working for major market newspapers and television stations. I wrote six books. Even now, I do a weekly Tech report as "PC Mike Wendland" that airs on all 250 NBC-TV stations around the country. I do that report from the road, in the RV every week and have been doing it since 1994.
LMRV: Wow! I bet that brings up some challenges. Where do you typically stay while road tripping?
MW: We boondock as much as possible on federal and state land. We've been known to find a rancher or farmer that we meet in the cafes of a small town, show them the small footprint of our Class B and ask them if we can stay on their land. More often than not, they'll take us to the very best place with the best views. We also like state parks. For laundry and consistently clean bathrooms and facilities, we will opt for KOA.
LMRV: What is it like to live out of a class B?
MW: We love it. It's just right for two people and a dog.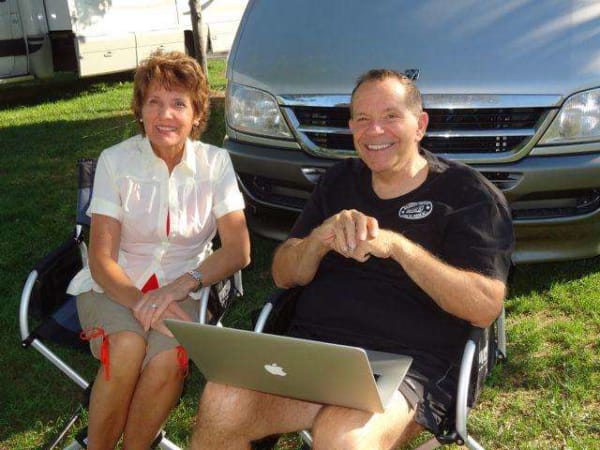 LMRV: Why did you choose your particular Van?
MW: Roadtrek offers a six year bumper to bumper warranty and has awesome customer support and quality. Ours is a 4 x4. We like to really get down some backroads and forest two tracks. We also winter camp in the snow and having 4 x 4 gives us lots of confidence.
LMRV: What's one thing most people don't know about you?
MW: I have been a reporter since I was 12 years old and started "The Neighborhood News." I typed each edition on an old typewriter using multiple pages of carbon paper to make copies. I remember my first headline: "Lapans Get New Car." The Lapans were my next door neighbors. At 13, I ran an illegal radio station in my hometown. In high school, the real station in town hired me. During my senior year of high school I would sign that station on each morning, go to classes, come back to the station at noon and then after school back to the station to sign off. In college, I worked my way through radio stations and newspapers.
Today, I genuinely bounce out of our RV bed at sunrise EVERY morning absolutely thrilled to be starting the day and sharing it with our audiences on YouTube, our blog, podcast and our newsletter.
LMRV: What passion! Tell us about your process with starting a podcast. Any roadblocks?
MW: We started ours three and a half years ago and it has exploded in popularity. We have done (as of yesterday's) 184 weeks in a row of our podcast. We have a portable recording studio in the RV. It's an hour long show and it takes a lot of work so we are always looking for people to interview on the road and are researching answers to questions. The secret to a podcast is consistency and never missing an episode. I've twice done mine from hospital beds (once after gallbladder surgery on the road and once last summer after back surgery). The show must go on!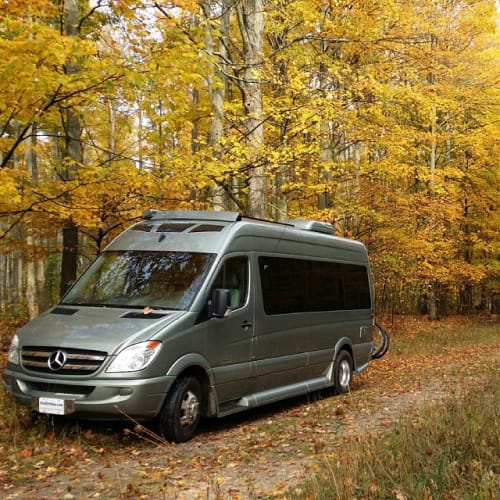 LMRV: Your commitment is truly inspiring. I'm not sure I know anyone who has worked from their hospital bed. How is it traveling in a Class B with your furry family member? Anything new timers traveling with pets should know?
MW: Bo is our two year old Norwegian Elkhound. He weighs about 60 pounds and is a ball of energy, but that means we must find a way to release that energy. It means exercise by long walks and hikes and near daily visits to dog parks around the country as we travel. (This has been a great way to meet the locals and learn about the area while the dogs play.) People should know dogs are not welcome at most National Parks and many wilderness places.
LMRV: Any advice for folks who are looking into buying a van for pleasure or to make the leap to living on the road?
MW: Just try it out. Rent one for a couple of weeks. See if it works for you. Then rent another from another manufacturer. Then, just do it. These Class B motorhomes hold their value extremely well. The worst that can happen is that after a year or so, you decide it's not for you. Chances are, you can sell it for close to what you paid. And you don't have to live in it full-time. Very, very few people can do that. But you can use it to get away each weekend, to plan vacation trips and to go visit the kids and grandkids. Even when you are not using it, a Class B can be used as a second vehicle around home.
Are you in the market for a Class B van? If you have questions you want answered from a first hand source, now is your chance! Join Mike and Jennifer at the Super B RV show in Arizona where they will be hosting a Meet + Greet as well as a live event podcast!