When you think of the road trips of your past, what image do you conjure first? Do you see yourself snuggled between your siblings, rolling down the highway in your family RV? Are you taken back to the first time you saw the Pacific Ocean, now remembering the sunburn that brought out your first freckles and the scent of the salty air? You might go straight to the meals you enjoyed, huddled around the campfire, the sun dipping slowly in the backdrop, your eyes bigger and belly fuller then you could have ever imaged with the accompanying feeling that you're exactly where you're suppose to be.
The nostalgia of camping is often fueled by the meals we shared with our loved ones. Today we bring you an easy and delicious meal that your kids and friends alike will love, and that will possibly, one day, serve as a favorite camp memory.
Fish Tacos by America Y'all
The couple behind America Y'all are a traveling duo who specialize in outdoor and lifestyle photography and have a deep love for food. They have traveled all over the United States, cooking and eating, along the way. We're excited to share their go-to fish taco recipe with you today.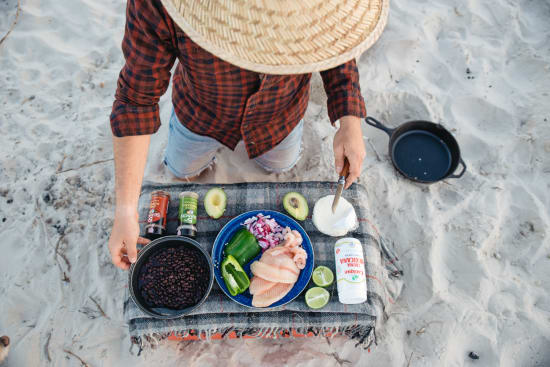 All photography: @americayall
Ingredients: 
3 tilapia fillets
1 cup of pre-cooked shrimp
1/2 cup of chopped onions
1 tablespoon chili powder
1 tablespoon oregano
1 tablespoon olive oil
crema
queso fresca
1 lime
1 avocado
tortillas
1 pepper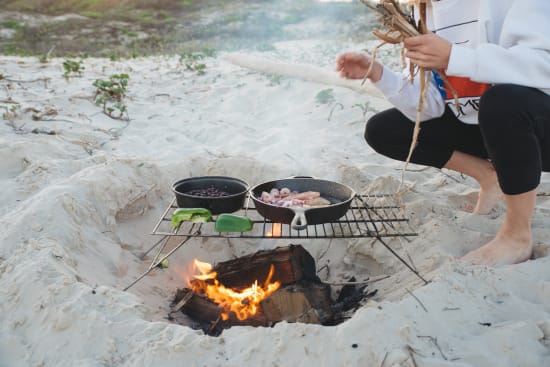 You'll Need: 
Grill Grate
Skillet
Pot
Knife
Plate
Firewood
Can Opener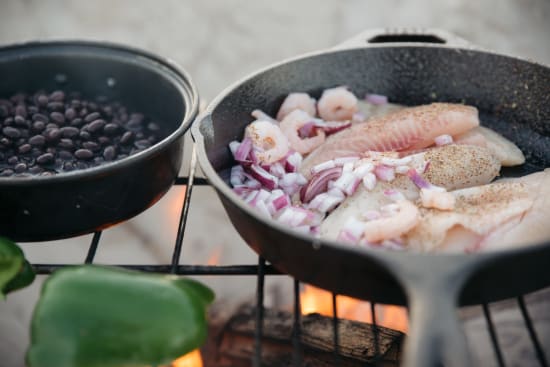 Steps:
1. Start your fire and burn for 45 minutes to get hot cooking coals.
2. While the fire is heating, chop your onions and peppers. Rinse beans and place in pot. Set aside.
3. Place grill grate over hot coals.
4. Grease skillet and allow it to heat up for a few minutes.
5. Season tilapia and shrimp. Place with chopped onions in skillet.
6. Place pot of beans on grill. Place pepper straight on grill.
7. As the fish begins to cook, pull apart into smaller pieces as this will help speed up cooking time.
8. Continue to stir both the black beans, fish and shrimp while they cook over the fire.
9. When the fish is opaque white and shreds easily (about 10 minutes cooking time) it's ready!
10. Heat tortillas over the fire for about 10 seconds on each side.
11. Load up your tacos! Add your fish, shrimp and top with black beans, cheese, crema and avocado. Add a splash of lime and you're ready to eat!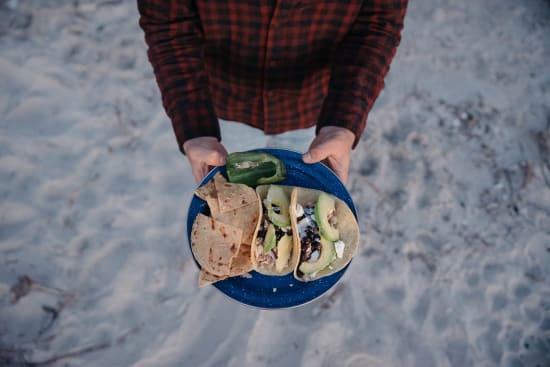 Jeremy's lesson learned: "If you're cooking on the beach, make sure to always cover your pots and pans. Nobody considers sand a seasoning!"
Do you have a favorite camp meal? Tell us about it in the comment section below!