Choosing the right RV for your needs can be overwhelming. From Class to manufacturer to style, the market is packed with top-tier options. Thankfully, we have first-hand experience with the challenge, so today we're sharing our expertise on which RV is right for you by breaking down each Class in layman's terms and asking the necessary, obvious (and not so obvious) questions.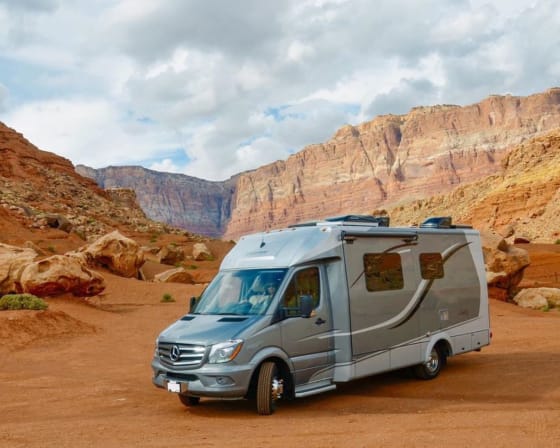 Photography: @leisurevans
Where do you want to go in your home on wheels?
Are you looking to head into the wild for unchartered terrain? You'll probably primarily boondock camp. More interested in relaxing in the comfort of your new home on wheels in towns and cities? You'll settle into the campground lifestyle just fine. You might even be a hybrid of the two. Answer this question first so that you can start eliminating options that don't facilitate your camping needs.
How much space do you really need?
When RVing, how many people (furry friends included) will be living in your RV? Many motorhomes have convertible beds and additional sleeping options made to comfortably fit the number of travelers you'll be adventuring with. If you think you'll have guests, you might want to opt for that extra fold out or overhead bunk. Are you bringing everything you own with you or will you be traveling light? Figuring out your storage needs (including outdoor activities, cooking, etc.) will bring you one step closer to your RV.
How long will you be traveling?
Are you going to be a full-time RVer or a weekend warrior? You might not want to spring for all the bells and whistles if you're just going to be adventure traveling two days out of the week. Or perhaps you will, and the best part is, you get to answer that for yourself.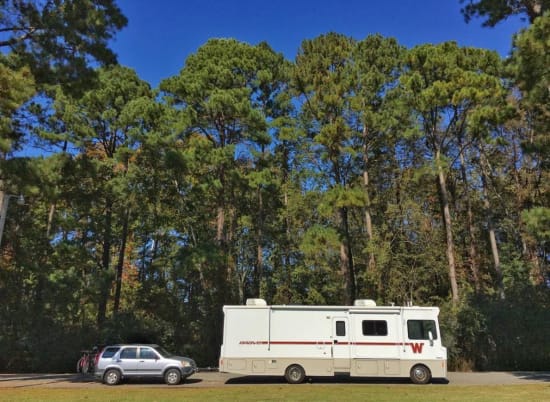 Photography: @heathandalyssa
To tow or not to tow.
Set on towing an additional vehicle (often nice for running errands in town or adventuring in tight spaces while the RV stays at the campground)? You'll need a camper that can haul your load.
What's your budget?
Your budget can help facilitate in the resizing of your option pool. If you're wanting some upgrades (roof air-conditioner, AC generator, microwave, etc) but aren't able to swing it at the time of your RV purchase, you have the option for future add-on's. This helps keep your initial budget down but allows you the opportunity to eventually have exactly what you want.
Go to RV shows!
We can't hype RV shows enough. There is no better way to physically get your hands on the RV of your dreams (and your reality) then by exploring all of your options under one roof while utilizing your access to specialists who are there to answer all your questions.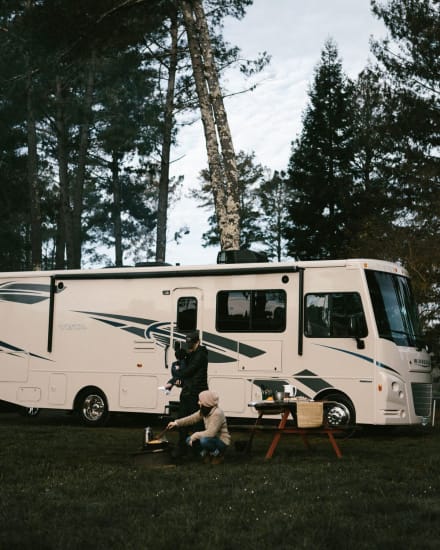 Photography: @dprimero
Class Breakdown:
Class A
– Roomier interior that is more luxury oriented
– More storage space
– Usually more amenities packed inside
– Typically have two slide outs
– More likely to come with a residential fridge (usually impractical in a Class C due to battery drain)
– Closest to a home on wheels. Often packed with multiple big screen TV's,  bathrooms, spacious shower, couches and recliners, full (sometimes even walk-in) closet, King size bed, larger kitchen amenities, and elbow room for days
– Typically able to handle a hardy electrical load
– Almost all are 50amp service (meaning most will have 2 A/C units plus the engine/dash A/C)
– Most are equipped with a 5k-10k tow hitch to comfortably tow passenger vehicles
These RV's are ideal for those who want a home that can pack up and go with bells and whistles in spades. Class A's can also handle the largest capacity, with certain models offering comfortable sleeping for 6+. All of your motorized bunk house models will be class A's. If you're in the market for a Class A we encourage you to look at Fleetwood, Tiffin, Thor Motor Coach and Winnebago.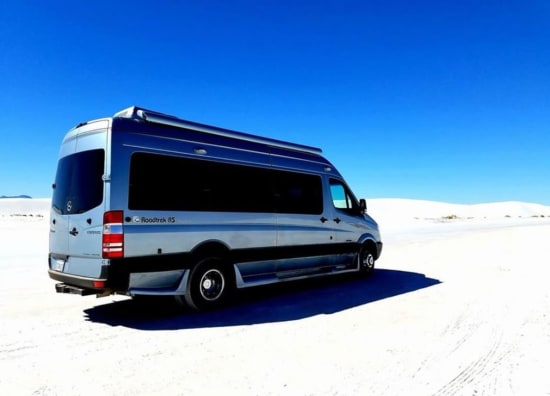 Photography: @roadtrekmh
Class B
– Tech savvy
– Usually minimal in creature comforts but packs all the functionality of a larger RV
– Advantage in fuel mileage
– More agile and convenient for quick pack-up and in town trips
– Most come with standard 30 amp service and can handle a moderate electrical load
–  Easily conquer on and off road trips
– Comfortably supports boondocking or campgrounds with shore power scenarios
– Often times toilet and shower (if there is an inside shower) are housed in the same 3.5′ by 3′ area
– Great for two people who lead an active lifestyle
– Tight space
Imagine taking a team of engineers and saying, "fit a Class A into this small van." Obviously it is not a Class A, but Class B vans pack a TON of features for how small the space is. Most of the amenities in a Class B are not immediately apparent. It can take Class B owners a while to learn the ins and outs of their RV but once they do, they tend to be of the few people who know how to quickly and expertly turn their bed into a table for 4. Carrying capacity is much lower for all holding tanks, storage and even chassis weight, so Class B owners often live a minimalist lifestyle. Driver and passenger seats will swivel 180 degrees for additional seating and many other features are combined creatively in order to pack it all in. If you're in the market for a Class B we encourage you to look at
Carado
,
Leisure Travel Vans
and
Roadtrek
.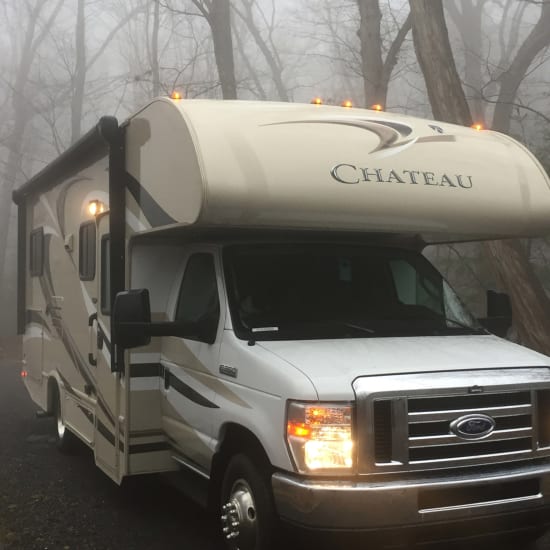 Class C
– Can be a mix of Class A and Class B
– The largest catch-all Class when it comes to features
–  Can be as large as a Class A to as small as a Class B
– Some have pickup chassis while others have van chassis
– Come with 50 amp service or 30 amp
– Some have separate cab and living spaces while others are combined
– Most are 2×4 but some are 4×4
– Sleep anywhere from 2 to 6 people
– Can have up to 2 A/C units
– Option for bunks
– Most come with a gas fridge (some with residential fridge)
– Typically a lower price point then the specialized Class A and B's
Class C's are desirable for several reasons. If you want a Class A without the price, a large Class C is a great option as it has a bunch of Class A type features. Need something in between ultra compact Class B and ultra lux Class A? A Class C is your answer. If you're wondering if the RV lifestyle is right for you, an entry level price point Class C is ideal. If you're in the market for a Class C we encourage you to look at Fleetwood, Roadtrek, Leisure Travel Vans and Winnebago.