Summer is the season of music festivals. All across the U.S. people are gearing up for the ultimate summer vacation packed with music, sun and family. Today we bring you the top music festivals that you can bring your RV to and camp all summer long. If you're like us, you're already packing your bags and loading up your motorhome with wild anticipation for the best summer ever.
FORM Arcosanti Festival
Location: Arcosanti, AZ
Date: May 11-13, 2018
FORM, a creative retreat and festival, is in its 4th year with the three day event taking place at Arcosanti, an eco-city desert oasis in Arizona. If the otherworldly architecture and landscapes of Arcosanti aren't enough to get you to the desert, we're sure top names like Chance the Rapper, Beach House and Fleet Foxes will do the trick. FORM's ongoing mission is to inspire progress through creative and inclusive community experiences. This summer festival is not to be skipped.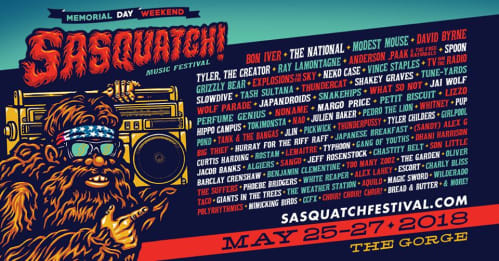 Sasquatch! 
Location: George, WA
Date: May 24-27, 2018
Gates open at 1:00pm daily at Sasquatch Music Festival. Founded in 2002, Sasquatch features a wide range of music genres – indie rock bands, singer-songwriters, alt rock, hip hop, EDM and this year, comedy acts! There are five stages on the grounds and endless vendors offering local dishes and cocktails. Come enjoy Washington's beautiful summer weather and all the great music this festival has to offer.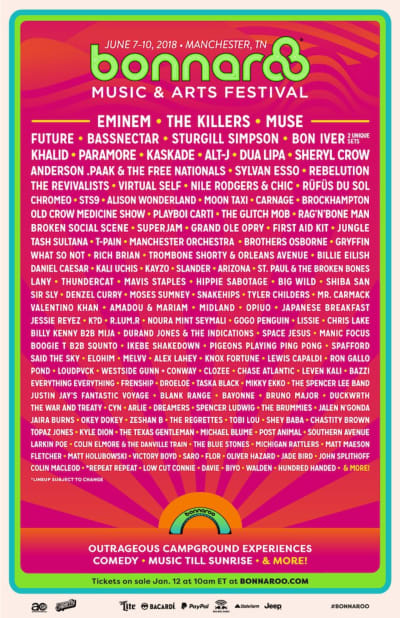 Bonnaroo
Location: Manchester, TN
Date: June 7-10, 2018
Bonnaroo is arguably the south's most desired camping music festival. Gates open at 8pm Wednesday, June 6 (the day before the festival starts) and closes 12pm on Monday, June 11th. The festival is notoriously crowded and HOT so make sure you bring extra water, shade and sunscreen for the four day event.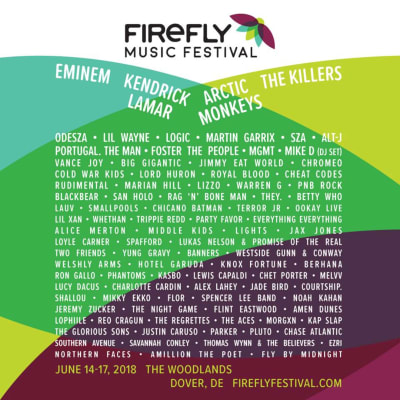 Firefly Music Festival
Location: Dover, DE
Date: June 15-18, 2018
Firefly is a premier music experience set among lush wooded landscapes, featuring renowned headliners and emerging artists. Witness unforgettable performances and discover the engaging attractions nestled around every corner. Camping is first come first serve and children under the age of 8 do not need tickets. RV camping check in begins at 8:00am on Wednesday, June 13th.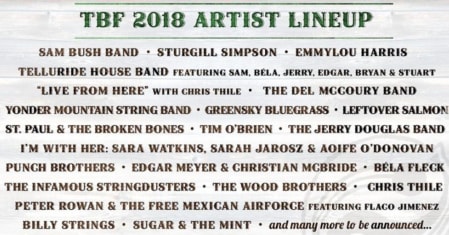 Telluride Bluegrass Festival
Where: Telluride, CO
When: June 21-24, 2018
Every year, the Telluride Bluegrass Festival is held on the weekend closest to the Summer Solstice. The 44th annual festival promises a lineup of past festival favorites and new talent with some of the biggest stars in the rootsy Americana landscape taking stage in Telluride, Colorado.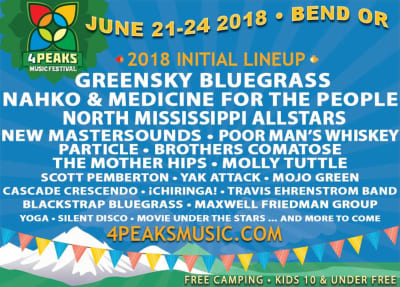 4 Peaks Music Festival
Where: Bend, OR
When: June 21-24, 2018
What began as a small, backyard music festival has turned into a 40 acre, 20+ bands, two stages, tents and craft vendors music festival that holds space for RV and primitive camping in beautiful Bend, Oregon. 4Peaks features top names in bluegrass who will be performing this year at the family friendly festival. Gates open at 9am every morning and the event is rain or shine so come prepared if the forecast calls for rain. Gates open daily at 9:00am.