There really isn't anything Mike Jozwiak can't do. For over a decade he worked in the culinary arts, first by studying the craft then becoming a chef, kitchen manager and eventually, butcher. Mike has lived all over the United States, camping and cooking his way through deserts, rivers and mountains. He is the designated RV chef while on trips, and is known for his innovative meals. We've had Chef Mike's dishes and they are no doubt, some of the best we've ever had the pleasure of experiencing.
Today, Chef Mike has traded his tongs for a fishing pole and runs a fishing charter with his brother in Destin, Florida. That hasn't stopped him from cooking though. In fact, these days he's exploring the world of ceviche, smoked tuna dip and grilled gulf fish. We sat down with Mike on this sunny Florida afternoon upon Triton, the 43′ Tiara he captains, to discuss all things BBQ.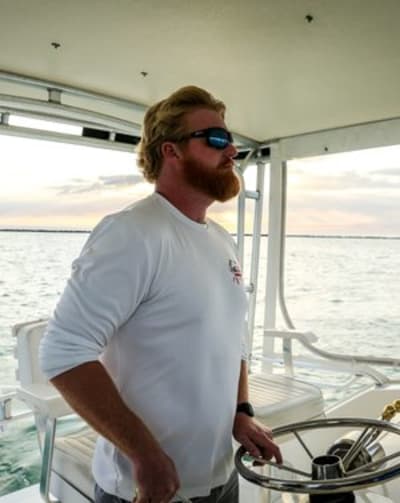 Photography: @destinpremiumcharters
Chef Mike's 4 Tips for Great BBQ
Preparation
Organization
Patience
Have fun!
La Mesa RV: What are your must-have tools for BBQing?
Chef Mike:
1. A good meat thermometer.
2. I prefer tongs for just about everything. You'll want ones long enough to keep your hands away from the heat. The commercial kitchen tongs are the best and they're inexpensive.
3. A sharp knife (don't skimp on quality here).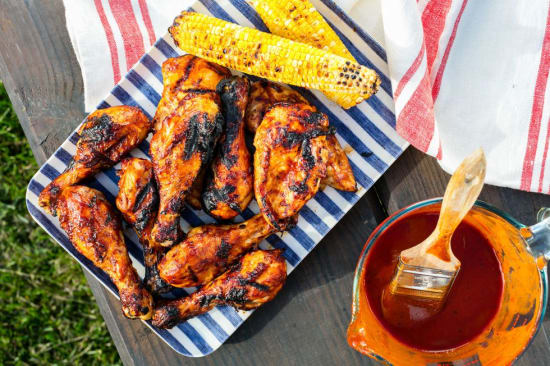 Photography: Delish.com
Your 4th of July BBQ RV Meal
Main Course: Grilled Chicken
Nothing says "American summer" like chicken on the grill.
Steps:
1. Marinate an 8 piece chicken in your favorite bbq sauce. I try to use a local bbq sauce but if that isn't an option for you, Sweet Baby Ray's is always reliable and delicious. Cover your chicken in the sauce and place in plastic bag. Let chicken sit in the refrigerator for (up to) two days.
2. Take chicken out of bag and put straight on the grill.
3. Grill all the way through. There is nothing worse than uncooked chicken.
Side Dish: Grilled Corn
Steps:
1. Shuck corn
2. Rub a little bit of butter on each side.
3. Place directly on grill.
4. Add salt and pepper while grilling.
5. Once a few kernels have a little char, remove and eat!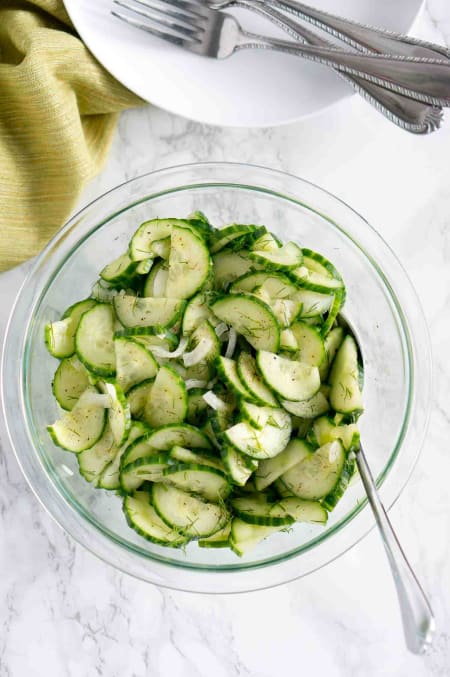 Photography: Delicious Meets Healthy
Side Dish: Cucumber Salad
While there are endless sides that are staples to summer bbq's, I'd like to offer you one you might not initially go to. Cucumber salad is refreshing, simple and so tasty. Your friends and family will be begging for more.
Ingredients:
1 whole cucumber
1/2 red onion
Red wine vinegar
crushed red pepper
salt and pepper
Steps:
1. Peel and slice one cucumber. Place in bowl.
2. Thinly slice 1/2 red onion. Add on top of cucumbers.
3. Add enough red wine to cover the cucumbers.
4. Add sugar to taste.
5. Sprinkle crushed red pepper, salt and pepper to top.
6. Let it sit in the refrigerator for 30 minutes.
7. Take out and serve!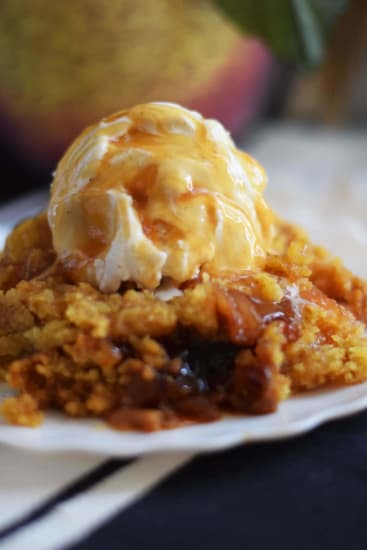 Photography: Soulfully Delicious
Dessert: Apple Dump Cake
Because, who doesn't love dessert?
Ingredients:
1 box vanilla cake mix
3 Granny Smith apples
Brown sugar
Bourbon
1 can of 7-Up
Steps:
1. Peel and slice apples. Place in dutch oven.
2. Add cake mix on top of apples. Add Bourbon and brown sugar (as much or as little as you want).
3. Pour whole can of 7-Up on top.
4. Depending on the temperature of your coals, you'll cook for 30-60 minutes. Have at least eight coals on the bottom and add four on the lid of the dutch oven.
5. Scoop into a bowl and enjoy!
6. For an added bonus, top with ice cream.
Do you have a favorite Fourth of July dish that has become your holiday staple? Share with us in the comments!