Have you ever pictured yourself in New Mexico under a sea of balloons at the International Balloon Fiesta? La Mesa RV has been a proud sponsor for years, but two of our employees, Kristen Blanton and Deanna Paulsen had only ever dreamed of experiencing the event first hand, until now. After their inauguration to the festivities, they have kindly decided to give all you newbies a list of what they learned during the event to make your first time a seamless and completely enjoyable experience. From what to pack to keeping a flexible schedule, here is your insiders guide to attending the Fiesta for your first time!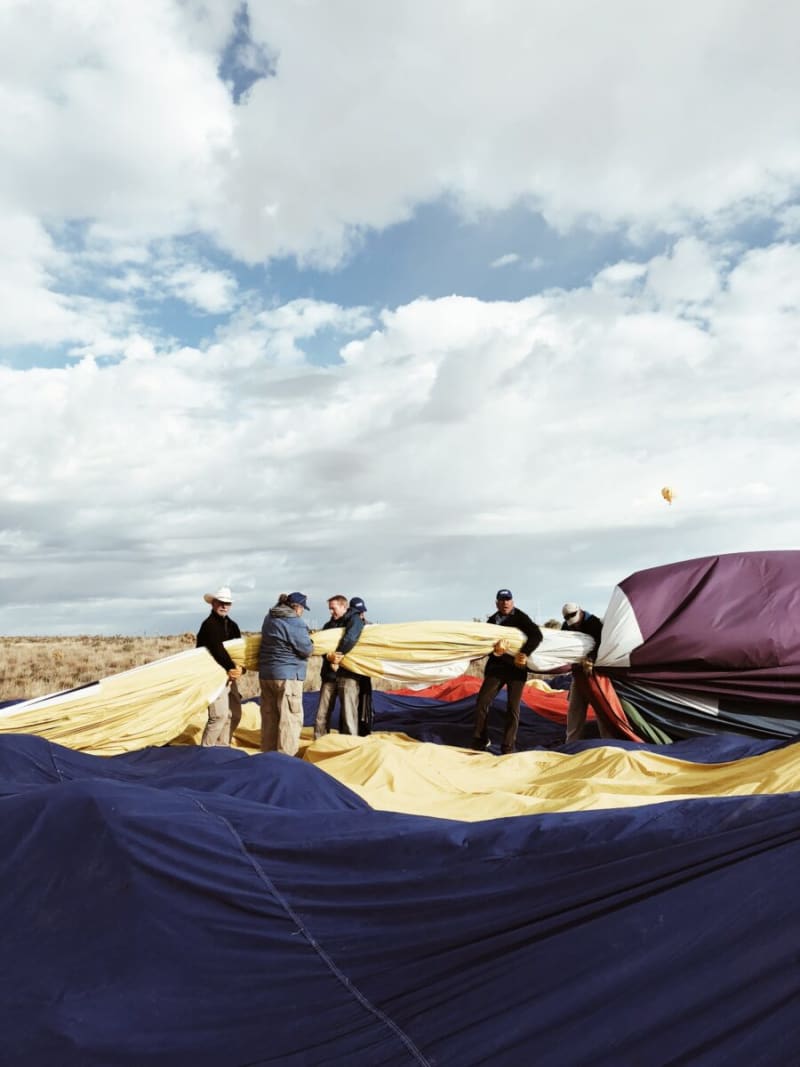 What should you wear to the Albuquerque International Balloon Fiesta?
Deanna Paulsen: As a visiting Zonie, I was wary about going to the festival without a heavy jacket for the cold mornings. Given I personally own a down jacket, I instead came packed with plenty of layers to shed throughout the day. To put things into perspective, the launch field at the Balloon Fiesta Park is 78 acres large – that's 54 football fields put together! If it's your first time attending, trust me – you'll find yourself running towards ascending balloons during the morning launches. You'll start to feel the burn as the sun begins to peek out from behind the Albuquerque mountain lines, and you'll be thanking yourself for the chance to peel off a layer or two as the day begins to warm up.
Should you plan ahead?
DP: Remember, this is a weather-dependent event. If wind speeds are too high, or if the park is hit by a small spell of autumn rain, chances are many balloon pilots will decide to stay grounded for the day. If you're as new to the ballooning culture as I was, you'll likely experience the same level of sensory overload. There is just so much to see and do, so try giving yourself plenty time to see everything on your agenda. Night-time flights only occur on certain days of the events, so be tactful with which days you're picking!
What's your advice for non-morning people who want to enjoy the festivities?
DP: It is true, not all of us are morning-people. Though, at the balloon festival, rising early is key to catching all of the great moments. Weather permitting, dawn patrol launches can offer spectacular sights that you won't be able to catch once the sun is out. Given that this is the biggest hot air balloon festival in the world, you can also expect heavy morning traffic. Do yourself the favor and bring some extra fuel to jumpstart your day or visit one of the many coffee stands on site.
Should you ride in a hot air balloon and what should you expect? Should you book a flight in advance?
DP: I have a healthy fear of heights. Heading into this event, I didn't expect to get into a basket and launch into the sky. Upon our second day at the event, our sponsored ballooning pilot, Barney Watson pulled a fast one on me and invited me to hop into his Cool Beans balloon as he prepared to ascend. How could I ever decline the offer? In a moment of panic, curiosity, and trust I hopped into the basket, rattling like a maraca. Within a few short minutes, I realized it was easily one of the best spontaneous decisions I've ever made. Adrenaline melted into awe. Any fear I had was quieted by the humbling sky view from the balloon. It's such an epic way of taking a leap towards conquering your fears. If you get a chance to get on a balloon, don't be afraid. You're with a trained professional. Just do it. And yes, if you don't know a pilot and his crew at the Fiesta, I suggest you book your flight before the day of to make sure the rides are not booked up. Keep an eye here to book your flights in advance online.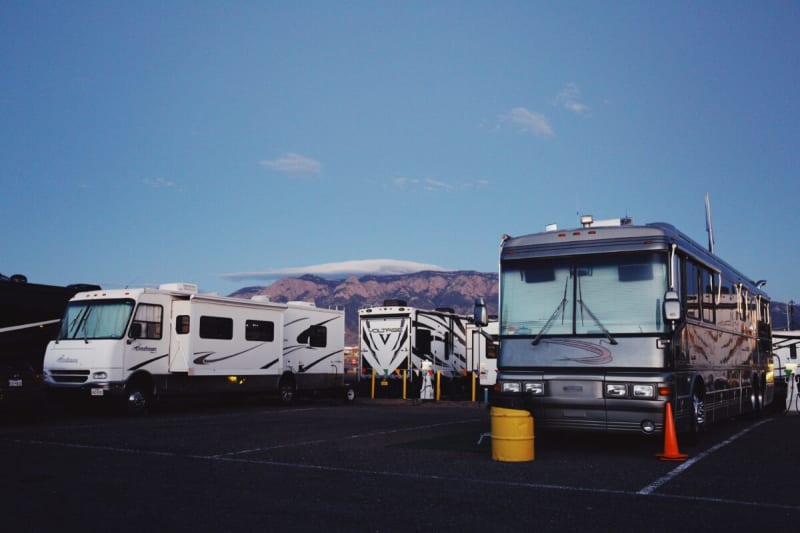 Should I RV at the Fiesta?
Kristen Blanton: I cannot recommend RVing at the festival enough. While the Fiesta is full of wonder, waiting for an hour in a line that snakes from the parking lot to the highway at 4:50 AM is not. There are numerous options when it comes to RVing on the grounds. If you're a budget RVer, there is a standard $40/night dry RVing option. The Box View route gets you 30Amp and water connection for $95/night while the splurge option, The President's Compound, is $250/night but offers a stunning view overlooking the Launch Field with city water, 30-50 Amp RV hook-up as well as four admission passes to the field. It didn't get any better then waking up at 5 AM every morning to sip my morning brew while watching (from above) the balloons ascend from the field into the sky, at the same time the sun rose.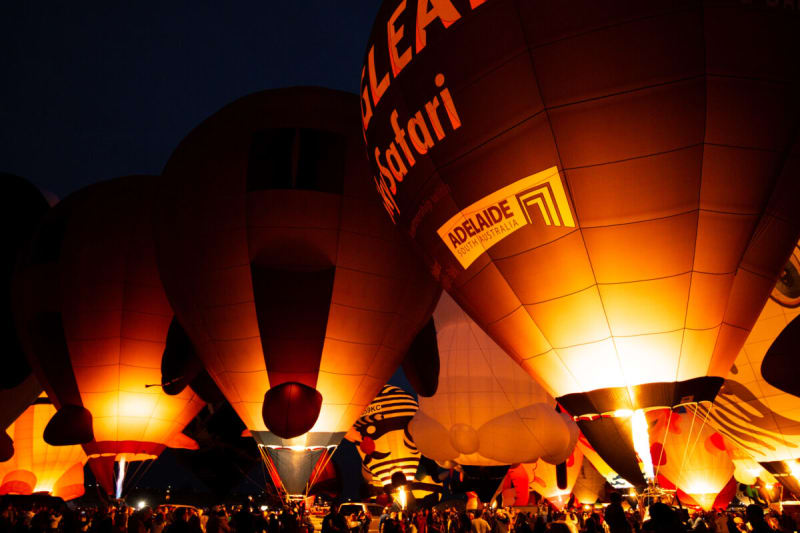 Which event is not to be missed?
KB: Without a doubt, Glowdeo was my favorite event during the entire Fiesta. Though the balloons don't actually fly, which initially caught me off guard as I was ready to watch these massive, uniquely shaped balloons take to the sky, the hour long 'show' is undeniably impressive. Without giving too much away, because you really should just experience it first hand without any assumptions or expectations, you will find yourself standing between hundreds of uniquely shaped balloons, listening to a countdown every few minutes, be filled with warmth and awe, while looking out at a stunning backdrop that is the Sandia Mountains as the sun is setting. Can anything really beat that?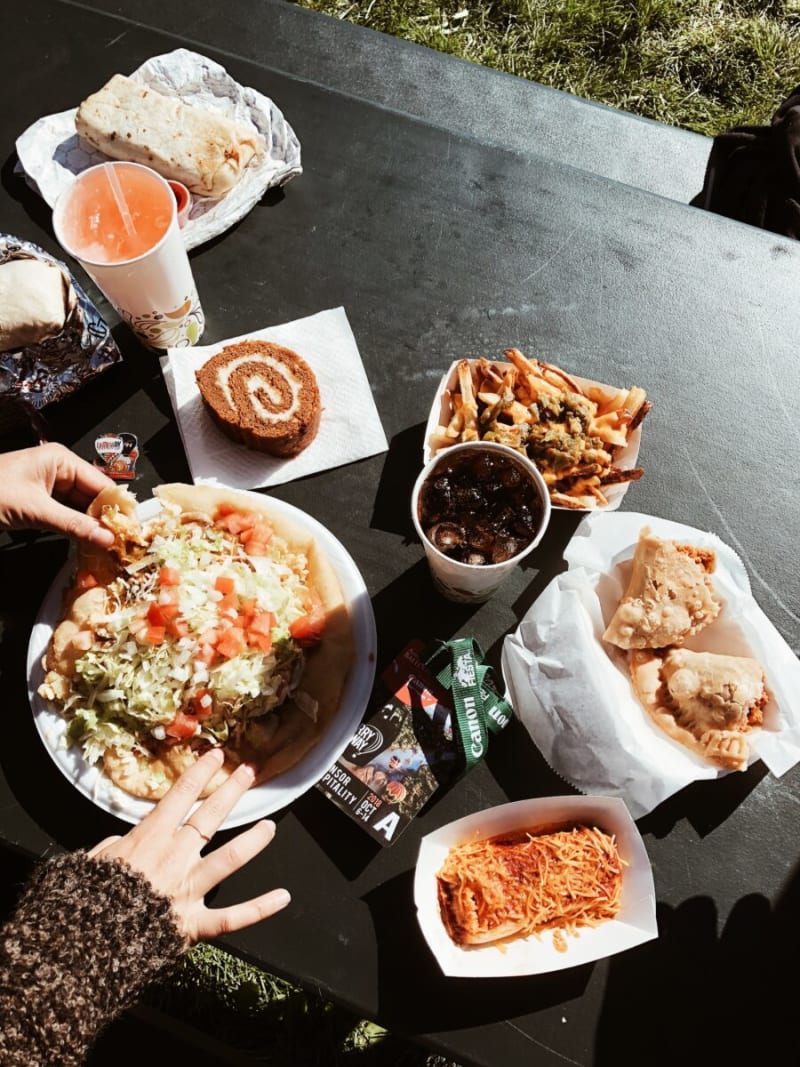 What should I eat at the Fiesta?
KB: Try all the food – really, all of it. The Fiesta has its fair share of carnival food… (hot dogs, fried turkey legs, funnel cakes, etc.) but it also prides itself on serving dishes of local New Mexican culture. Most, if not all, stands are run by local businesses that feed the community. We ate tamales, Indian tacos, breakfast burritos, cinnamon rolls, mini fried donuts and green chili fries. Actually, they put green chile on everything so when you're asked, "green or red sauce," you always say green and if they ask, "do you want to add green chili," you say, "yes please!" You won't be disappointed you did.
Anything else new comers should be aware of or prep for? 
KB: The fun doesn't have to end after the Fiesta. In my opinion, New Mexico is the hidden gem of America. After the Fiesta, I drove around the state in our very own LMRV Winnebago Fuse for a week, with the singular goal to bring you all my personal road trip guide of New Mexico (coming next week). From White Sands National Monument down south to a hidden hot springs west of Santa Fe, to the quaint historic city of Taos, there is endless terrain to explore and discover. Next Fiesta, come for the balloons and stay for the state. You'll be so glad you did.
Looking for more from the Balloon Fiesta? Check out our most recent story, RVer's From the New Mexico Balloon Fest Tell All and leave us a comment below telling us your favorite memory if you made it to the event this year!