Refined craftsmanship, reliable family-business values, leading-edge RV's. — What's not to love about premiere manufacturer, Tiffin Motorhomes?
If you are thinking about purchasing a Tiffin motorhome, or a fanatic of the ever-renowned RV brand, now has never been a better time to drop by La Mesa RV in Arizona. That's because we're offering our fellow road warriors an exclusive chance to meet the founder of Tiffin Motorhomes, Bob Tiffin.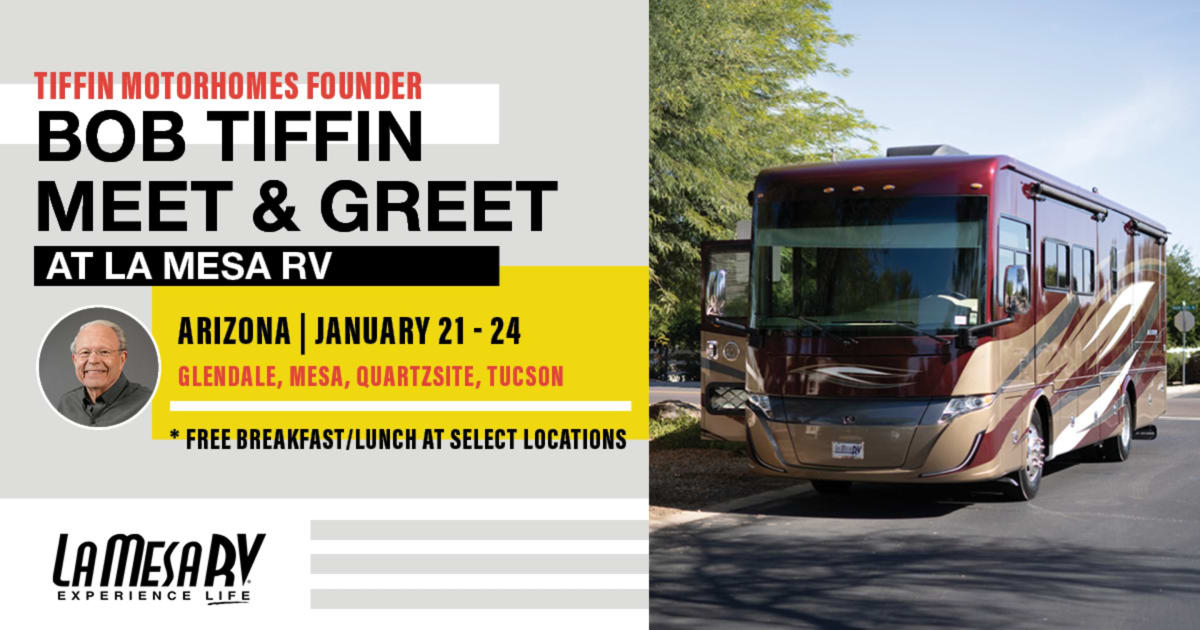 The best part? This opportunity is absolutely free! Have a one-on-one conversation with the legend behind the Tiffin legacy as you enjoy a complimentary meal on us. Whether seeking insider knowledge on a certain motorhome make and model or curious about what the family behind the brand has planned for the future, we are thrilled to invite you to this one-of-a-kind opportunity.
Ready to meet Bob Tiffin himself? Check out our upcoming meet and greet dates and locations below:
La Mesa RV Quartzite
Monday, January 21
9am-2pm (Free Breakfast Served – 8am-10am)
La Mesa RV Mesa
Tuesday, January 22
9am-2pm (Free Lunch Served 11am-2pm)
La Mesa RV Tucson
Wednesday, January 23
9am-2pm (Free Lunch Served 11am-2pm)
La Mesa RV Show | Glendale
Thursday, January 24
9am-2pm – State Farm Stadium RV Show
To brush up on the Tiffin legacy before your meet and greet, check out our Tiffin Motorhomes RV Spotlight blog story. Have a question you've been itching to ask the founder of Tiffin Motorhomes? Let us know what you would ask in the comments below!