Ever wonder what RV your favorite Star Wars character would favor for an adventure in our neck of the woods (or in this case, universe)? Admittedly, so have we! To celebrate the worldwide acclaimed sci-fi saga, we're exploring the question right here. Follow along as we highlight the top RV's we think our favorite Star Wars characters would choose as their home base.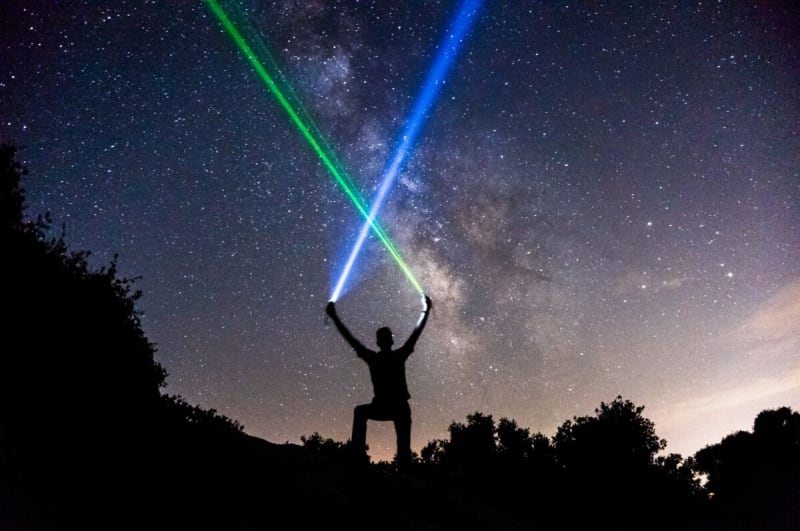 A long, time ago, in a galaxy far, far away…
A period of peace emerges after intense fighting between the rebellion and the evil Galactic Empire. During this period of peace, we catch up with our favorite Star Wars characters as they take much-needed respite off-the-grid in the comfort of their choice RV. Here is what they chose:

LUKE SKYWALKER: 2018 VANLEIGH BEACON
The Vanleigh Beacon is the ideal camper for anyone who wants to travel in ample air-conditioned luxury while force ghosting across the galaxies. Traveling with family in tow? RVing with siblings no longer has to feel like you're being crushed in a trash compactor on the Death Star. At 40-feet long, complete with four full slide-outs, the Beacon is perfect for packing up and parking anywhere for impromptu Jedi training sessions.

R2-D2: 2019 WINNEBAGO BOLDT
R2-D2 doesn't need a whole lot of travel space, but he sure needs the best tech to help foil and evade the Empire. The Winnebago Boldt is the most innovative Class B for just that sort of heroic journey. The Pure³ Advanced Energy System provides the 11,600 watt-hours of power our little android needs to help save the day. Built on a Mercedes-Benz Sprinter chassis, and equipped with an AI voice interface, the Boldt promises the agility and support needed in the most "bleep-bloop" of situations.

YODA: 2019 PLEASURE-WAY TOFINO
What Master Yoda finds most appealing about his 2019 Pleasure-Way Tofino, is that it is extremely cozy, nimble and surprisingly versatile. This stylish and straight forward mini-motorhome offers plenty of storage capacity at a compact 70 cubic feet. Perfect for staying off the Empire's radar. Complete with a pop-up loft top, available solar kit and touchscreen command panel, the Tofino is a welcomed upgrade from the murky solace of Dagobah.

HAN SOLO: 2016 WINNEBAGO BRAVE
The ultra-retro Winnebago Brave is always the first choice for blaster-wielding, scruffy-looking nerf herders and their best Wookie friends. That is because the Brave is stylish, reliable and affordable. Best of all, the vinyl seating makes for cleaning Wookie hair an absolute breeze. This Class A coach delivers a smooth, reminiscent ride inspired by the simpler times of long ago, back before Solo's princess-saving days.

C-3PO: 2019 FLEETWOOD DISCOVERY LXE
After successfully surviving the peaks and valleys of adventure travel, C-3PO is more than ready for a change of pace. Setting the standard for luxury on the road, it comes as no surprise that the Fleetwood Discovery LXE is this android's go-to Class A motorhome. Features such as Aqua-Hot heating, 15K-BTU roof A/Cs and state-of-the-art navigation encapsulated with a luxurious exterior, this coach promises performance-forward safety and comfort, even when docked on the dunes of Tatooine. Of all the upgrades, C-3PO's favorite has to be the Mobile Eye collision avoidance system. Say so long to rough and bumpy rides.

BOBA FETT: 2019 WINNEBAGO REVEL
When it comes to chasing down space bounties, Boba Fett relies on the Winnebago Revel. With true rugged 4×4 drive and plenty of off-grid capabilities, this Class B campervan is ideal for the no-nonsense bounty hunter. The power-lift best allows for easy storage and battle gear access. To top it off, the Revel's exterior is already designed with Boba Fett's favorite shade of Malendorian green to match his legendary armor.

DARTH VADER: 2018 WINNEBAGO HORIZON
The Winnebago Horizon can be summed up in three words from the cyborg Sith Lord himself; "Impressive. Most impressive." Confident, bold and built on a turbo-diesel-powered Maxum Chassis, this luxury motorhome is the ideal choice for anyone who may be missing the Death Star. At 42-feet long with a king size bed and full galley complete with residential refrigeration, there are plenty of ways to taking a break from the family in the comforts of the Horizon.
Which Star Wars character would you go on a RV road trip with? Where would you go? Let us know in the comments below! To help you celebrate Star Wars under the stars, click here for the RVer's Introductory Stargazing guide with REI.