Of all of America's highways and byways, Route 66 is arguably the most iconic and historic in the United States. The 2,500 mile road originated in Chicago, Illinois and ran southwest to Santa Monica, California. The original route, once known as America's Main Street as well as The Mother Road, was decommissioned in 1985 and turned into a modern interstate, but that doesn't mean you can't recreate this classic American road trip of the American West on your own. Route 66 is still riddled with adventure. Discover quirky stops, off the beaten path gems, iconic museum's, folk art, RV parks, diners and so much more while you embark on an RV road trip of your own making. Step into the past and get your kicks (we had to) on today's Route 66.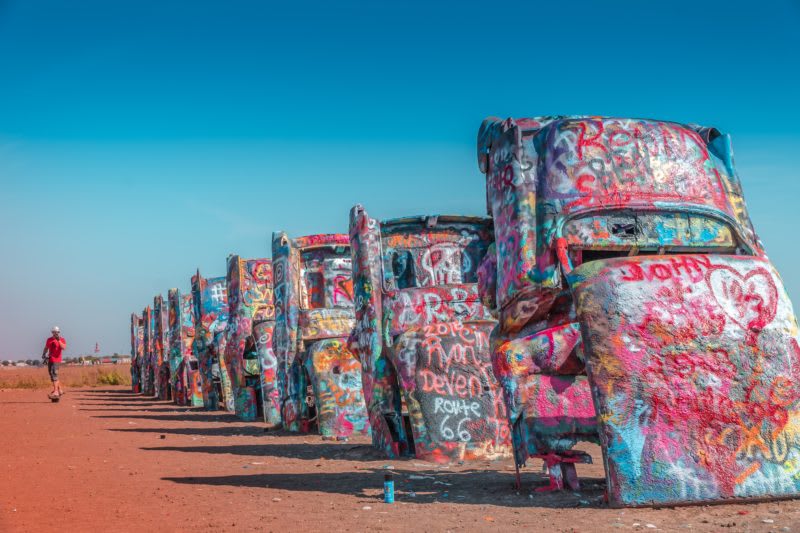 BEGIN HISTORIC ROUTE 66 SIGN
Where: Chicago, Illinois
Address: E. Adams St
Details: Want to start the Historic Route 66 route from the very beginning? Make your way to Lake Shore Drive (US 41) and Jackson Drive (Art Institute of Chicago) and head west on Jackson. On Adams street you will see the sign "Begin Historic Route 66". Hop out, snap a photo and begin your epic route trip south!
FANTASTIC CAVERNS
Where: Springfield, Missouri
Address: 4872 N Farm Road 125
Details: Fantastic Caverns lie beneath the Ozark hills, right off historic Route 66. Discovered in 1862 by John Knox and his hunting dog, today the cavern's are America's only ride-thru cave. The 55-minute tour takes you along a mile route through the caverns where you can enjoy stunning cave formations, tiny cave pearls hidden in exceptionally clear water and so much more. The tram accommodates wheelchairs and small children, so don't miss this amazing geological site!
NATIONAL ROUTE 66 MUSEUM
Where: Elk City, Oklahoma
Address: 320 W 3rd Street
Details: The National Route 66 Museum lets you follow Route 66 from Illinois to California in one sitting. The Museum is centered around the people who lived, worked and traveled Route 66 and gives visitors the opportunity to 'walk' through all eight states. With realistic murals and vignettes depicting different decades of the road as well as the most iconic and famous moments remembered on the road, you will not be disappointed when you visit this timeless museum.
ROUTE 66 ROADSIDE ATTRACTIONS
CADILLAC RANCH
Where: Amarillo, Texas
Address: 13651 1-40 Frontage Road
Details: Step back into 1974. Cadillac Ranch is a quirky outdoor instillation created by a group of art-hippies from San Francisco. The public piece of art is comprised of ten half buried Cadillac's in an open field along a Texas highway. Decades ago, people would stop along the interstate to view the odd instillation and then for reasons unknown to all, deface the cars with spray paint or take a piece as a souvenir. This activity later became encouraged, and the deconstruction of the art is part of Cadillac Ranch's charm. Today you can still enjoy this strange and beautiful site. Don't forget to bring your camera and spray paint, if you're into that!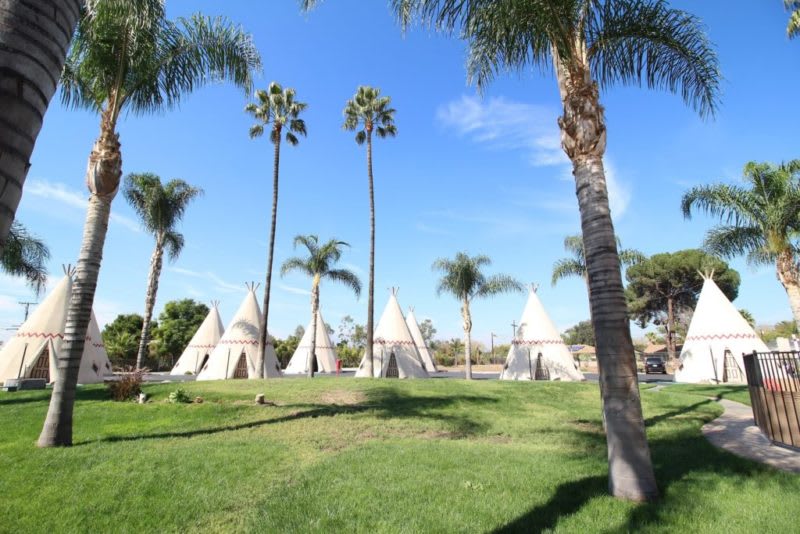 ACOMA PUEBLO 
Where: Acoma Pueblo, New Mexico
Address: P.O. Box 310
Details: Acoma Pueblo, also known as Sky City, is a Native American pueblo site that sits atop a 367 foot sandstone mesa. The site is regarded as the oldest continuously inhabited community in the United States. Today there are less than 50 tribe members currently living at the site. Native Acoma guides offer tours of Sky City and the Haak'u Museum. This historic and cultural experience is like no other in the USA, making it the perfect destination on your Route 66 travels.
WIGWAM MOTEL
Where: Holbrook, Arizona
Address: 811 West Hopi Drive
Details: Who doesn't want to sleep in a wigwam? Make your way to this picturesque motel and stay in one of fifteen concrete wigwams centered in the middle of Arizona. Each room was built in 1950 and is fully equipped with a bed, full bathroom, cable TV, heat and AC. The original office has now been converted into a museum that is open to the public.
SANTA MONICA PIER 
Where: Santa Monica, California
Address: 200 Santa Monica Pier, Suite A
Details: The Santa Monica Pier was built in 1909 and marks the end of Route 66. When you hit the Pacific Ocean, you'll know you have arrived. The pier offers amazing events year round and is known for its beautiful Ferris wheel and roller-coaster. The amusement park is fully equipped with rides, games and all types of family fun.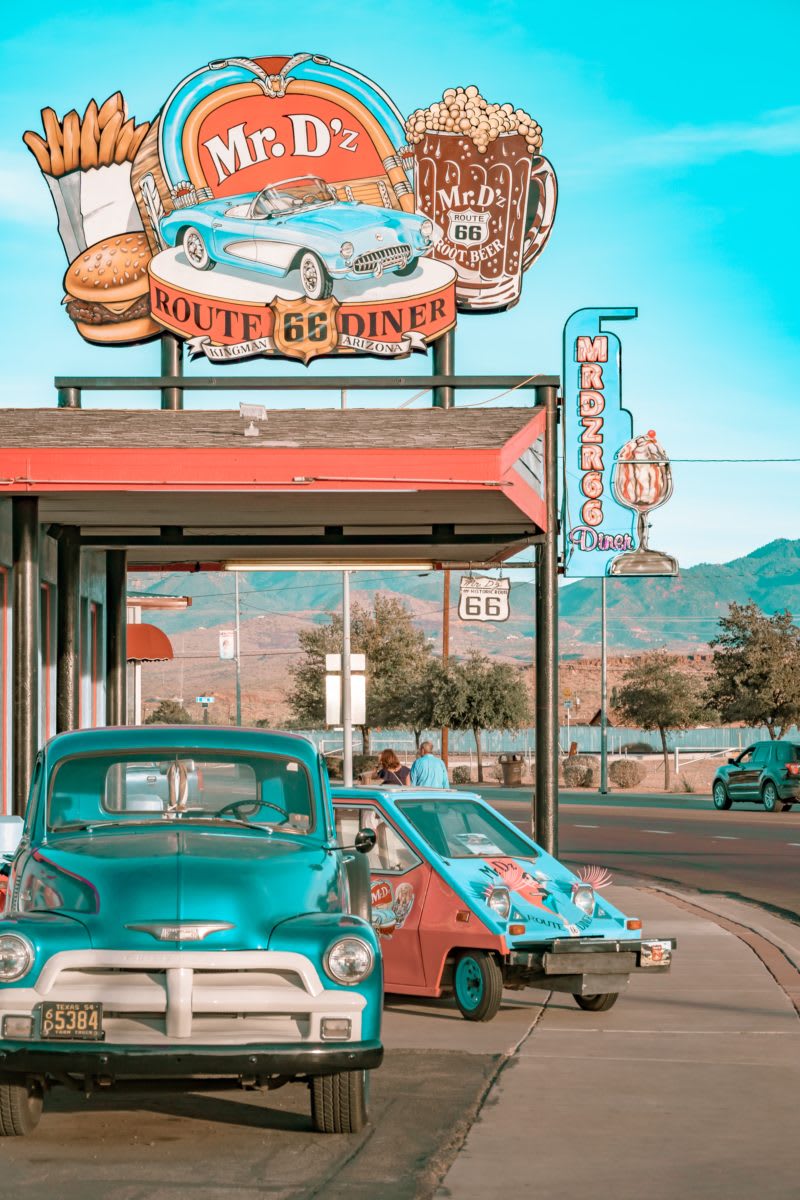 WHERE TO EAT
DELL RHEA'S CHICKEN BASKET
Where: Willowbrook, Illinois
Address: 645 Joliet Road
Details: What started out as a simple sandwich counter inside a gas station along Route 66 has now become a famous and delicious restaurant servicing traveler's on Route 66 since 1946. Enjoy Del Rhea's world-famous slow-cooked chicken and make your way into The Blue Rooster Lounge bar area for after dinner live music and adult beverages.
LUCILLE'S ROADHOUSE
Where: Weatherford, Oklahoma
Address: 1301 N Airport Road
Details: This Route 66 themed restaurant will take you back to the 1950's. The diner is complete with polished chrome and your favorite diner foods – hamburgers, pork chops, every type of breakfast dish and cobbler!
BIG TEXAN STEAK RANCH
Where: Amarillo, Texas
Address: 7701 East Interstate 40
Details: Known for its 72-ounce steak dinner, this restaurant is an iconic Route 66 eatery. Take a photo outside the restaurant with the kitschy but fun oversized Texan, steer and rocking chair out front and enjoy your beer served best, in a plastic cowboy boot.
LA CHOZA
Where: Santa Fe, New Mexico
Address: 905 Alarid Street
Details: Green chili is a staple in the southwest, so why not have the award winning kind? La Choza is known for their delicious burritos, posole in pueblo stew and fish tacos. Smother any menu item in green or red chili and let yourself fall into a coma of deliciousness.
SNOW CAP DRIVE IN 
Where: Seligman, Arizona
Address: 301 AZ-66
Details: Visit this grab and go drive through along Route 66. Equipped with nostalgic signage, root beer floats, malts, and cheeseburger with cheese (yes that is one of the signs), you'll feel like you've transported back to the 1960s.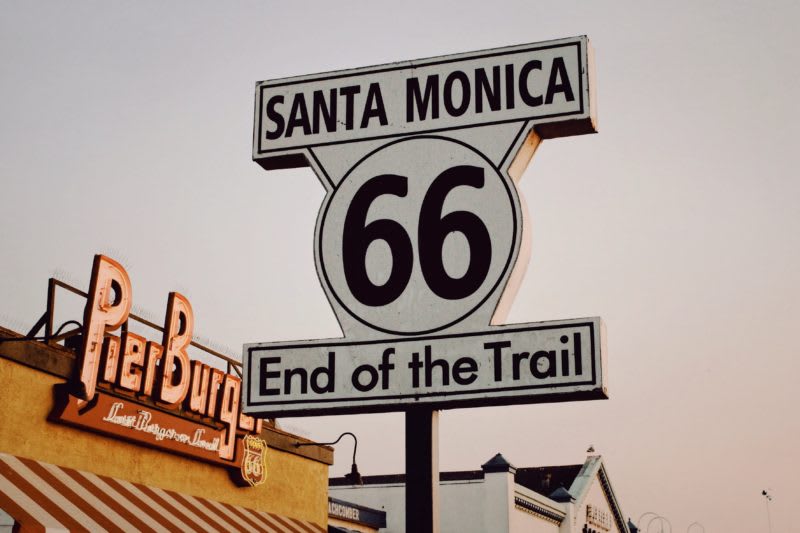 RV CAMPGROUNDS
CAMP MI CASA ON THE ROUTE 
Where: Carthage, Missouri
Address: 17601 Old 66 Blvd
Details:. Camp Mi Casa on the Route is you guessed it, conveniently located on Historic Route 66. The RV campground is equipped with x-large pull-thru sites, resort style bathhouses and offers amenities you might expect only at a resort. Be sure to check out the drive-in theatre while you're in town.
ROUTE 66 RV PARK
Where: Elk City, Oklahoma
Address: 100 S. Pioneer
Details: Route 66 RV Park is one of Elk City's oldest continuous running RV parks and has become a go-to destination for those venturing along Route 66. Equipped with full utility hookups, trash pickup service and spacious campsites, you'll be glad you picked this campground. Bonus – the Route 66 Museum is in Elk City!
ROUTE 66 RV RANCH
Where: Amarillo, Texas
Address: 10801 West I-40
Details: Enjoy Route 66 RV Ranch in style! This vintage, Texas style RV park has everything you could want. From free high speed WiFi to large pull thru spaces, 30/50 AMP hook-ups, clubhouse to washer/dryer facilities, you won't ever need to leave! Did we mention the ranch is pet friendly?
THE CANYON MOTEL AND RV PARK
Where: Williams, Arizona
Address: 1900 E. Rodeo Road
Details: Escape from the ordinary! Historic Route 66 Motel and RV park, also known as The Canyon Motel (a mere hour from the Grand Canyon's South Rim) features full hookups, grilling access, an indoor pool, general store, WiFi, cable TV and so much more.
MALIBU BEACH RV PARK
Where: Malibu, California
Address: 25801 Pacific Coast Highway
Details: Once you've completed your Route 66 journey, make your way to Malibu RV Park. This spot is your Southern California RV vacation headquarters. With stunning ocean views and over 142 RV sites, there is enough room and view for everyone. The RV park is open year round and features high-end amenities including but not limited to heated showers, propane service, dump station, game room, picnic tables and a convenience store packed with food, beverages, wine, beer, ice and RV parts.
Looking for more summer road trip routes? Check out our Top RV Routes Across the U.S. and leave us a comment in the section below letting us know where you'll be vacationing in your rig this season!