Drive-in movie theatre's are making a comeback. Spend your summer evening snuggled up on your RV couch with the kiddos or the one you love and watch a big screen movie in the comfort of your home while listening to the picture through an FM transmitter. The nostalgia is real for those who grew up in the 1950's and the excitement for the younger generations is palpable for this new movie going experience. Check out these seven drive-in's across America that are RV friendly.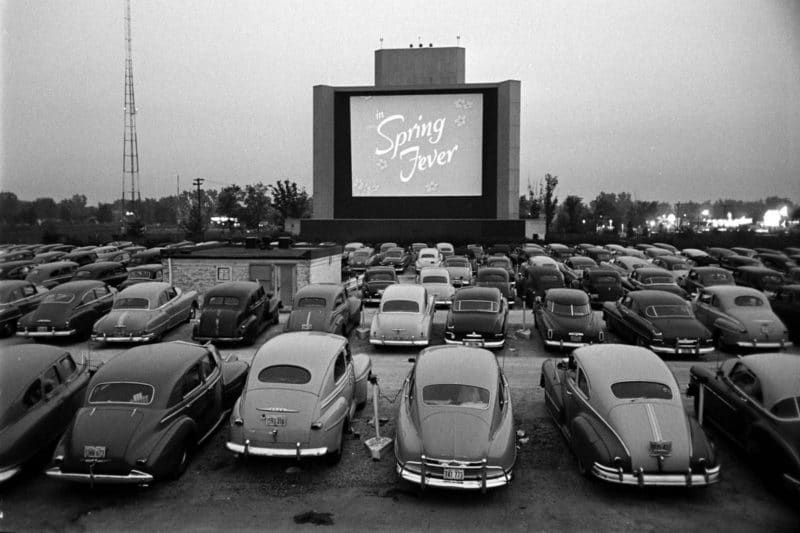 STARLIGHT DRIVE-IN
Address: 2000 Moreland Ave SE | Atlanta, GA 30316
Hours: Open 7 nights a week
In 2013 the Starlight was transformed and upgraded to a digital projection system, creating the highest viewing quality ever experienced at a drive-in. Tickets are $9/adult and kids (5-9) $1. Starlight plays current blockbuster hits like Toy Story 4 and Spiderman Far From Home.
BANGOR DRIVE-IN 
Address: 1674 Hammond Street | Hermon, Maine 04401
Hours: Friday and Saturday at 6 PM
Enjoy this classic twin screen American drive in theatre this summer! Pack up your family in your RV and experience a night under the stars. Bangor is equipped with a snack bar so you can have your very own picnic at your drive-in site. The typical rate is $22/vehicle with RV's and busses subjected to additional fees. There is a huge bonus – the drive-in is pet friendly!
SKYVIEW DRIVE-IN
Address: 5700 North Belt West | Belleville, Illinois 6226
Hours: Monday – Thursday 8 PM and Friday – Sunday 7 PM
The Skyview Drive-In was opened for business on July 8, 1949. It has weathered many storms, including a tornado in the spring of 1955. This year the drive-in will celebrate its 70th anniversary! Tickets for adults are $11 and children 12 and under are free.
ROUTE 66 DRIVE-IN
Address: 1700 Knights Recreation Drive | Springfield, Illinois 62711
Hours: Open 7 nights a week
If you're embarking on our RV Guide to Route 66, make sure to include this drive-in on your trip. Come rain or shine, this drive-in will be open. Monday night is open caption night for hearing-impaired patrons at the twin screen theater. Regular admission is $8 for adults, $5 for kids 4-11 and age 3 and under are free.
FOUR BROTHERS DRIVE-IN 
Address: 4957 RT 22 | Amenia, New York 12501
Hours: Open 7 nights a week
Four Brothers is perhaps the most hip drive-in you will ever experience. It is on record as the newest drive-in theatre in America. This boutique cinema is designed for those who want grand entertainment, premium foods and to be inspired by the magic of friends, family and movies.
HIGHWAY 21 DRIVE-IN
Address: 55 Parker Drive | Beaufort, South Carolina 29906
Hours: Open nightly at 6:30 PM
Watch your favorite new blockbuster hits under the stars! From Men in Black to Aladdin, there's a movie for everyone. Highway 21 has excellent concession options including theater candy, snow cones and root beer floats to adult meals like grilled chicken warp, Philly steak wrap and angus beef burgers.
SOUTH BAY DRIVE-IN
Address: 2170 Coronado Ave | San Diego, California 92154
Details: Open 7 nights a week
Come enjoy southern California the way it was meant to be experienced – outside. South Bay is 25 minutes south of San Diego and plays the seasons biggest blockbuster hits. Adult tickets are $9 and kids 5-9 $7. Enjoy classic snack bar treats and relax under the star!
Looking for the best summer road trip routes? Check out our Top USA RV Road Trip Destinations and let us know in the comment section below where you'll be headed in your rig this July!