Have you set your sights on boondocking this fall? If so, we have the downloadable packing list of your dry camping dreams. Don't be intimidated to go off the grid in your RV as the leaves start to change this fall 2019. In fact, some of the best spots to see nature shed the last of her summer skin are places you have to venture into deep country. That's where boondocking comes in.
If you're unfamiliar with boondocking, think of it as your unplugged RV experience. Also known as dry camping, this is where you opt to camp without any hook-ups (we're talking water, sewer, electric, everything). To learn more about dispersed camping, check out our post on Everything You Need to Know About Boondocking.
Still planning your RV adventures this season? Be sure to check out our Top 10 Spots to See the Leaves Changing This Fall. Go discover incredible fall foliage in California, Tennessee, Upstate New York, North Carolina, Michigan and a few other stunning places this autumn and use this boondocking checklist as your 101 guide! We believe this packing checklist will give you the tools you need to feel ready and prepared for your boondocking experience.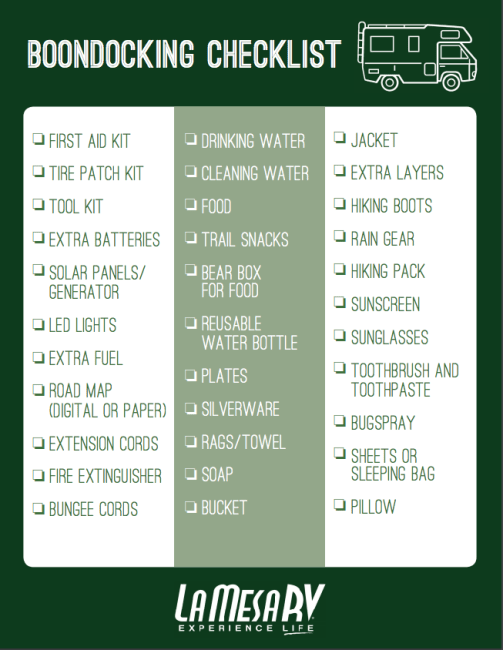 Click here to download and print your very own boondocking checklist. If your RV isn't quite ready to go off the grid, we're here to check it out! Make an appointment with our online appointment request  or by phone to get your rig boondock ready. In the comment section below, be sure to let us know where you'll be adventuring this fall for a chance to be featured on our blog.