James and Stef Adinaro are our 2019 inspiration. The adventure seeking duo-fitness pros from Utah, currently live out of a Winnebago Travato named Lance. In 2010 the couple began RVing and soon after started The Fit RV, a website they use to promote an alternative RV lifestyle – one that is focused around health and wellness. We were fortunate to sit down with the couple as they gave us a tour of their home on wheels and share their insight on everything from RV upgrades to ideal workout equipment for living on the road, their advice for first-time RVers and so much more. Enjoy the interview below!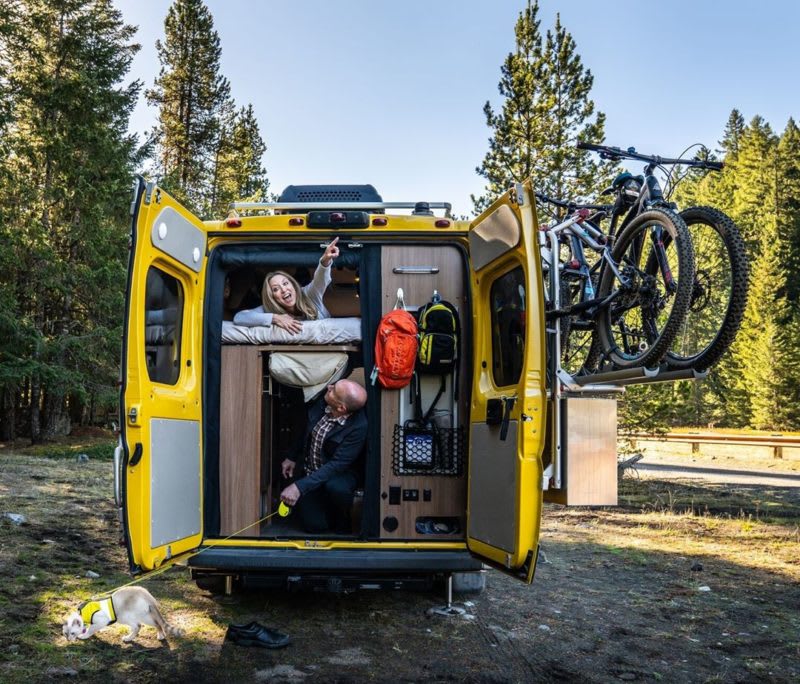 All photography provided by @thefitrv
LMRV: Thanks so much for sitting down with us. We love following along with your travels. Tell us about your very first RV, Das Bus!
FRV: Das Bus was a 2003 Forest River MB Cruiser based on a Mercedes Sprinter. We really didn't know very much about RVs when we got it. No two ways about it, we got really lucky. We had years of (mostly) trouble free fun with that rig. It had a dry bath, which is rare in a van. That was a more comfortable concept for our non-RVing selves at the time, and it made the transition to RV life really easy for us. We still miss that rig sometimes!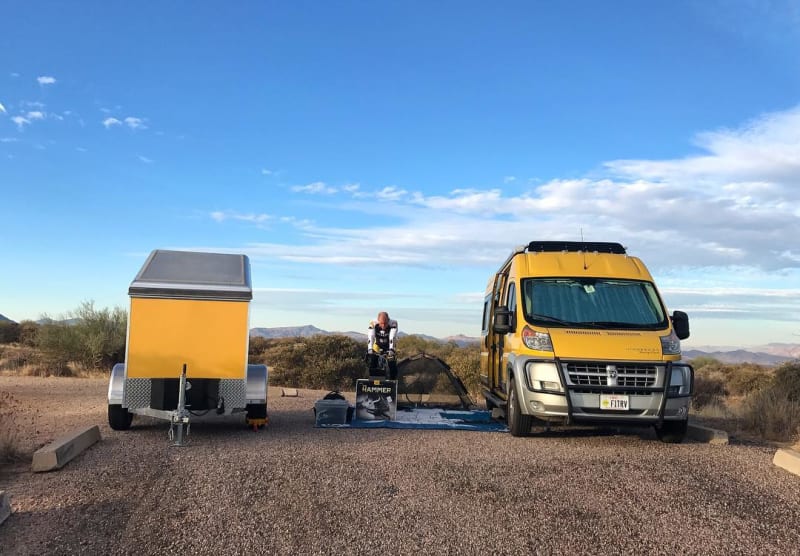 LMRV: Why did you transition to your new rig?
FRV: Das Bus was about 10 years old when we started looking to upgrade. Technology had moved on, new floor plans were available, and we were no longer novices. We had a list of things we wished were improved or better. Plus, we had kind of gotten tired of the "puzzle bed" setup in that floor plan and the way we had to store our bikes.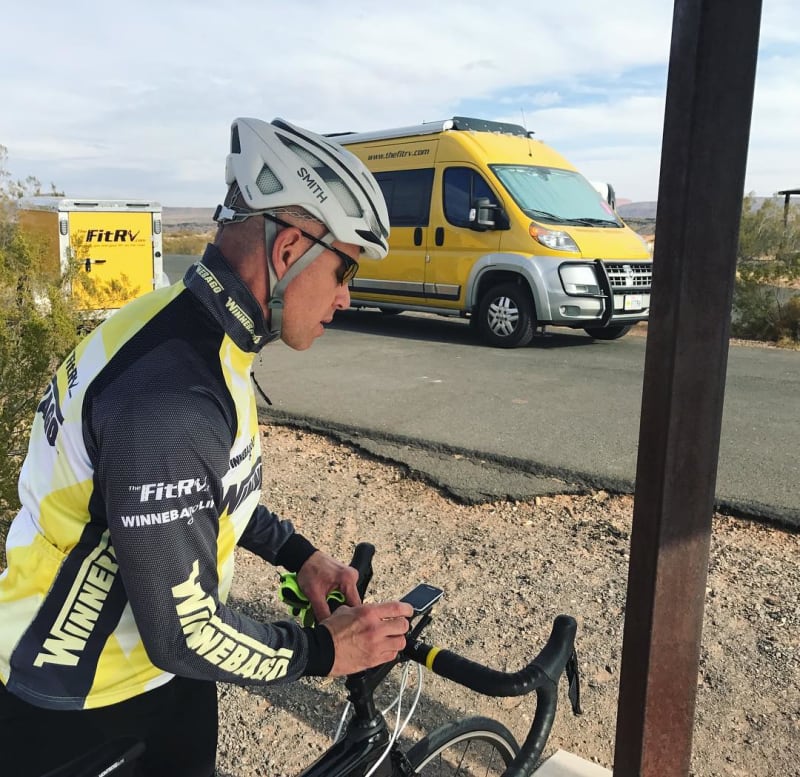 LMRV: How did you choose this particular RV? How did you come up with the name Lance for your new rig? 
FRV: On a tour of the Winnebago factory, we noticed a single yellow ProMaster parked in their lot. Even as a plain van, he was a head turner. That started conversations about how we would customize the Travato to meet our active lifestyle and cycling-focused adventures, and the idea of Lance was born. As for how we named Lance… well… he wears yellow, and shows up at cycling events. I'll let you figure it out!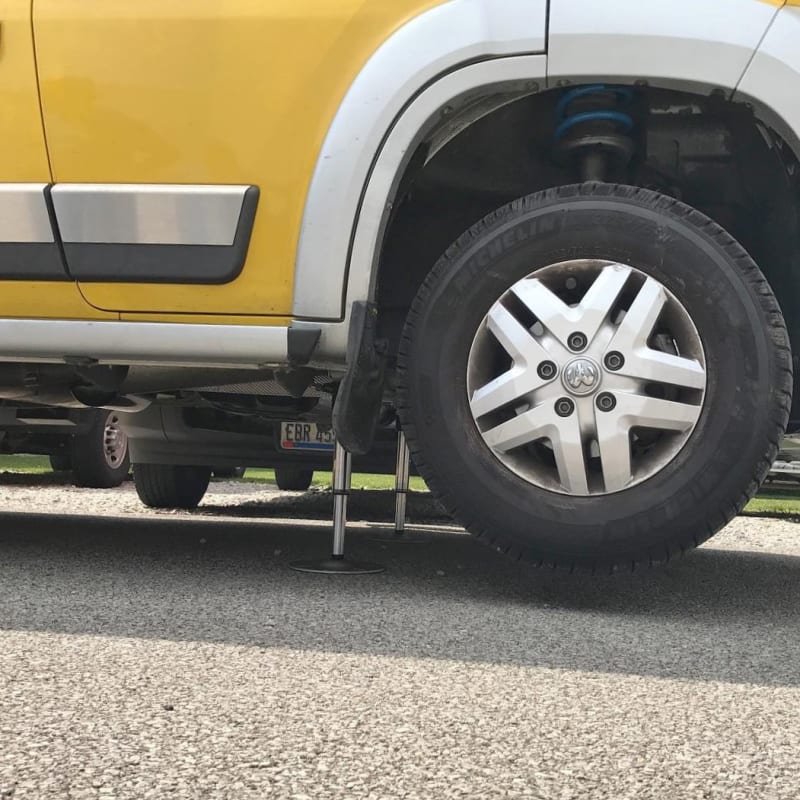 LMRV: What upgrades did you make to your RV?
FRV: The upgrades and modifications to Lance are too numerous to list them all. There's a page and a video over on our website that walks you through all of our upgrades. Probably the biggest, single modification was the removal of the generator and the installation of an advanced energy system with Lithium batteries, an inverter/charger, and a second alternator. It's so efficient, we rarely even plug in anymore! We also installed automatic leveling jacks, and we'll never own another rig without them – they're the bomb! We replaced the stock rear suspension with an air suspension system, replaced the absorption refrigerator with a compressor one, insulated, carved out more storage, added curtains, storage bags, a cab blind system… the list goes on and on!
LMRV: How would you describe your RV style? Do you collect while traveling? Are you extreme minimalist? Do you prefer color or muted pallets?
FRV: Interesting question. We wouldn't qualify as extreme minimalists, but we are rolling in a van. That means everything has to earn its place in the rig – because there's not a lot of space. We do travel with our RV adventure cat, Mel, and he gets his share of space as well. Due to the website, we do a lot of traveling to events, and we are always trying out new products on our travels. Our typical trip is anything but typical. Stef has started collecting stickers from places we've visited that she sticks on a short wall in the van – besides lots of memories, that's all we collect!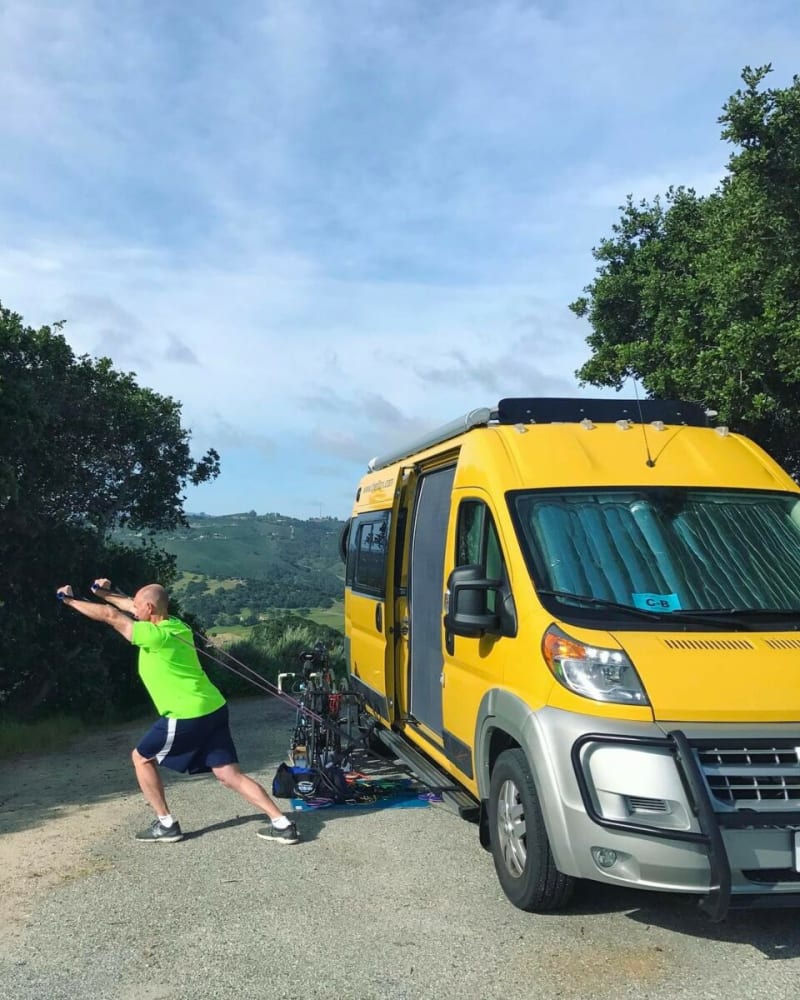 LMRV: Do you keep workout equipment in your home on wheels? If so, how did you decide which pieces to keep with you in such a tight space?
FRV: We have plenty of suggestions for workout equipment in the RV over on our website, but the ones we never (and I do mean never) travel without are: our resistance bands kit, a TRX suspension trainer, Yoga Mats and a jump rope. All of these pack down really small and there are a variety of exercises you can do with all of them.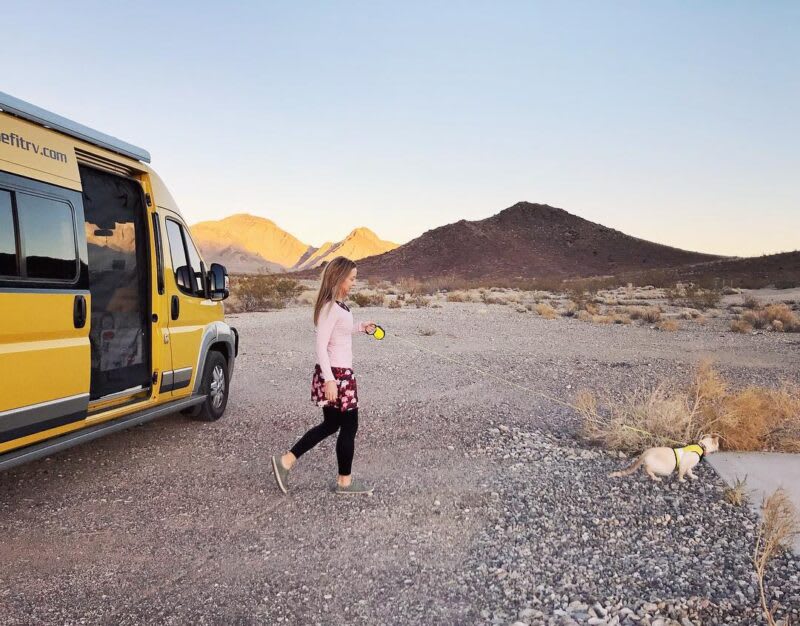 LMRV: Any advice for first-time RV owners?
FRV: We often hear people saying they're waiting on this or that before buying their first RV. They're waiting until this rig has a different refrigerator. They're waiting until this event happens in two years. They're waiting to see what the maintenance is like on this new chassis. The list goes on. Our advice is: stop waiting. While you're scouring the internet for reports of timing belt problems at 70,000 miles, you could be out having fun instead. If you keep waiting for the perfect time, the perfect rig, the perfect floor plan… you'll never get out there.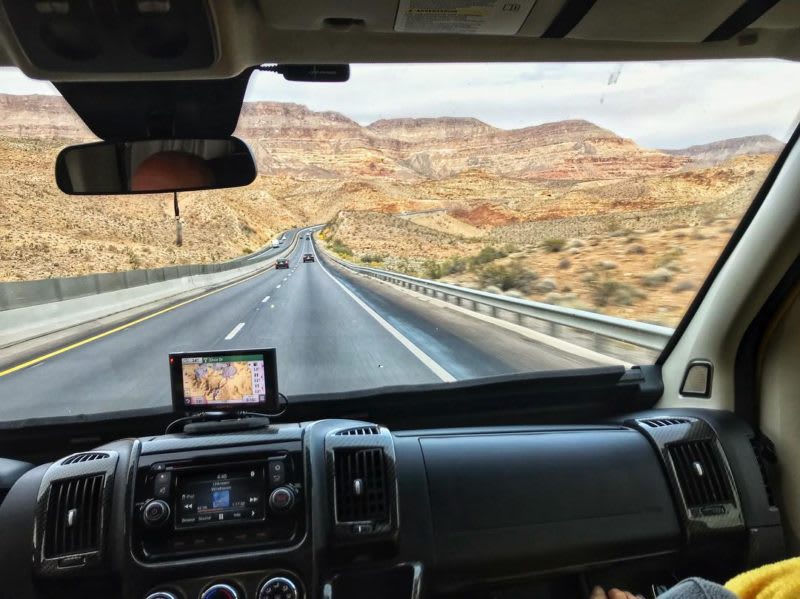 LMRV: What's your favorite feature in your RV?
FRV: That it has a co-pilot seat. I mean, yeah, there's cool power systems, weird toilets, efficient refrigeration, blah blah blah. All that's great. But we didn't get an RV to "get IN there." We got an RV to "get OUT there." And the best part about getting out there is that I get to share those adventures with my best friend.
If you'd like to learn more about The Fit RV, follow their incredible journey on Instagram! Want to pocket some go-to exercises while living on the road? Check out our post on How to Workout on the Road and be sure to leave us a comment letting us know where you'll be working out this holiday season.