UPDATE: SUPER B 2020 HAS BEEN CANCELLED DUE TO COVID-19.
Are you on the hunt for your next adventure mobile? Have you been in the market for a Class B but don't know which manufacturer or model is right for you? With the 2020 Super B Show is right around the corner, you're in great luck. This unique RV show offers the one opportunity for you to compare side-by-side, nine different manufacturers with over 130 mini-motorhomes on display. This also includes a few RVs that will be making their debut at the event!
The Super B RV show is truly the only show of its kind in the country. During the four day event you can speak with factory personnel, discover the newest innovations and trends in small motorhomes first hand, and learn more about how to use the components of these incredible RVs by speaking directly with vendors. We are also working with Winnebago to bring you exclusive seminars featuring RV customization. Admission and parking are free for the 2020 Super B, so bring the family and enjoy this RV show that is a one-stop shop event you do not want to miss.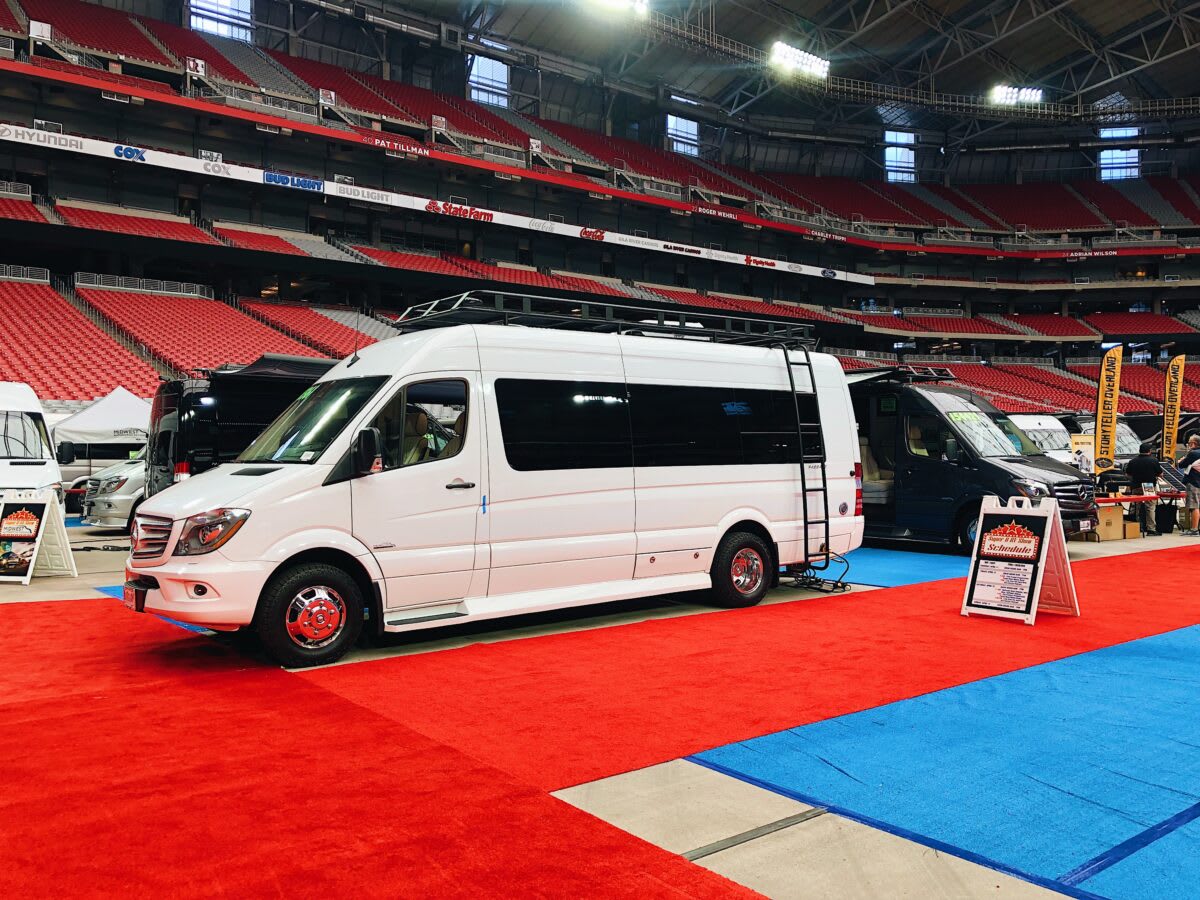 DETAILS ON THE 2020 SUPER B RV SHOW 
Location: State Farm Stadium
Address: 1 Cardinals Drive | Glendale, Arizona
Dates: April 16 – 19, 2020
Hours: 9 AM to 7 PM every day
Parking: Free parking in the parking at State Farm Stadium
Admission: Free!
MANUFACTURES AND UNITS AT THE 2020 SUPER B SHOW INCLUDE:
WINNEBAGO: Boldt, Revel, Navion, View, Travato, Porto, Vita, Era and all the new Solis
STORYTELLER OVERLAND: Mode 4×4
MIDWEST AUTOMOTIVE DESIGN: Legend, Passage, Passage 144
PLEASURE-WAY: Plateau, Lexor, Ascent, Ontour, Tofino
THOR MOTOR COACH: Sequence, Quantum Sprinter, Synergy, Delano, Tellaro
ENTEGRA COACH: Qwest
LEISURE TRAVEL: Serenity, Unity, Wonder
ROADTREK: Yes! Roadtrek will be on display!
VENDORS: The full vendor list will be coming later this month, but currently you can expect to see Agile Offroad and GoSolar at our Phoenix Super B Show.
RV CAMPGROUNDS AND HOTELS CLOSE TO THE SUPER B RV SHOW
Looking for a spot to camp close to State Farm Stadium? We've included a list of 30+ RV resorts and campgrounds for you to check out while you're enjoying the Super B event. This map doesn't include every campground in the area and we should note that it is peak season in Arizona, meaning these campgrounds fill up fast. Be sure to consult with the campground directly to make a reservation, as we do not know the availability for each.

More details are to come on the April 2020 Super B RV Show, so mark your calendars and subscribe to our blog for future updates on the RV show of the year! If you're planning your RV road trip to Arizona for the event, be sure to check out our Arizona Road Trip Guide, should you be in need of a little desert inspiration!