The Marrs family are our 2020 travel inspiration. Jen and Bryan Marrs along with three sons and two dogs, are living the ultimate RV dream. This family of seven are weekend warriors with big plans to become full-time RVers once their boys head off to college. Take one glance at the Marrs families' travels and you'll find their weekend and holiday adventures are so picture perfect, you'll want to leave your day job and hit the open road alongside them!
We sat down with the matriarch of the family to discuss how this group came to find their greatest adventure in RVing. From buying a used Class A motorhome from La Mesa RV to sharing tips and tricks on traveling with pets to where they'll be headed later this year, all the details of the inspired interview are below. To keep up with the Marrs's travel, follow their incredible adventures on Instagram.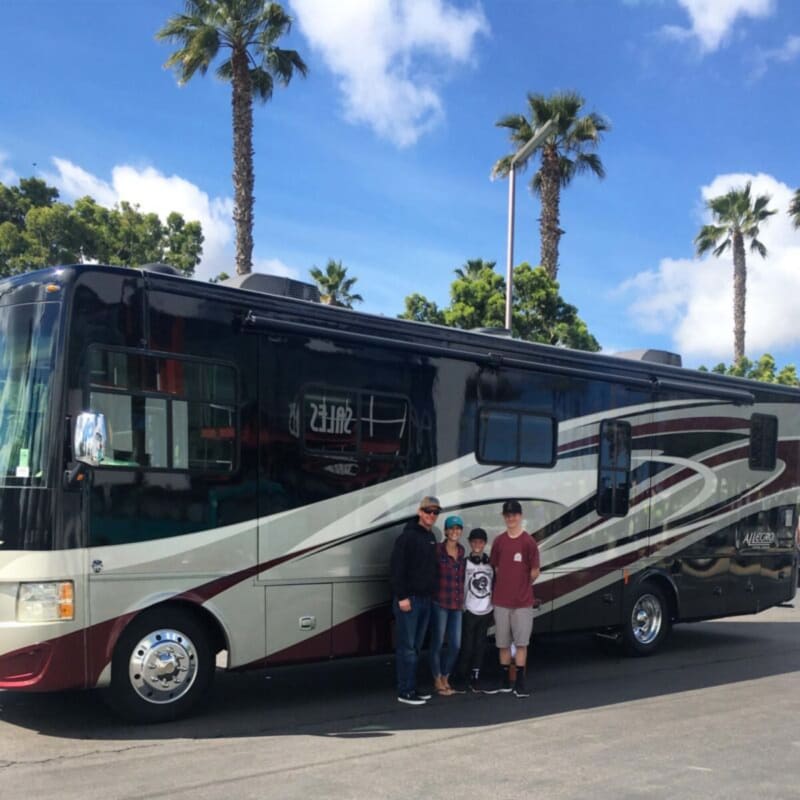 La Mesa RV: Please tell us about yourselves! What drew you to the RV lifestyle? How long have you been RVing?
Jen Marrs: Hello! We are the Marrs family and we are addicted to adventure! My husband and I grew up exploring and camping around the U.S. We knew we wanted to do the same with our boys. While tent camping is awesome (and how we started 20 years ago) we desired to explore in a little more comfort and ease, which had us turning our heads to the RV lifestyle, quicker than we had ever imagined. Here we are in 2020, four RVs later! We will never go back from the RV lifestyle and look forward to many more adventures in our wonderful (and perfect for us) RV!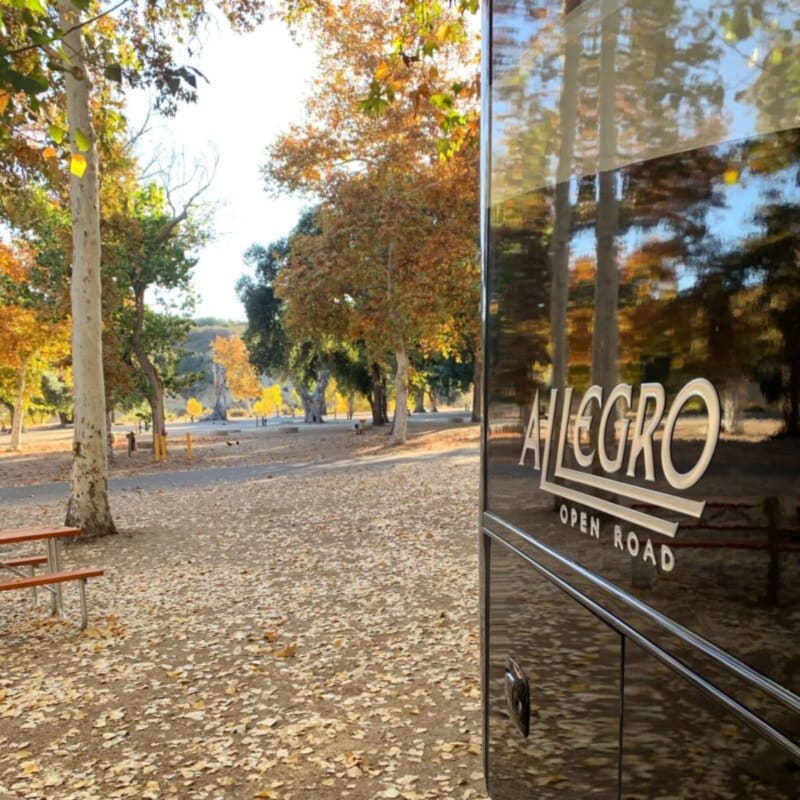 LMRV: What made you decide to purchase your Class A from La Mesa RV?
JM: When we started looking for a Class A motorhome last year, we visited a bunch of different shows and RV dealer lots. Many dealers were quick to get us to the sales office looking at numbers. What I adored about La Mesa RV specifically was the low pressure. They allowed us to make decisions at our pace, shared extensive knowledge of the RVs we were looking at, the they got to know us as a family, and simply allowed us to hang out in the unit by ourselves. This was awesome as we were able to take our time and figure out for ourselves that it was a perfect fit for our family. La Mesa allowed us to fall in love with the unit at our pace and that is what we appreciated most. We also worked out all our numbers, etc in the RV, which was so fun! We were never stuck in the dreaded office to work out the deal. SOLD.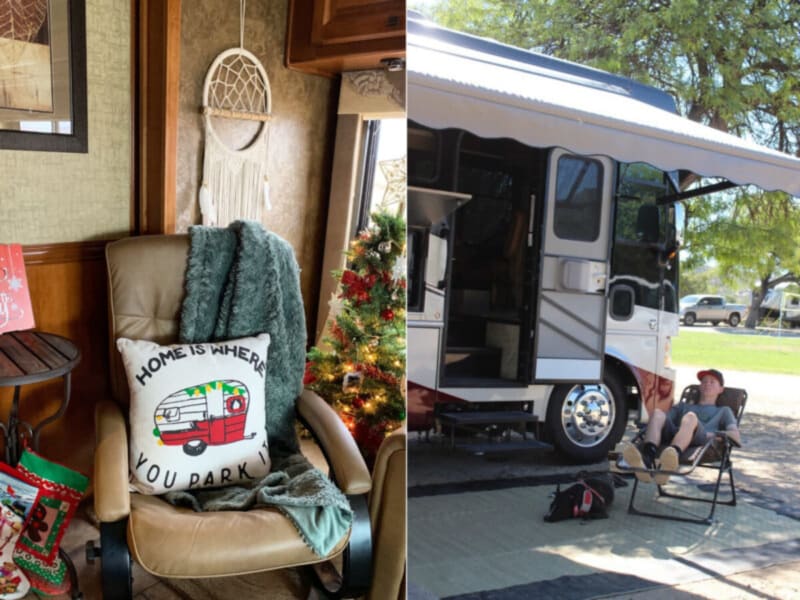 LMRV: What type of RVers are you? Weekend warriors, full-time?
JM: We are currently weekend and holiday vacation warriors with the dogs and the kids but once the kids are all grown and out of the house, our plan is to RV full-time! Living in Southern California offers many amazing places to go for the weekend that don't take a lot of gas (which is always a plus) to get to! So we simply throw our food in the motorhome and roll. It's the best!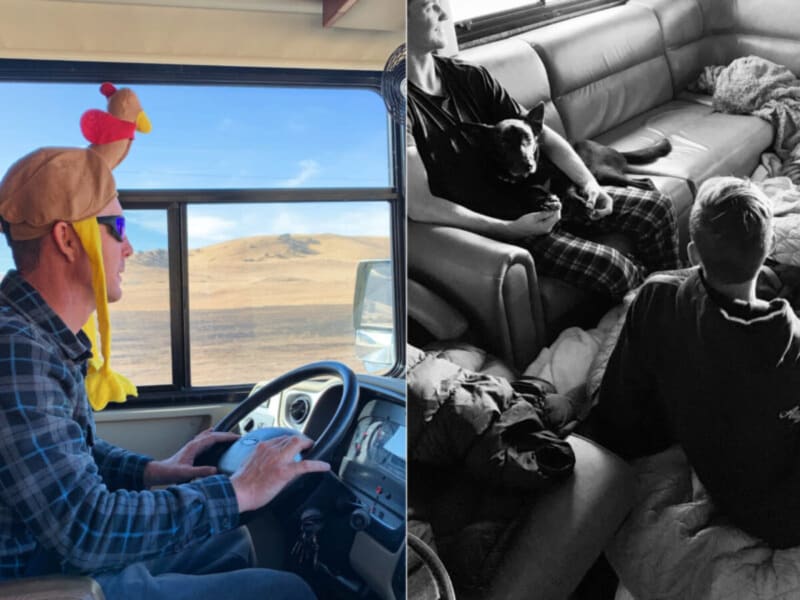 LMRV:What does a day in the life of the Marrs family on the road look like? 
JM: A day in the life of the Marrs family RVing starts with waking up two dogs that need to go out and do their business of course, followed by coffee, hash browns, eggs, and bacon for breakfast. The boys usually sleep until they smell the bacon. We love taking morning walks with our second cup of coffee and the dogs. It's fun seeing all the different set-ups and motorhomes at the campgrounds so we enjoy them as we stroll. We love hiking, eating junk food and playing games. Cover Your Assets and Blokus are two of our family favorites. Sitting outside our RV with our favorite beverages and getting lost in conversation is a highlight of RV living for us. Having no schedule at all is the absolute best thing about camping.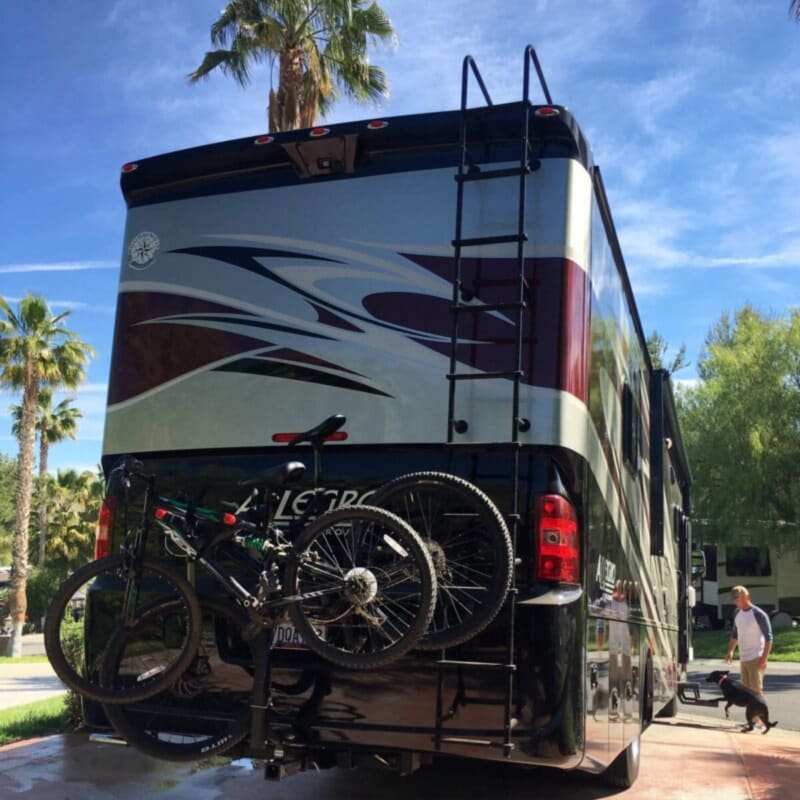 LMRV: What made you choose this specific RV? What are you favorite features on the Allegro Open Road?
JM: When choosing a motorhome, there were a lot of boxes we needed checked. We knew going into this purchase knowing it was going to be an RV we were going to have for quite sometime. We also knew the possibility of full-time RVing in the future was on the table. My husband Bryan wanted a recliner and L-couch. I wanted the gas fridge, oven and good counter space. The boys just wanted anything that was bigger than our 24-foot class C that had no slides- haha! All that to say, we instantly fell in love with the 2014 36LA Allegro Open Road. Though it was a little longer than what we wanted, (initially we tried to stay around 30ft. for state/national campgrounds) but it checked so many other boxes and had tons of features we didn't even know we wanted or needed! I love that it has a full bathroom in the back and a 1/2 bath in the front. I love that it came with a washer and dryer! I love that it has a central vac! I love that the quality is so much better than other manufactures. We bought a used unit and with that came with so many extras: solar, banks system, anti-theft device… the list goes on and on. The price was right and we were SOLD. We fall more in love with our girl every trip!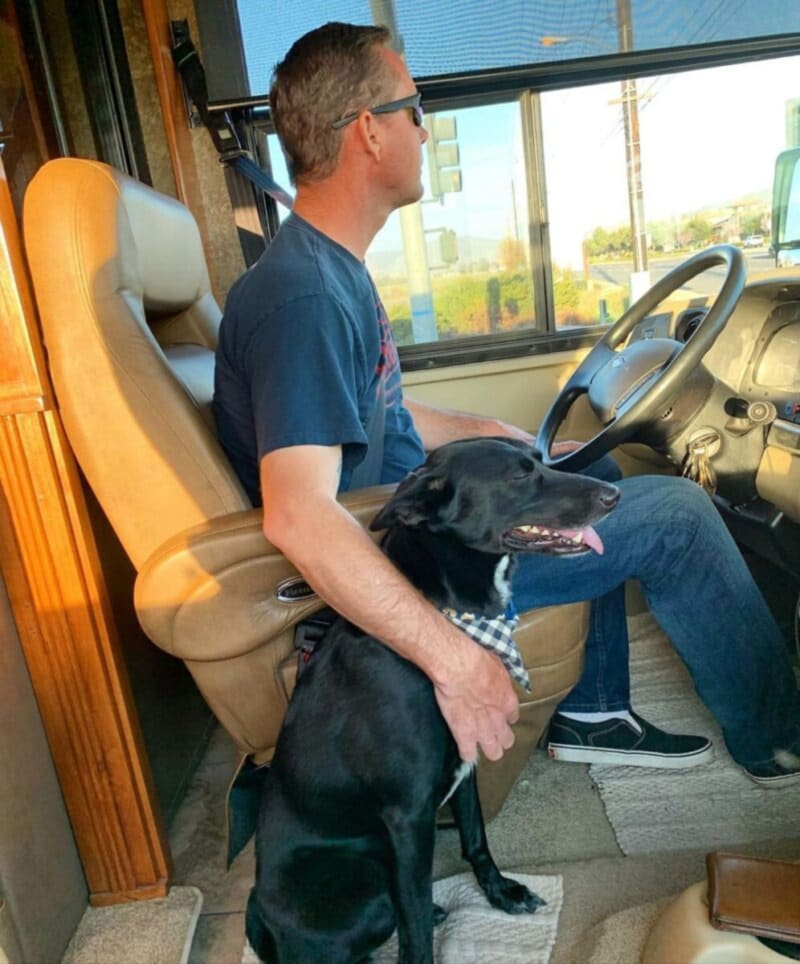 What are you 5 tips and tricks to RVing with pets?
Don't forget the food, leashes, harness and poop bags!
Keep water out in a bowl while you are traveling so they can drink while you're on the road.
Make sure you have shot records/licensing with you. Some campgrounds do ask for those (we've never encountered it first hand, but we have heard it from other campers.)
Before your trip, be sure to check that the trails, state parks, etc you're visiting allow dogs.
Place a sticker on the outside of your RV window (we purchased ours on Amazon) that says PETS INSIDE (2) dogs. This is helpful in case of an emergency where you are not in the RV but your pets are – which will allow people to know to get your dogs out!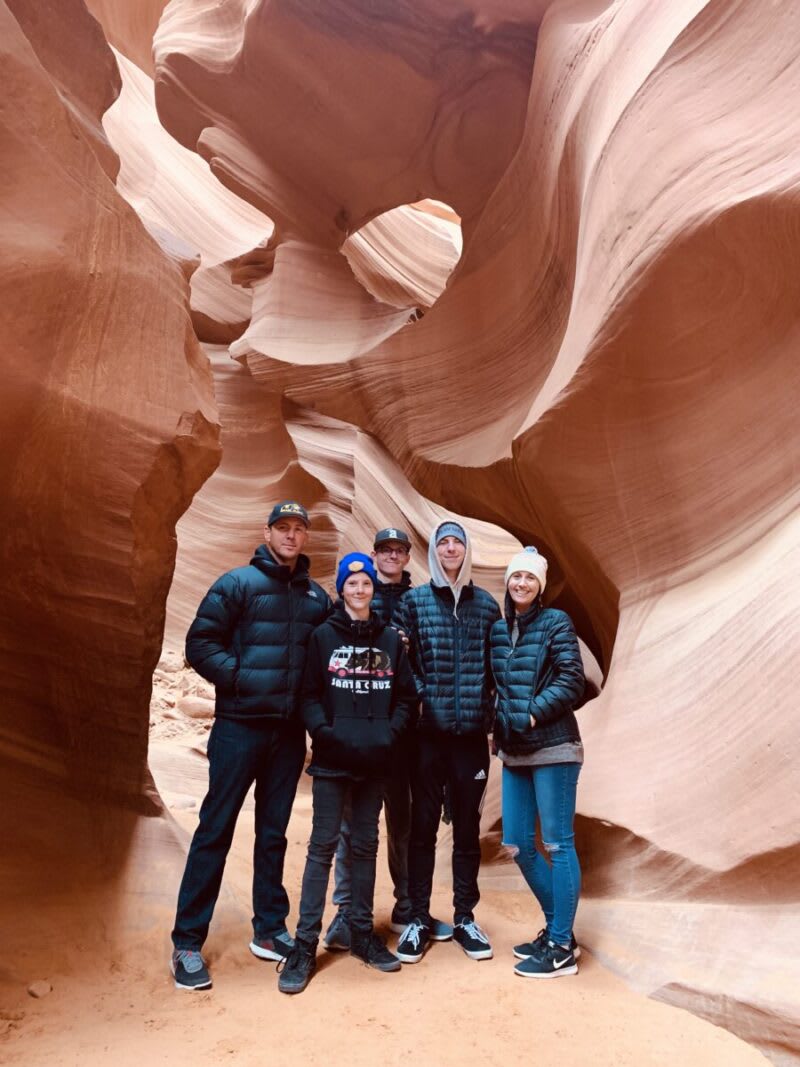 LMRV: What is your favorite place you've adventured to in your Class A to date?
JM: Our favorite trip to date… that's a tough one! I'm going to go with our most recent "Christmas Vacation" Trip. We decided to take Christmas on the road and it was the best decision. I even put up a mini tree and brought our stockings along. We started in Utah and headed to Page, Arizona to see Horseshoe Bend. We also did a fun tour of Lower Antelope Canyon. Then we made our way over to Monument Valley for a few days. After we explored that we hit Flagstaff, Arizona for some fun in the snow! I loved making a Christmas ham with all the fixings for dinner along with watching A Christmas Story in our RV! We are already talking about having Christmas on the road again next year.
LMRV: Do you have any advice for first time RVers?
JM: Hmmm, we are still taking advice ourselves! Don't be embarrassed to ask other campers for advice if you're stuck in a situation. Chances are we've all been there and someone will know the answer. I suggest taking your new unit out without buying all the extra accessories. I know it's hard as there are so many great accessories out there but chances are you won't need/use half the things you think you need. I think it's best to figure it out as you go. Our last suggestion would be to create an Instagram hashtag so you can look back at all your amazing adventures! I'm so happy I did this as our kids, friends and family can type in the hashtag and see all the photos from our many trips. It's a one-stop shop for our memories. I love looking back at #marrsrvadventures and all the places we've been.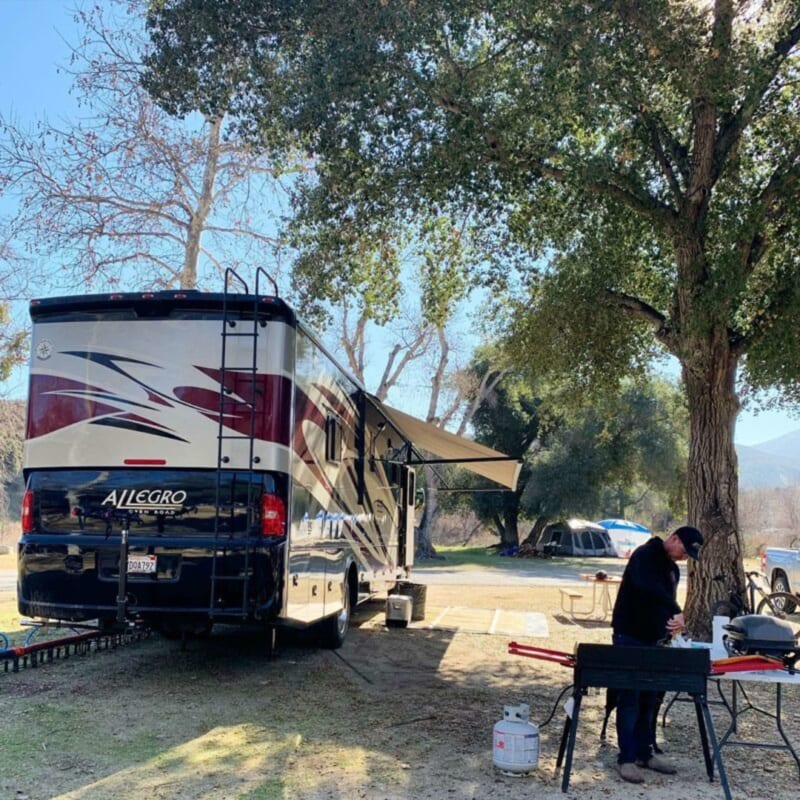 LMRV: Where do you plan on RVing in 2020?
JM: We have some trips in the works – heading to San Clemente State Beach for a week, possibly June Lake for another week. Of course many weekend trips and we need to plan that Christmas trip already, right?! That is one thing I love to do, plan trips! It gives you something to look forward to after working the M-F. It's the best and sweetest escape! From our wheels to yours, safe travels friends!
Looking for more explorer inspiration? Check out our interview with Hello America! Are you a RVer with a story to share? Leave us a comment in the section below for a change to be featured on our Experience Life blog!