RV Repair Services At La Mesa RV
During these uncertain times, we are here for you. As of today, most of La Mesa RVs stores and service departments across the country are currently open. If you need routine RV maintenance, service or parts, you can still make an appointment with one of our nine stores. La Mesa RV has been refining every detail of RV service for the last 45 years. Through the last four decades, we have adapted to the times. 2020 has brought our newest venture, Mobile Service. Check out the details below to find out what types of mobile services we offer and how to make an appointment. If you're RV has been serviced and is ready for pick up at one of our La Mesa RV locations, we are open and you're welcome to come to pick up your RV! Should our stores close or time of operation change over the next few weeks, we will update that information here on the blog and our other social platforms. We'd also like to take this time to applaud our nation's doctors, nurses and emergency responders as they work to keep us healthy in these unprecedented times!
LA MESA RV STORE LOCATIONS
RV Repair Services in FLORIDA 
Orlando – Open
Port St. Lucie – Open
Fort Myers – Open
RV Repair Services in CALIFORNIA 
San Diego – Sales Office Closed | Service Open
Sacramento – Sales Office Closed | Service Open
RV Repair Services in ARIZONA 
Phoenix – Open
Mesa – Open
Tucson – Open
NEW MEXICO
Albuquerque – Sales Office Closed | Service Open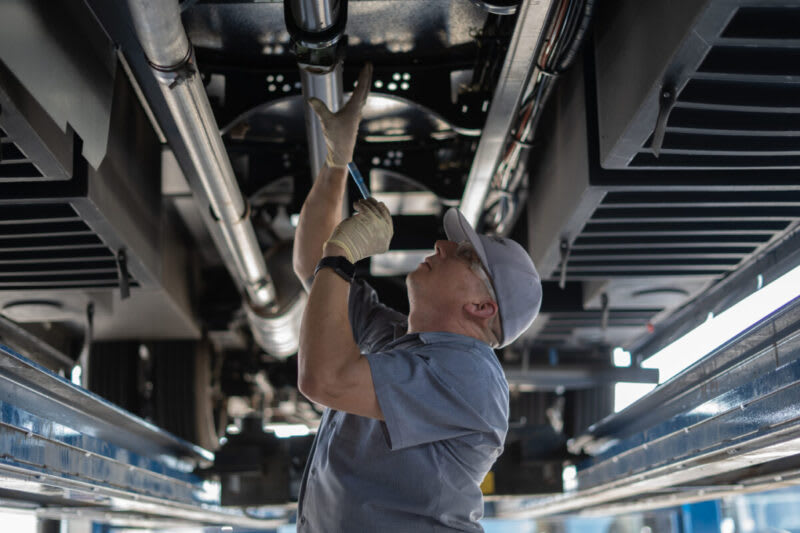 SERVICE HOURS FOR ALL LA MESA RV LOCATIONS: 
Monday – Friday from 7:30 AM – 6:00 PM
SERVICES OFFERED BY LA MESA RVS MOBILE SERVICE: 
Water leaks
Air conditioners
Furnaces
Water heaters
Roof leaks
Electrical issues – 120 Volt and 12 Volt
Awning issues
Slide-out(s)
DETAILS ON PRICING
Pricing is based on a service call fee and the distance a customer is (within a certain mileage range) of the store. La Mesa RV service vans are able to service RVs within a 50-mile radius of the store, while our Albuquerque store has a radius of 75 miles out. Mobile service appointments include parts and labor. Because each service is unique to the RV, prices vary. Call your nearest La Mesa RV to book a mobile service appointment and to discuss pricing.
SERVICE TECHNICIANS
All La Mesa RV service technicians are either RVIA Certified or RVIA Master Certified.
HOW DO I BOOK A MOBILE SERVICE APPOINTMENT?
You can book mobile service by calling the La Mesa RV store nearest to you and ask to book a mobile service appointment. All La Mesa RV stores have at least one mobile van, some with additional units. Once you find the location closest to you, click on the on that store and call the number for our service department.
Looking for something to do while staying home? Download our Spring Cleaning Checklist! Spring cleaning is an excellent way to self isolate as an RVer!