How to make your own disinfectant wipes.
With everyday items flying off the shelves during COVID-19, we wanted to share with you easy and affordable ways to make your own! From nut milks to household cleaner and disinfectant wipes, check out the simple ways you can take what you probably already have in your RV pantry to make these coveted items.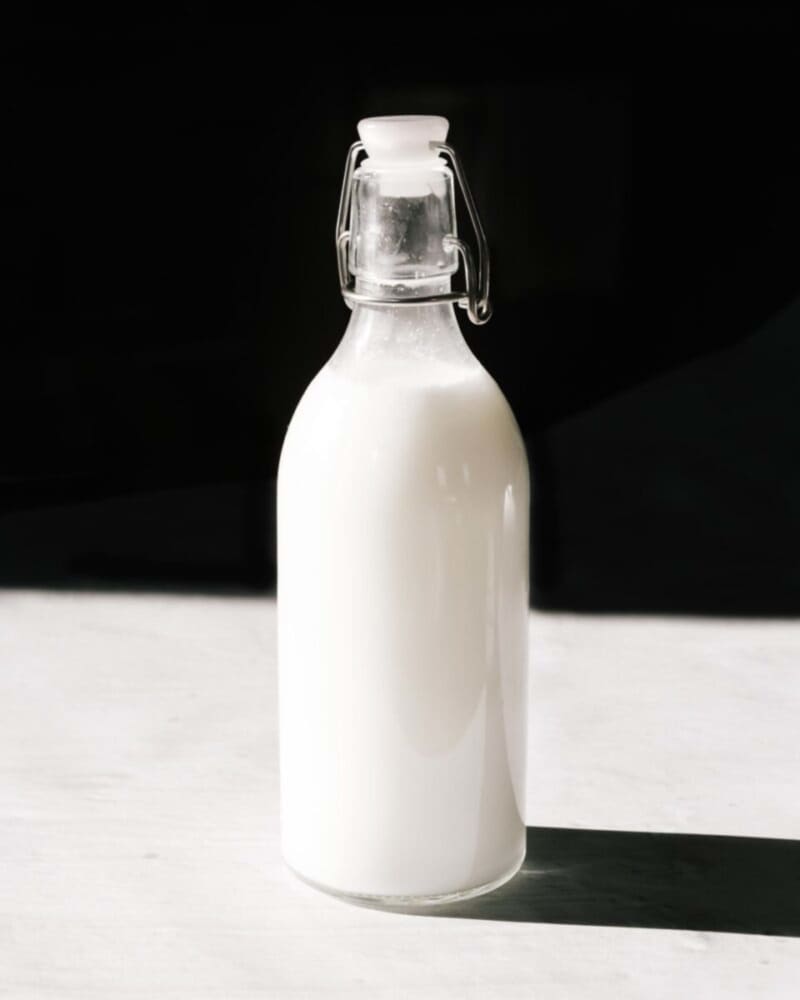 NUT MILK(S) RECIPE
There are what seems to be dozens of nut milks on the market – from almond to hazelnut, walnut, cashew, pistachio, even pecan. Nut milk is very easy to make and is a great item to have on hand during quarantine. Use it in your cereal, coffee, baked goods, and on its own.
WHAT YOU'LL NEED:
– Cheese cloth
– Bowl
– Jar/liquid container with lid
– Blender
INGREDIENTS: 
– 1 cup nuts (your choice of RAW, unsalted nuts: options include almond, walnut, hazelnut, cashew, pistachio or pecan – soaked overnight and rinsed)**
– 4 cups water
– Salt (just a pinch)
– Optional: 1 date or any sweetener like honey or agave you like (to taste)
** Soaking nuts overnight is the critical first step to making nut milk. This process will create the consistency of the liquid.
STEPS: 
1. Place 1 cup nuts in a bowl and add in enough water to fully cover nuts. Let sit overnight for 12 hours.
2. After 12 hours, drain nuts and discard extra liquid.
3. Add nuts, 4 cups water hot water (not boiling), and choice of sweetener to blender.
4. Blend on high until the consistency is very smooth. Depending on your blender, this can take between 2-3 minutes.
5. Then take your cheese cloth and place over bowl.
6. Slowly pour in the contents of the blender and strain through cheese cloth.
7. Discard pulp or keep it to make almond meal. Check out that recipe here!
8. Transfer your freshly made almond milk to your airtight container and place in refrigerator until you're ready to enjoy!
9. Homemade almond milk lasts between 3-5 days.
This is how to make your own disinfectant wipes.
To eliminate having to stop at multiple grocery stores on your hunt for house cleaning products and to keep store-bought chemicals out of your RV, you can easily make your own. This three ingredient house cleaner is 100% natural and sure to leave your RV smelling fresh and clean. If you run out of paper towels and can't find any at the store, just cut up old t-shirts and use them instead!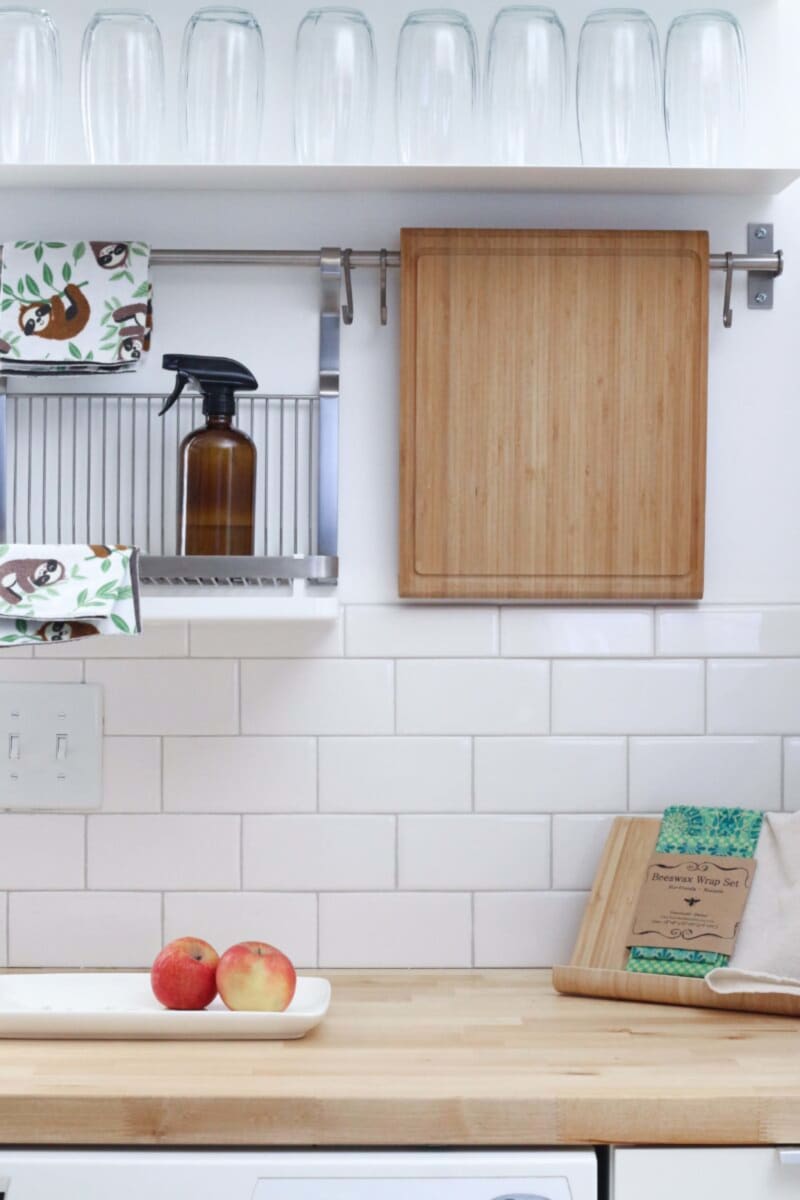 KITCHEN CLEANER INGREDIENTS: 
– 2-4 drops of tea tree essential oil (antibacterial, antimicrobial and antiseptic)
– 1 cup distilled white vinegar (a natural disinfectant)
– 1 cup water
WHAT YOU'LL NEED:
– Funnel
– Measuring cup
– 16-oz spray bottle 
DIRECTIONS:
1. Use funnel to pour 1 cup distilled white vinegar and 1 cup water into spray bottle.
2. Add in 2-4 drops of tea tree oil.
3. Shake bottle for 45 seconds.
4. You're ready to use!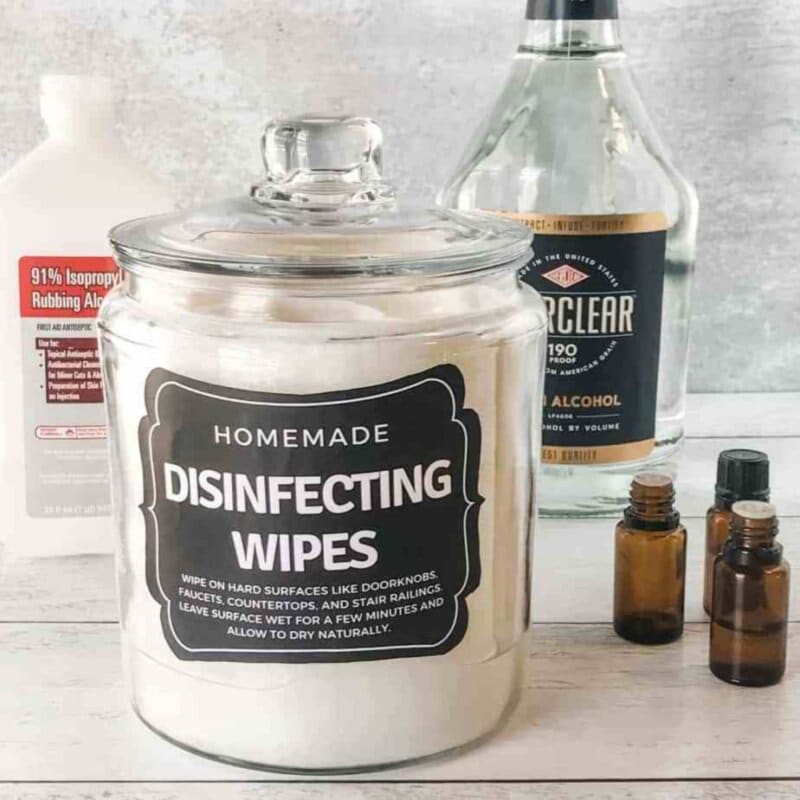 Photography: One Essential Community 
REUSABLE DISINFECTANT WIPES 
Disposable disinfectant wipes are quite hard to find across the nation during the current pandemic. According to the CDC, truly disinfectant wipe solutions need to be at least 70% alcohol – and these are! These wipes are best used on non-porous, hard surfaces. We found this amazing DIY how-to recipe on One Essential Community. Check out how to make them below.
INGREDIENTS:
Essential oil with disinfecting properties. Options include clove, cinnamon, eucalyptus,  geranium, lavender, peppermint, tea tree or thyme. One Essential Community recommends:
– 15 drops clove essential oil
– 20 drops lemon essential oil
– 10 drops clove essential oil
– 5 drops cinnamon bark essential oil
– 5 drops eucalyptus radiata essential oil
– 5 drops rosemary essential oil 
– 3 cups 70% isopropyl alcohol aka rubbing alcohol (found in the pharmaceutical section of local drug store)
– 3/4 teaspoon hydrogen peroxide
WHAT YOU'LL NEED:
– Measuring cup set
– Bowl
– 30 high quality, thick paper towels (or napkins)
– Airtight container made of glass, stainless steel or plastic #1 HDPE or plastic #2 PET. This is important because the container needs to be made of materials that are safe to use with diluted essential oils.
STEPS:
1. Mix all 6 essential oils, alcohol and hydrogen peroxide into a bowl.
2. Pour 2/3 of the mixture into your airtight container.
3. Fold paper towels in half, stack and place them in airtight container.
4. Secure lid.
5. Place container on its side and move around into the disinfectant liquid is completely covering the wipes.
6. Place on counter. Open lid and pour in the remaining cup of disinfectant over the disposable wipes.
7. You're wipes are ready for cleaning!
If you'd like to learn how to make something in particular during this uncertain time, leave us a comment in the section below and we'll do our best to feature it! If you're looking for a tasty recipe, check out our Easy to Make Campground Nachos!