Mike and Jennifer Wendland
Mike and Jennifer Wendland are two of the RV community's most beloved adventurers. Their travels, documented on their site RV Lifestyle, are closely followed by over 750,000 people and it's no wonder why. The couple have been RVing for over nine years and have done it all. From Travel Books to a Podcast and incredible YouTube videos, the Wendland's have produced extensive RVing content for RVers (newbies and veterans alike) to devour. Their work stands alone, thriving as a beacon of everything you could possible want or need to know about the RV lifestyle – tips, tricks, campgrounds, accessories, how-to's, the list goes on and on. And during a pandemic, that is no different.
We caught up with the duo to see how they're weather during Covid-19. To no surprise, they have done what they do best – created a space for RVers to engage and shared research during these unprecedented times. From their new Friday Night Digital Campfire livestream to keeping up with campground closures/openings and everything in-between, we found out how the couple is coping while sheltering in the Florida panhandle. Enjoy the full interview below.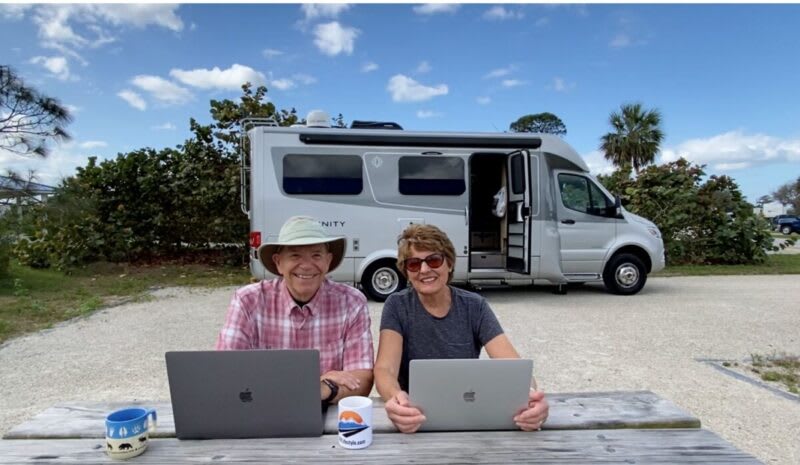 La Mesa RV: Let's do a quick recap for those who missed our first interview with you – tell us about yourselves!
Mike Wendland: We're now in our 9th year of RVing. We are traveling around North America doing a podcast, a YouTube Channel, a blog and a series of Rv travel guide books aimed at helping folks get the most out of the RV Lifestyle. We travel in a 2019 Leisure Travel Vans Unity FX (bought at LaMesa's Albuquerque, NM store). We're on the road half to 3/4 of the time.
LMRV: Where are you hunkered down during covid-19? What made you decide to go there?
MW: We were traveling around southern Florida finishing up the principal photography for our Seven Day RV Adventure Guides for Florida when health officials started issuing travel restrictions. We got out of the Keys just as Florida shut them down and as we made our way north, the state began shutting down state parks. We made it to Destin, FL in the Panhandle, an area known as the Emerald Coast where we own a condo, just as Florida mandated no unnecessary travel and issued a stay at home order. So we headed to the condo and have been hunkered down ever since.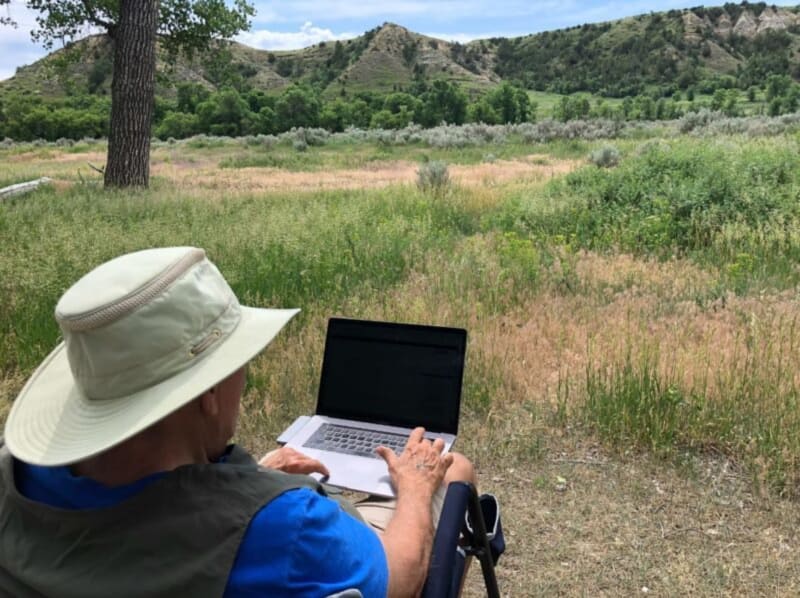 LMRV: Where is your RV while sheltering in place?
MW: It's out front, in the parking lot. We use it as an office, recording our podcasts there and doing our video editing for our RV Lifestyle Channel on YouTube. Mike and Jennifer Wendland are very popular on YouTube.
LMRV: What have you been doing to occupy your time?
MW: I admit, we're starting to get cabin fever. We've caught up on our editing and have been planning future trips, but with lots of free time we've tinkered a bit with some projects in the RV and we've been binge watching some TV series. We watched all six seasons of Downton Abbey as well as the movie and are now halfway through the three seasons of The Crown. The local dog parks are still open and we take Bo, our Norwegian Elkhound, to them each day. And we go for long walks every night after dinner in area neighborhoods.
LMRV: What resources have you found that are helpful to RVers during the stay at home order?
MW: We've been closely following the list of what campgrounds and parks are open and what is closed as maintained by our friends at Campendium.
LMRV: How have you had to adjust during these unprecedented times?
MW: We were supposed to be headed west this spring. We had scheduled research time and photography work for our next RV Adventure Guides, one for New Mexico and one for Arizona. But as the stay at home orders have lingered we've had to postpone that. Notice we say postpone, not cancel. We will be able to travel again!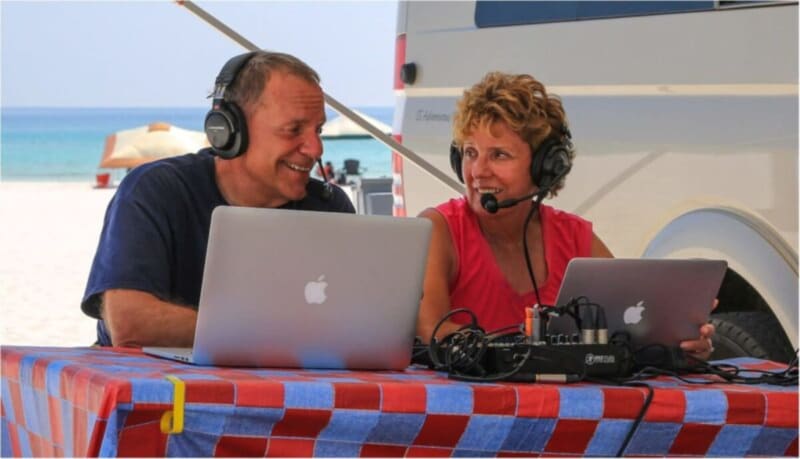 LMRV: Has your work changed significantly? If so, what ways have you had to adapt?
MW: The hardest thing for us is not being able to explore and travel. Fortunately, when the shutdown went into effect, we had five videos shot and ready to be edited. But we've been reluctant to release them because we don't want to appear to be encouraging people to be traveling just yet. To make up for that, we've added a second live stream to our live YouTube programming. Besides our regular live Q&A session at 7 PM Sunday night on our channel that we call "Ask Us Anything," we've added another livestream we're calling our Friday Night Digital Campfire. It's been really fun being live with folks all over the world. Thousands of people join us for these each week and we all are finding it very reassuring and encouraging to stay in touch virtually like that.
LMRV: Where is the first place you plan to travel when this is all over?
MW: If the all clear to travel is given soon, we will most likely head to New Mexico first, to do the research for our next RV adventure guide. If it stretches into summer, we'll head to Michigan at our main sticks and bricks home. We've been gone since January and need to open it up and do a little spring maintenance before we head out for our big summer and fall travel.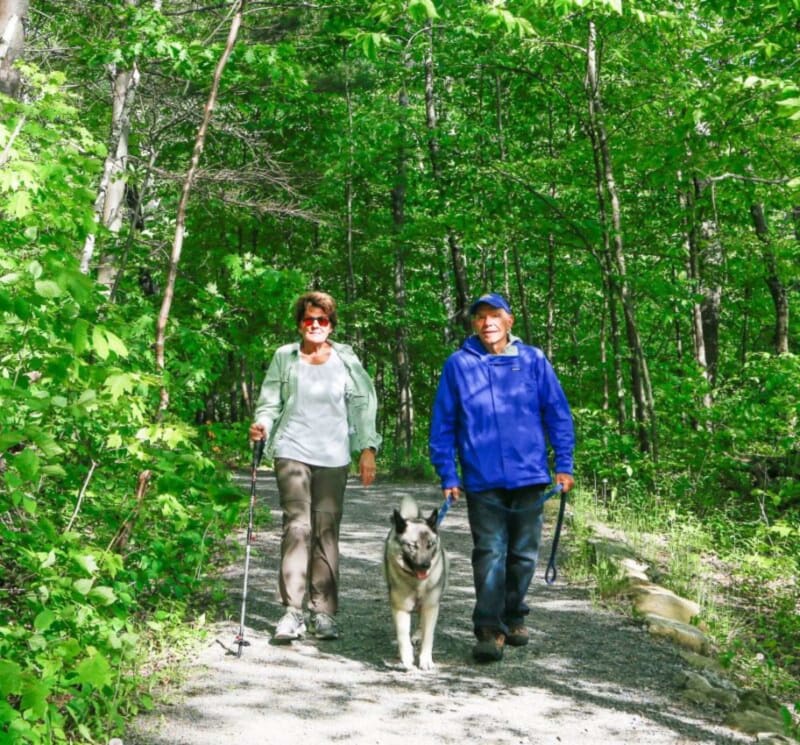 LMRV: What's on the horizon for the rest of the year?
MW: We have a swing west through the Canadian Rockies scheduled for mid summer and then, in August, we are planning to tour the Pacific Northwest, coming down the Washington and Oregon coast to California where we'll make our way to the California RV Show in Fontana by first weekend of October. After that, we'll RV through Southern California and then to Arizona where we will finish the book research. We always spend from Thanksgiving through the New Year in Michigan with family.
LMRV: Anything we missed? Please share here!
MW: We just want people to know that this will end. And while it's likely that we'll see social distancing and other precautions mandated for some time, RV travel will be once again allowed. We expect to see quite a boom in the RV industry. There will be a very pent up demand for travel and we don't see people wanting to go on a cruise or flying off to Europe for some time. But they will want to RV!
Looking for additional RV explorer inspiration? Check out our recent interview with Marrs Adventure Travel and leave us a comment in the section below if you're an RVer who'd like to share your story!