Let us introduce you to the charming adventures of the Miller family. Philip and Tessa Miller are no strangers to RV travel – the duo have been rolling their wheels throughout North America since 2013, inspiring loved ones and admirers from afar by documenting their incredible adventures on their travel blog. If you want to talk about RV couple goals, these two are on the top of the list. They've been everywhere – from Canadian ice fields to the Lake Havasu Balloon Festival and beyond, they are truly a North Star during these unprecedented times. In this interview we cover everything from the RV buying process to tips and tricks on the road, RV recipes, gear they can't live without and so much. The Millers have owned both a Class C and Class A, making them an excellent resource when it comes to first-hand experience on RVing with multiple types of motorhome. Below you'll meet Lucky Charm, Elise 2 and Sprinkles – we'll let you guess which is a furry friend and which two are RV. Enjoy the interview below!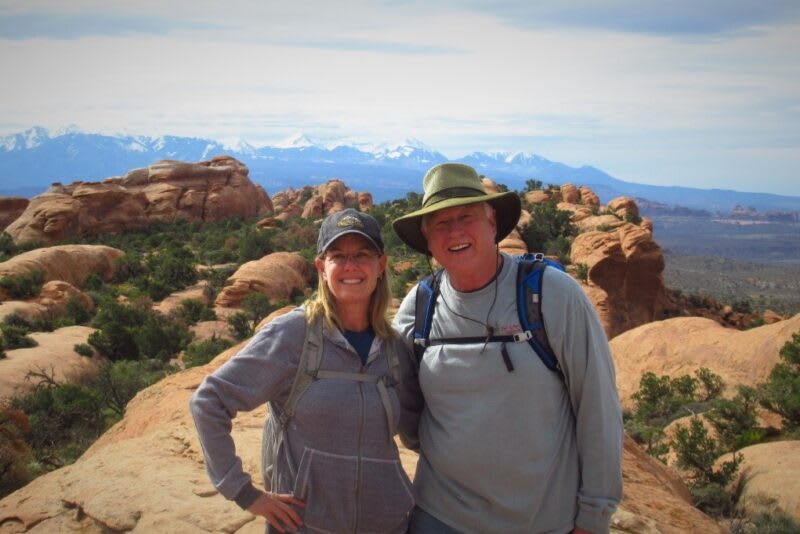 La Mesa RV: Please tell us about yourselves! What drew you to the RV lifestyle?
Tessa Miller: Hello! We are Philip and Tessa Miller, occasionally of Scottsdale, Arizona. We travel in our Fleetwood Southwind 34C RV about six out of every twelve months. We bought our first RV in 2013, when Philip was planning to participate in RAGBRAI, a legendary week-long bicycle ride across the entire state of Iowa. Rather than tent camping, we thought it would be a lot more enjoyable to be in a RV after each long day on a narrow bike seat. We loved the experience and have never looked back! We have continued to enjoy the ease of traveling, and having all the comforts of home, while visiting unique places and seeing amazing sights. If we are not on the open road, we are dreaming about being on the road, or plotting and planning future adventures!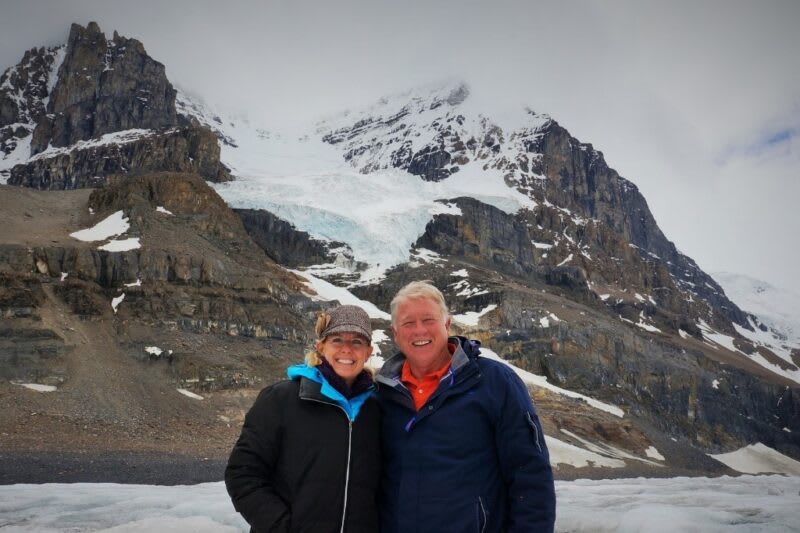 LMRV: How long have you been RVing? What's your line of work?
TM: Over seven years of RVing, we've been to so many outrageously amazing places! When we still had kids living at home, our longest trips would be around six weeks during the summers. Now that they are all living on their own, our longest trip has been five months. Philip works in land development and can do his job remotely, so we have the freedom to continue exploring every corner of the U.S. and Canada.  
LMRV: Do you travel with a furry friend?
TM: Our eight-year-old rescue pup, Sprinkles, is along for all the fun and is happiest on a hiking trail or riding in our kayak… to be followed shortly thereafter by curling up in front of the electric fireplace in our RV for a nice long nap!
LMRV: What was your first RV? What made you decide on your second RV, the 2019 Fleetwood Southwind 34C?
TM: Our first RV was a Class C, a 2012 Coachmen Leprechaun 319DS we called "Lucky Charm" because Leprechaun was too hard to spell. We had never RVed before and decided an entry-level RV would be a good choice to either "get us into it" or "get us over it." Obviously, we got hooked in a big way, and enjoyed six great years with that RV before upgrading to our current Class A RV, a 2019 Fleetwood Southwind 34C named "Elsie 2." Her name pays homage to the original Lucky Charm … say "L.C." out loud, and you get "Elsie"! Although our first RV was great for trips of a few weeks or a month, we found that as our trips increased in length, we needed more living area and storage space to be comfortable when gone for many months on end, and to bring along everything we need to have fun! Our storage bins in Elsie 2 include an inflatable kayak, propane grill, portable fire pit, extra firewood, and room for all the gifts we pick up for family and friends along the way!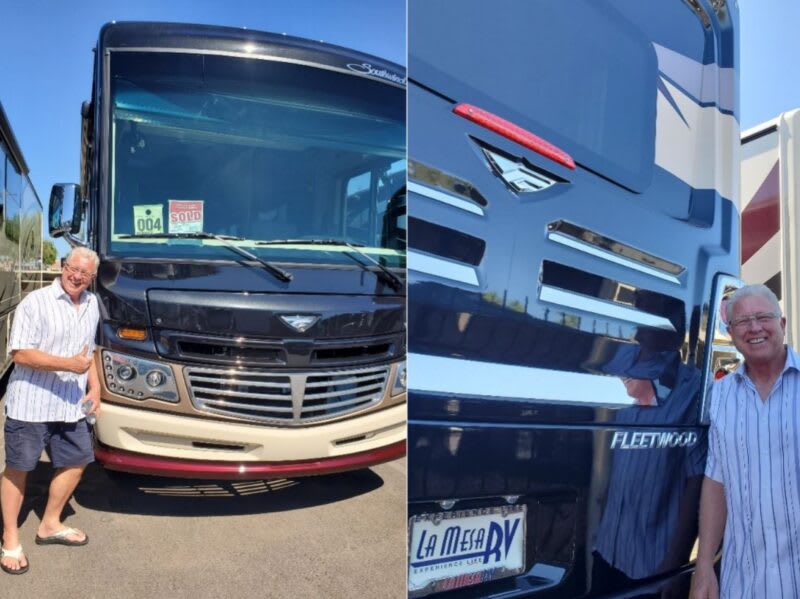 LMRV: How was your RV buying experience?
TM: In both cases, we bought our RVs sight-unseen! In today's modern age, it's pretty easy to compare models, features and prices using the Internet and talking to dealers on the phone. In fact, we bought Elsie 2 during our five-month trip around the upper Northeast while in Lucky Charm – is that considered disloyal? We were speaking with salesmen in various locations around the country, including Karl Gwinn at the La Mesa RV location back in the Phoenix area. Karl is assigned specifically to help distance buyers, so he was extremely knowledgeable and skilled at putting us at ease and making the purchasing process seamless, even from way across the country! We ended up with not only the best price, but also received a firm trade-in value. We also came to recognize the value of purchasing an RV from the same dealer you will be using for service. We particularly love the mobile service option!
LMRV: What's your favorite part about RVing?
TM: When you are traveling via RV, you can get "up close and personal" with natural wonders in a way that is difficult to do when staying in a hotel. We love being able to visit multiple places on each trip, but not have to pack up our suitcases again each time we move on. We love our own mattress that is the same as our mattress at home, not having to eat three meals a day out, and having our dog along for all the fun. In short, we love that we can have all the comforts of our "regular" life, but in many, many different places around the country; and we love that every day is different from the day before, when you're traveling in an RV!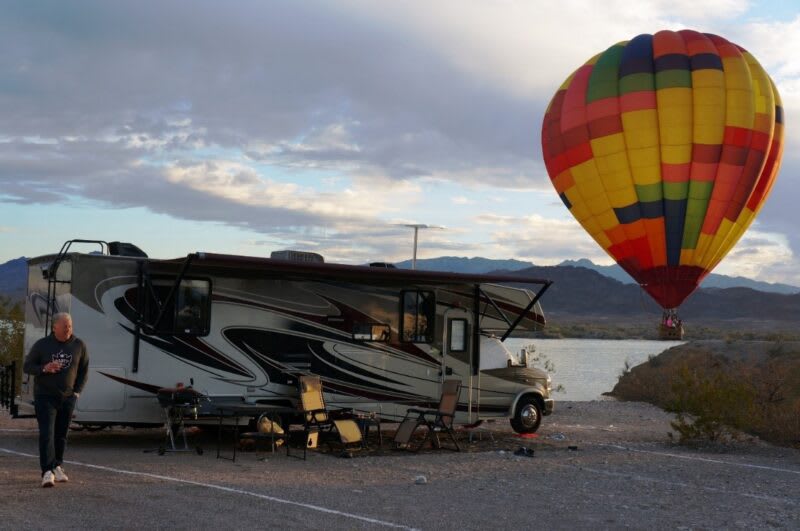 LMRV: The best place you've ever been in your RV?
TM: We've been so many amazing places (with so many yet to come!) that it would be impossible to narrow it down to just one! Certainly, our trip on the Canadian Ice-fields Parkway, between Banff and Jasper, was a real standout. But it is the individual memories that really stick with us. Drinking ice cold water on top of the Athabasca Glacier. Having our RV surrounded by wild bison in ­­­­Caprock Canyons, Texas. Hiking to a remote, 115-year-old mountaintop teahouse only accessible by foot. Watching hundreds of hot air balloons float right over the top of our RV at the Lake Havasu Balloon Festival. Kayaking the Boundary Waters between Canada and the U.S. Using iron rungs and railings to climb the Beehive Loop Trail in Acadia National Park. Overnighting at an Arkansas big cat sanctuary and hearing the tigers all night long. Dive bars and ghost towns and bike trails, oh my!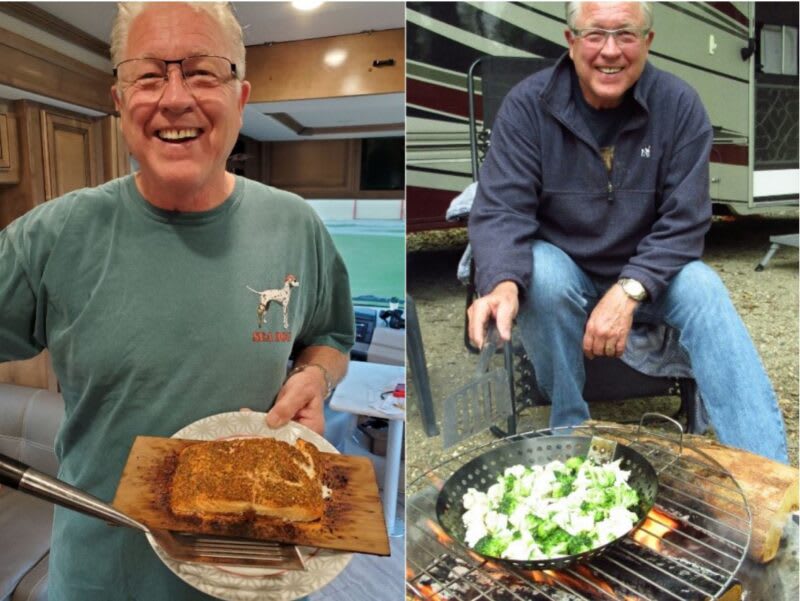 LMRV: What is your go-to road recipe?
TM: We love to grill while on the road, and pre-package a variety of delicious meats before we leave on a trip for ease of daily preparation. You just pull out it of the freezer in the morning before you leave on your adventures so it can de-thaw and be ready to throw on the grill that evening! Divide your meat (we buy big Costco packages) into individual meals worth. Marinate meat for a couple of hours in a yummy marinade (ingredients below), pop each individual meal's worth into a ziplock freezer bag or Food sealer bag and freeze! Be sure to label the bag – you'd be surprised how much one frozen marinated meat looks like another! Lately, we've gotten into buying little cedar planks at Home Depot and using them under our meat on the grill for a terrific smoky flavor (be sure to soak the planks in water for several hours beforehand, so they don't burn up). We also love using a grill pan over an open campfire for meat or vegetables.
Miller Marinade
– 3 T. Montreal spice mix – available in the spice section of most grocery stores (use Montreal Steak for beef, pork or lamb; Montreal Chicken for chicken or fish)
– 3 T. balsamic vinegar
– 6 T. olive oil
– 6 T. water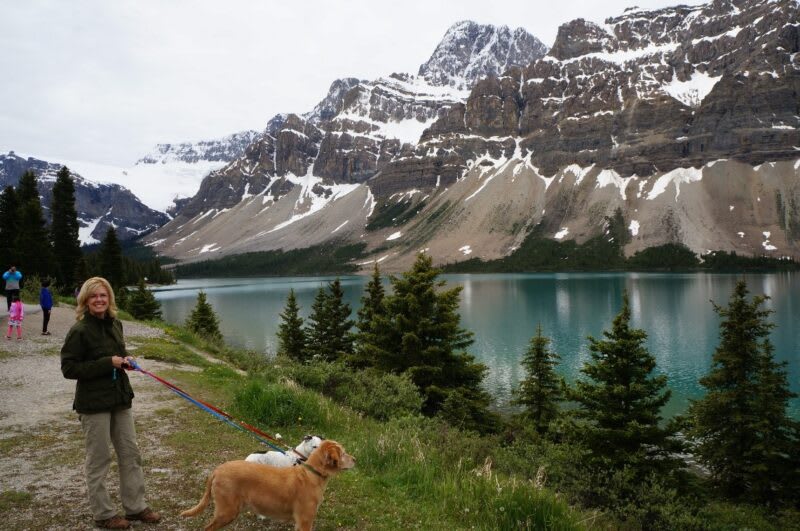 LMRV: Where can we find you online?
Travel Blog: Charming Millers
Instagram: @charmingmillers
When started documenting our travels when we first began RVing as an easy way to share our adventures and photos with family and friends (hi, mom!) It has since blossomed into a great way to share RV-ready destinations with other RV travelers and also serves as an online diary of amazing memories. It's easy to start your own free blog using the easy-to-use templates available on Blogger. We follow a lot of other RV bloggers as well, and some of our favorites are listed on our blog.
LMRV: I see you like to have a detailed itinerary and reservations before you travel. Tell us more about your process on this and why it works for you.
TM: Every year they sell more and more and more RVs, but are they also building new campgrounds to keep pace? They are not! So, to score campsites and reservations in the most popular destinations, it makes sense to plan, plan ahead!  Many states and national park reservations become available a year in advance, so we are usually looking forward about a year. Mark your calendar for the exact day/time that reservations open up.  Have a user account already created, be logged in, have suitable sites picked, accurate-atomic-clock time employed, and hit "RESERVE" at the moment reservations open.  When you're sitting pretty in your coveted fabulous site a year later, you're will be glad you did! To decide where to go next, we keep track of places we want to visit in a (free) online notes program called Evernote.  Talk to other travelers, follow other RVers blogs, travel websites, and other sources of inspiration, and when you find something of interest, slap a note or weblink into the Evernote program.  When you start planning a trip to that area, SHAZAM!  You're already halfway there.  Start with just one note, and as your list grows, consider expanding to a separate note for each region, or each state!
LMRV: What are your top 10 tips and tricks for new RVs?
TM: We summarize many of our top tips and tricks on Blog, but here are just a few of our favorites!
1. "3-30" Rule:  Travel never more than 330 miles and arrive by 3:30 PM.
2. "Trust But Verify" Rule:  Google Maps is swell and all, but it won't hesitate to send you down a narrow, winding road, thinking you're in a Smart Car instead of 50 feet of RV and tow vehicle.  Study your route in advance, and know that you may not always have cell connection for the entire route, and keep a good old-fashioned map atlas at the ready.
3. "The Straight and Narrow" Rule: RV travel is difficult at 20 MPH, and impossible at 25 MPH and above.  Delay plans, pull over or make alternate arrangements if wind is in your immediate future. Consider adding a steering stabilizer or anti-sway bar for less white knuckles. Use apps like WindAlert to (literally) help keep you on the straight and narrow! When traveling busier interstates, always keep an eye on your rearview mirror to prepare to stay steady against the "whoosh" as large semi-trucks pass on your left.
4. "Half-Empty" Rule:  When your gas tank gets half empty, it's time to start looking for a gas station.  Why so early?  Because many gas stations are too small or poorly configured to angle your RV into them safely.  You may need to pass up a half-dozen or more stations, in who knows how many towns, before you find a suitable one.  The same goes for the onboard propane tank!
5. "Go Local or Go Home" Rule:  All the research in the world cannot replace asking a local, your campground hosts, or even other campers for recommendations.  Be sure to eat as the locals do!  You haven't experienced a place until you've had poutine in Old Quebec, pasties in the Upper Peninsula of Michigan, pimiento cheese in the south, fresh lobster in Maine, wild game meatloaf in Wyoming, or moonshine in Tennessee.
6. "Relevancy" Rule: Bring your travel locations to life with relevant movies, books, Wikipedia information searches, and more.  There is nothing quite so thrilling as watching "Tombstone" in Tombstone, "Deadwood" in Deadwood, "Niagara" in Niagara Falls, or any John Wayne movie in Monument Valley!  Guided tours are almost always worth the price of admission for bringing places to life.
7. "Go Early or Bust" Rule:  No matter how popular the attraction/hiking trail/place, don't be afraid of reports of crowds or lines.  Even if it says "most photographed >>whatever<< in the state", go anyway, but try to go off-hours, as early as possible (or super late in the day).  You'll be so happy when you are leaving that place and see the surging crush of people just arriving to clog everything up.  You can never go wrong by going early!
8. "Be Your Own Goober Pyle" Rule: Learn the basics of maintenance and continually be adding to the tools in your onboard toolbox.  In general, RV manuals are very generic and not terribly helpful.  Join Facebook forums and groups specific to RV'ing and your specific brand and/or model.  Pose your own questions there, and learn from others' questions as well.  Google anything you don't know about maintaining your RV.
9. "Use It Or Lose It" Rule:  The most important thing you can do with an RV is to use it!  Or, if you can't get away, at least once a month take it for a drive, run the generator, run the AC, charge the batteries and inverter, run water through all the pipes, add water to house batteries, check the air pressure in tires, etc.
10. "Mary Oliver's Never-Fail" Rule:  Instructions for Living A Life: Pay attention. Be astonished. Tell about it.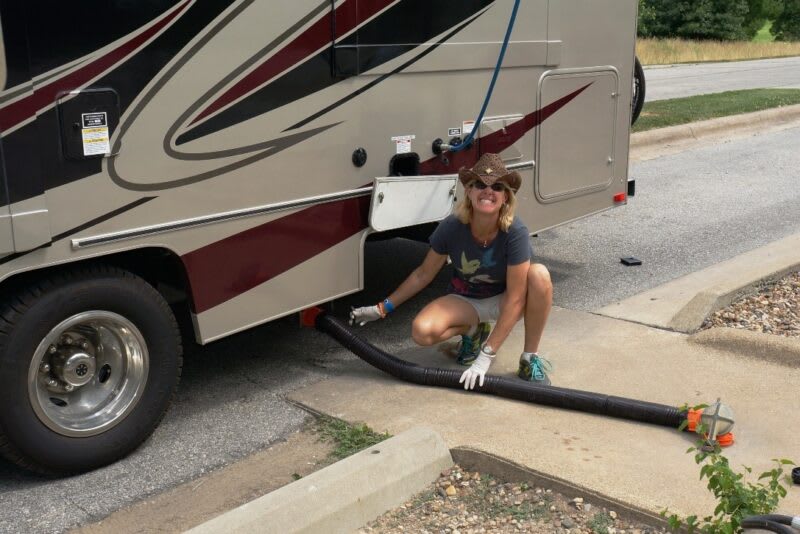 LMRV: Favorite RV accessory you can't RV without?
TM: We love the TankTechs RX Holding Tank Treatment. Sure, you dump your tanks frequently, but greasy film and various food particles and mold still build up in the gray tank and there is no great way to flush it out regularly (unlike the black tank, where a hose hookup on the outside of the RV makes it easy).  We had tried a variety of "cleaners" and none of them really worked, they were kinda just like a lemony smell that washed away in an hour. It has actual probiotic bacteria that actually breaks down the gunk instead of just masking the odor. It really works! It's amazing! No more funky smell, just use regularly! Some people are intimidated by the thought of managing the RV holding tanks, but it's really so very easy … don't believe what you've seen in Hollywood movies where the sewer pipe takes on a life of its own!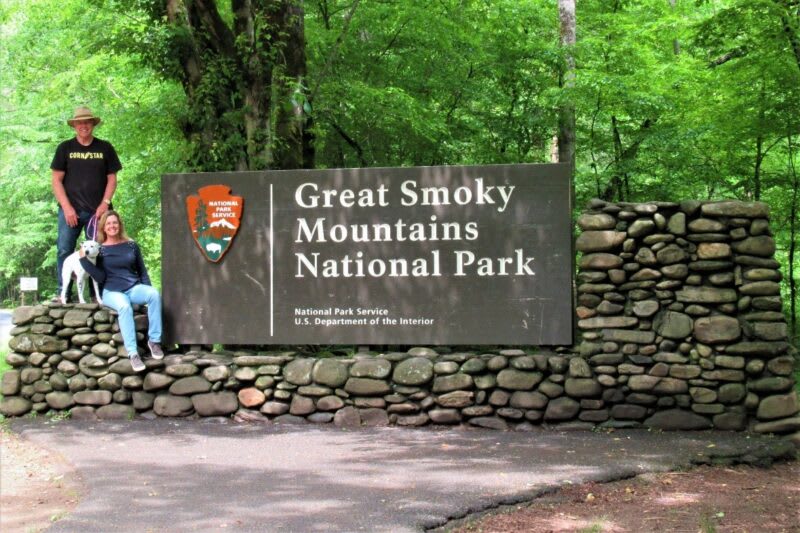 LMRV: Where do you plan to go when the country beings to open back up?
TM: We have six weeks planned in California this fall, including five National Parks, and are well into the planning stages of Summer 2021 travels, where Philip is going to go "back to his RV roots" and do the RAGBRAI Iowa bike ride again! And so we continue on down the road, carefully, hopefully, and gratefully!
We can't thank the Millers enough for sharing their lives with us! To keep up with the Millers, give them a follow on Instagram by clicking here. Looking for more road warrior inspiration? Check out our recent interview with The Wendlands of RV Lifestyle. Are you an RVer who wants to share their story? Leave us a comment in the section below for a chance to be featured on our blog!