The freedom to roam is essential for any RVer. It is an integral part of why RVers love this lifestyle – an offered freedom and access to the wild. While full hook-up camping is comfortable and easy, there are many among the community who choose to camp off the grid. Boondocking brings the promise of solitude, unique vistas, and adventure at no additional cost. If dry camping is whispering your name but you want to know more, check out the details below. From what boondocking is, where you can dry camp, to how to prepare, apps you can use to make your experience seamless, the rules, tips and tricks, how to stay safe and so much more, keep reading.
During this time of uncertainty, boondocking is a great alternative for RVers. With many of the nation's National Parks still shut done or experiencing overcrowding, dry camping is the perfect way to continue on your RV adventures in a safe and responsible way.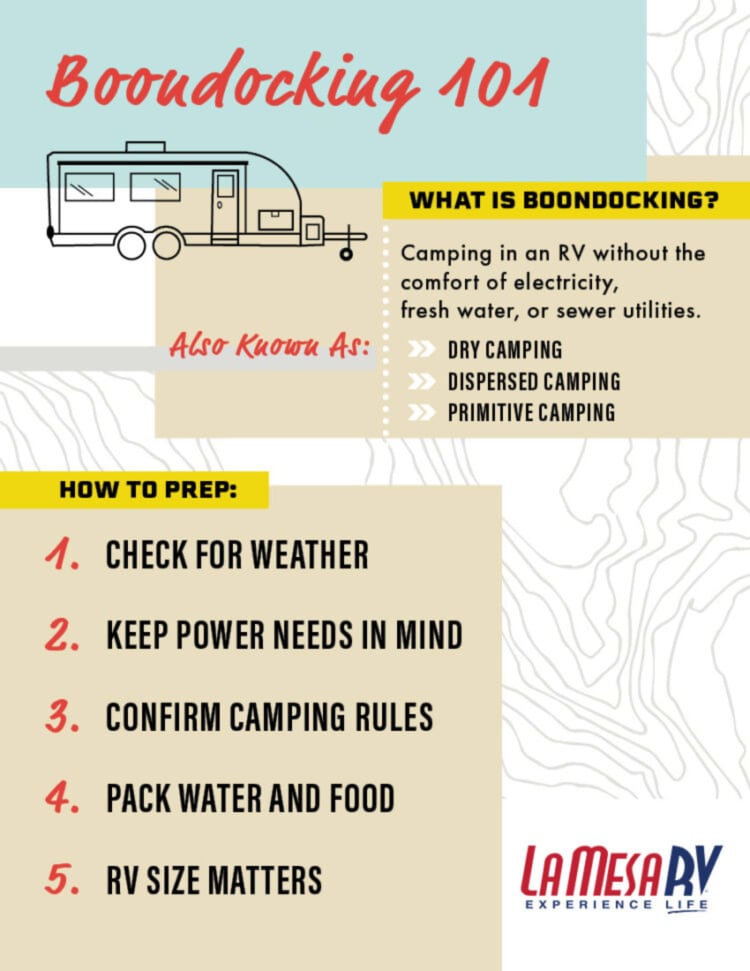 WHAT IS BOONDOCKING, EXACTLY? 
When you camp in an RV without the comfort of electricity, freshwater, or sewer utilities. Other terms for or related to boondocking include dry camping, dispersed camping, and primitive camping.
CAN I CAMP ANYWHERE I WANT? 
No, you cannot. There are rules to boondocking but luckily they are easy to remember and are set in place for your safety and to preserve our land. Let's dive into them:
1. BUREAU OF LAND MANAGEMENT (BLM) BOONDOCKING:
Dispersed camping (dry camping, boondocking) is, "allowed on most public lands as long as it does not conflict with other authorized uses or in areas posted "closed to camping" or in some way adversely affects wildlife species or natural resources." – BLM.gov
You can explore more than 245 million acres of diverse public BLM land in your RV. This very easy guide on the Bureau of Land Management's website allows you to search for ideal spots to camp based on location, activity, and keywords. Click here to discover where you want to go.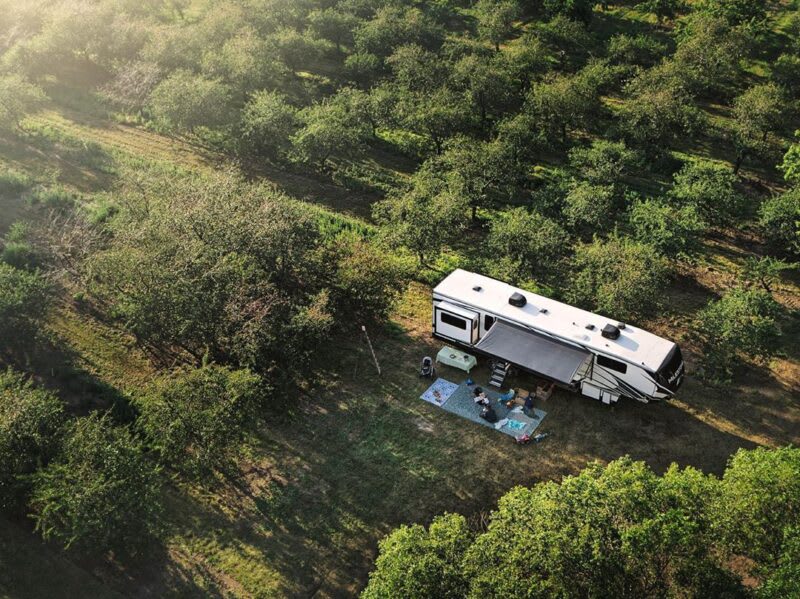 2. WALMART PARKING LOTS:
You've probably heard RVers and car campers talk about staying overnight in a Walmart parking lot. This is something that is legal (at some but not all Walmart's) and is a privilege to RVers that comes with some do's and don'ts. There is also an App called AllStays that many RVers use. This app shows all Walmart locations in the US and Canada and if they offer overnight parking. Click here to be directed to that link.
DO:
– Ask permission to park overnight, even if the AllStays app says overnight camping is allowed. It's just the right the to do. Even if you see other RVers clearly staying overnight, it's best not to assume. Ask the manager or call ahead. If they say no, respect their terms and look for another option.
– Limit your stay to one night.
– Take all your trash with you.
DO NOT:
– Extend slides, awnings, set up outdoor furniture, or do anything that would make the parking lot resemble a campsite.
– Put down leveling jacks.
– Empty your tanks.
– Use a generator.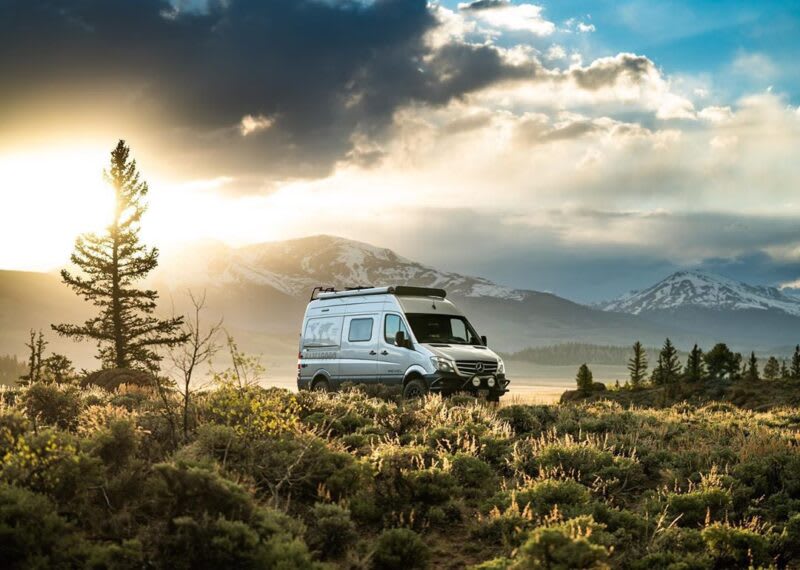 Photography: @peterholcombe
3. NATIONAL FORESTS
National Forests are managed by the Department of Agriculture. National Parks are managed by the National Parks Service. National Forests are known to have more relaxed rules when it comes to disperse-camping and camping with pets. You can enjoy primitive camping almost anywhere in National Forests, with the exception of the places we've outlined below. When choosing your site, try and use a spot that has been used before and that is on bare soil if possible. This will minimize your impact on the land. Be aware: The forest service does not plow or maintain Forest Roads in the winter.
Where Camping is NOT allowed in National Forests:
– Vicinity of developed recreation areas i.e. boat ramps, trailheads, picnic areas, or campgrounds.
– Within 200 feet of any water source.
– In the middle of a clearing or a meadow.
– If there is a sign in the National Forest that explicitly states 'no camping'.
MOST IMPORTANTLY: DO NOT make a campfire if there are fire restrictions in effect at your location. While campfires are allowed when there is no fire restriction in effect, you must be extra responsible if having one. For more information on campfire tips, follow the link to the USDA.gov.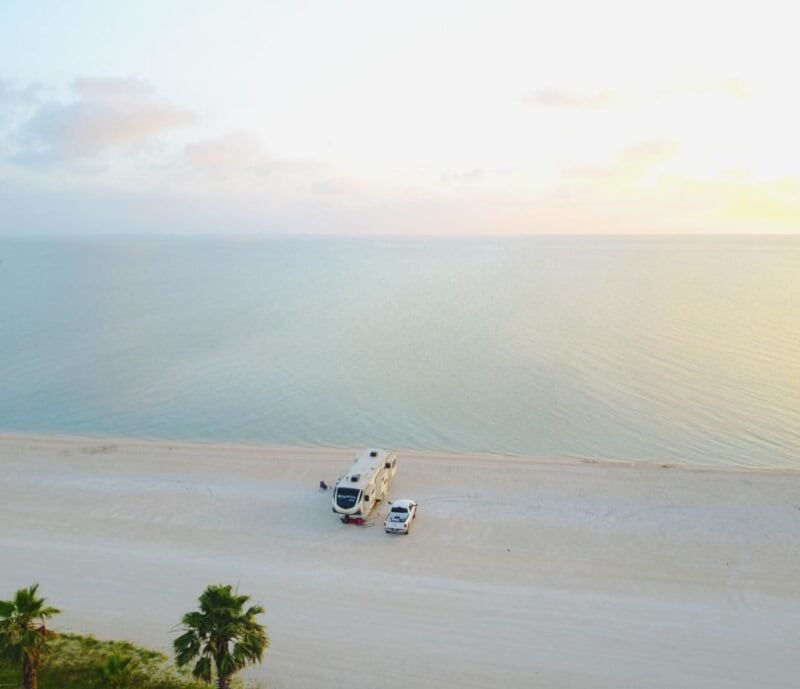 Photography: @nikkirk7
HOW TO PREPARE FOR BOONDOCKING
1. Check the Weather.
Boondocking or not, you should always check the weather before you head off into the backcountry. Check the temperature, elevation, and forecast so you can pack your gear accordingly. Familiarizing yourself with the elements before you go guarantees no surprises.
2. Know Your Power Needs.
Ask yourself the following questions:
What electrical equipment will I need?
Will I need power during daylight hours?
What type of electricity will I be using (DC or AC)?
Next, create a list of electrical components of each item you'll be using, what they draw in amps, and the number of hours you'll be using them throughout the day. Add them up. Once you know your amp usage needs you can opt for a gas-powered generator or solar power.
Generators will do the trick but they are noisy and require a steady supply of fuel. If you opt for the solar option we recommend you read our Going Solar post to prepare yourself for the purchase of your solar set up.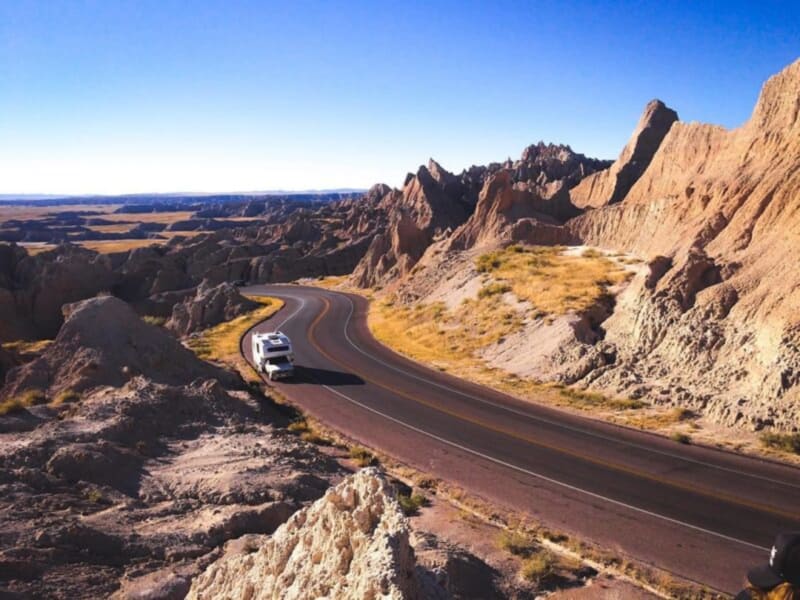 3. Remember Camping Regulations.
Just because you're not at a campground doesn't mean rules go out the window. Be mindful of potential neighbors, share the space, practice the 7 Leave No Trace Principles, stay on designated roads and trails, and leave your site better than you found it.
4. Water and Food. 
Make sure you pack enough water for the amount of time you'll be dry camping. Don't forget that you'll need water not only for drinking but for cooking, cleaning dishes and bathing. In this case, having too much is better than not enough. Pack plenty of food for each person on your adventure. Make sure you bring your own bear-resistant containers if you're in bear territory as there will not be bear-proof storage at any boondocking site. To conserve water usage, learn to take a navy shower. Here's how: turn on the water just long enough to get wet, shut off the water, soap up and clean, then turn on the water just long enough to rinse off. That's it!
5. Your RV Size Matters.
Anyone can dry camp no matter the size of their rig but the spots you'll be able to venture to will drastically change depending on your setup. Small, compact campers like our Class B's are ideal for nearly any spot you want to camp whereas a 40 ft. Class A might limit you to less adventurous spots. That being said, your larger coaches will give you more resources (larger capacity for holding water, more electricity, etc.) Adjust your new boondocking lifestyle to your RVs capabilities and you'll be ready to go!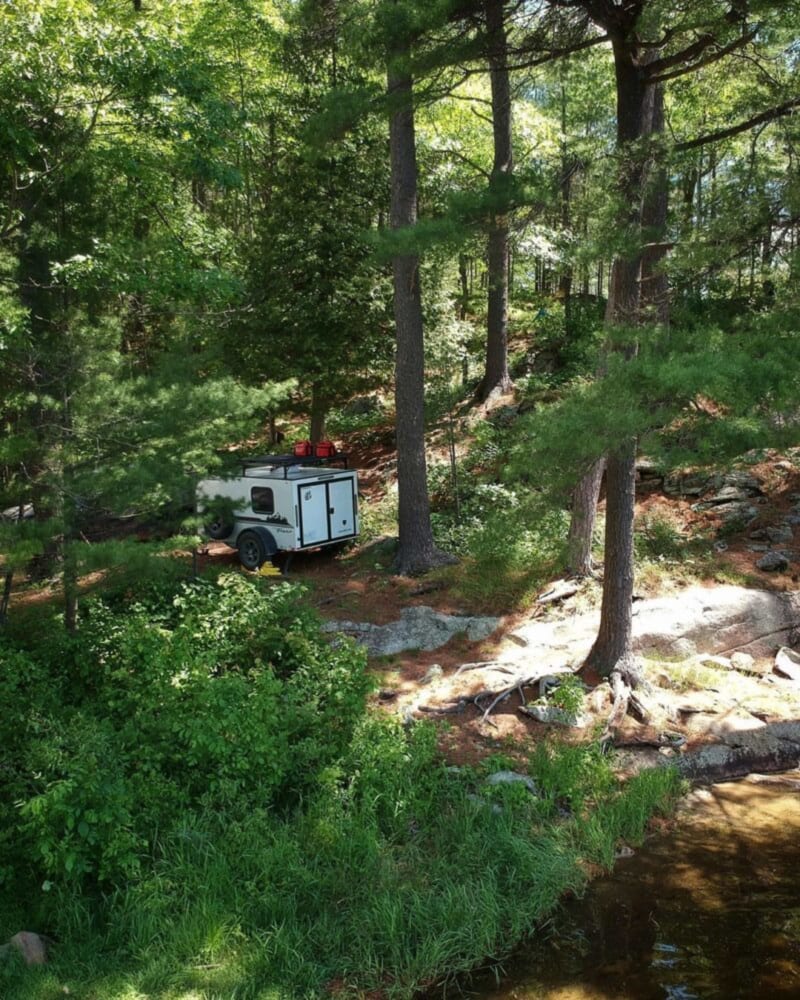 Photography: @trilliumexpeditions
A LIST OF BOONDOCKING TECH ACCESSORIES:
COMPOSTING TOILET: A composting toilet is easy to store, needs far less water to "flush" and requires no dump station trips. These types of toilets are odorless while they compost, and the resulting material can be used to fertilize a garden. How's that for giving back to the Earth?
WATER SAVING AERATORS: Water saving accessories conserve shower and faucet water, a valuable resource when dry camping. Oxygenics, is a well-known brand that makes water-saving products by adding oxygen to the water stream. Their PowerFlowRV is specifically engineered to conserve an RVs water tank without limiting the power of the flow.
CELL PHONE SIGNAL BOOSTER: Keep yourself connected with a cell phone booster while boondocking. You don't want to be without service if an emergency happens while you're dry camping. This simple to use and inexpensive RV gadget could be a lifesaver, so don't skip it.
CAMP STOVE: If you need to conserve gas while out in the wild, a camp stove is a great accessory to have. There are so many types from small one-person stoves like this Jet Boil to two burners by Camp Chef Everest, giving you the option that fits your needs best. They also come in handy when on all-day hiking trips.
ROAD SHOWER: You're camping without comfort creatures – the last thing you want to do is bring sand and dirt into your home. This Road Shower by Yakima is an excellent addition to your boondocking setup when you're in need of a quick rinse (think sandy toes, shoes, beach toys, to clean off the pets, etc).
ADDITIONAL ACCESSORIES FOR BOONDOCKING IN OUR DOWNLOADABLE CHECKLIST 
From first aid kits to solar panels, this go-to guide has everything you need for your dry camping experience. You can easily download, print, and check off these items while you're packing for your trip to ensure you do not miss any vital accessories.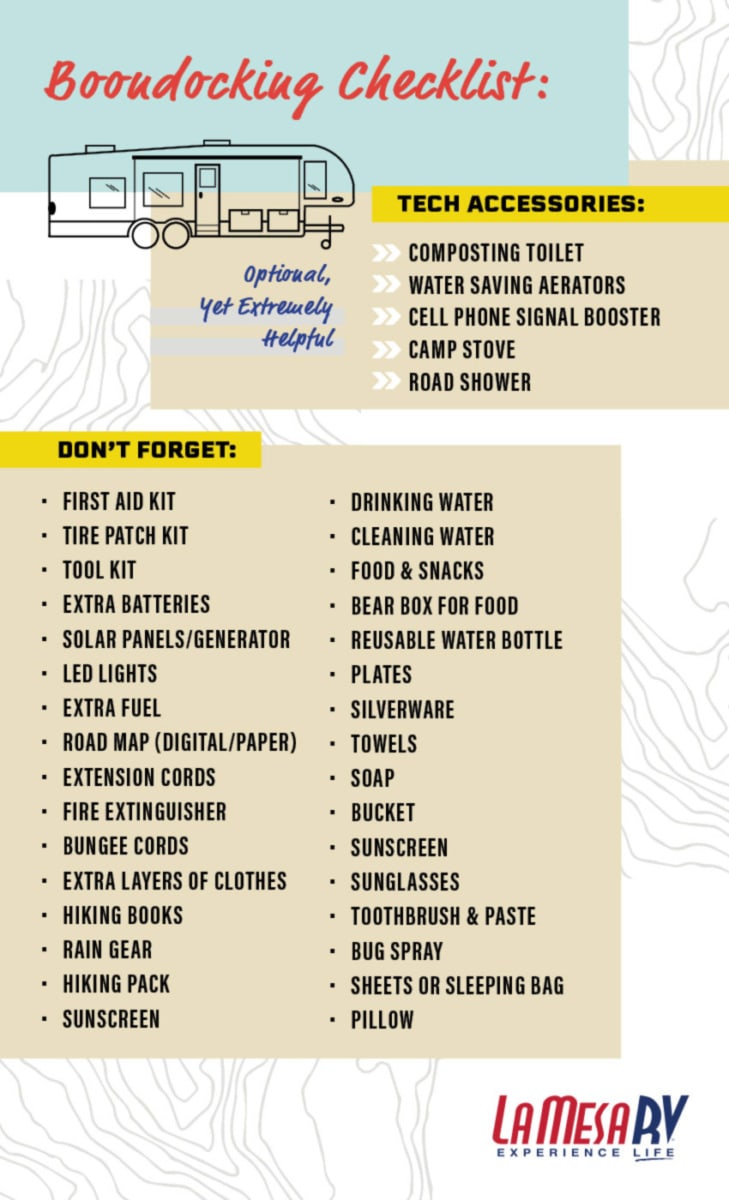 HOW TO STAY SAFE WHILE BOONDOCKING
1. Know your exact location and be able to describe it.
2. Tell a friend or family member where you'll be and for how long you plan to stay. It is essential to have someone you trust know where you when camping.
3. If you feel unsafe in the location you have chosen to camp, leave!
4. Stay up to date on the weather.
5. Bring enough food and water.
6. Only camp where you know your RV can get in and out of safely. Dirt roads can bring tricky situations and no one wants to spend their epic boondocking experience on the phone with AAA.
7. Add an alarm sticker on the outside of your RV. This is an age-old trick that never hurts to have!
8. Lock all doors and outside compartment doors.
9. It's always great to keep bear spray on you, even if you're not in bear country.
10. If alone, put out two chairs or something that indicates there are two people traveling (shoes, clothing, blankets, your pets water, and dog bowls, etc.)
11. Keep your phone charged at all times.
12. Keep a first aid kit in your RV at all times.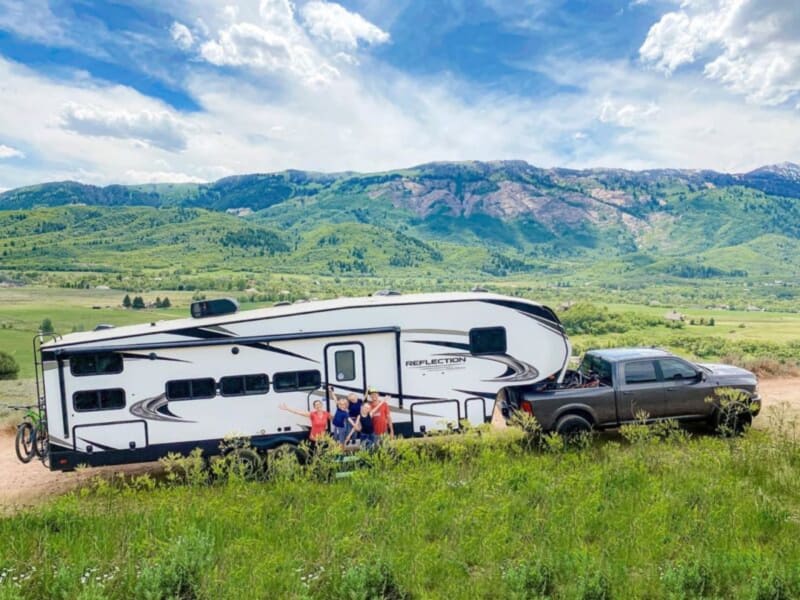 Photography: @ateamfamilyadventures
RESOURCES FOR BOONDOCKERS
APPS:
– US Public Lands 
– The Dyrt
– All Stays
WEBSITES:
– Campendium
– Free Campsites
– IRV2 Forum 
– Boondockers Welcome
BLOGS: 
– RV Love 
– RV Lifestyle 
Looking for easy and accessible ways to host the Fourth of July at your campground? Check out our recent post featuring Inexpensive Decorations, Campground Games and Festive Snacks for your Independence Day Event!