If you RV at all, you're not immune to accessing WiFi at your campsite, only to be met with a poor signal. Whether you work from your RV remotely or use the internet to find the best local eatery, hiking trail, campground and more, a strong internet connection is imperative when living and working on the road. Don't let a bad connection keep you from exploring in your home on wheels. WiFiRanger products are a great resource for RVers looking for an extra boost and internet security. Best yet, La Mesa RV is able to install your WiFi Ranger products (also available at our stores) at one of our many service locations throughout the country. To learn more about WiFiRanger products, check out the details below.

Photography: @follow_your_detour
BEFORE WE START, ANSWER THESE QUESTIONS:
1. What is the size of your RV?
2. What signal broadcast range do you need?
3. Where do you tend to camp (developed campgrounds, BLM land, national forests, etc)?
4. What do you use your internet for (work, streaming, downloading files, etc)?
Once you understand these questions, you can then go on WiFiRanger's website and discover which product fits your personalized needs.
WHAT DO WIFI RANGER PRODUCTS DO, EXACTLY? 
Details: "WiFiRanger products enhance existing internet sources and make them more usable, while also connecting to these internet sources as desired for the most speed, reliability and automatic backup. WiFiRanger products can reach weak WiFi at extreme distances and also tether to your USB MiFi, Aircard or Smartphone. WiFiRanger is trusted with 115,000+ units in the field since 2010." – Mitocorp.com

Features Include: 
– Outdoor products are IP67 rated and are water resistant
– Built with UV-stabilizing materials that can hold up in extreme seasonal conditions
– Offer great warranties
– Proprietary SafeSurf feature encrypts, keeping your personal data secure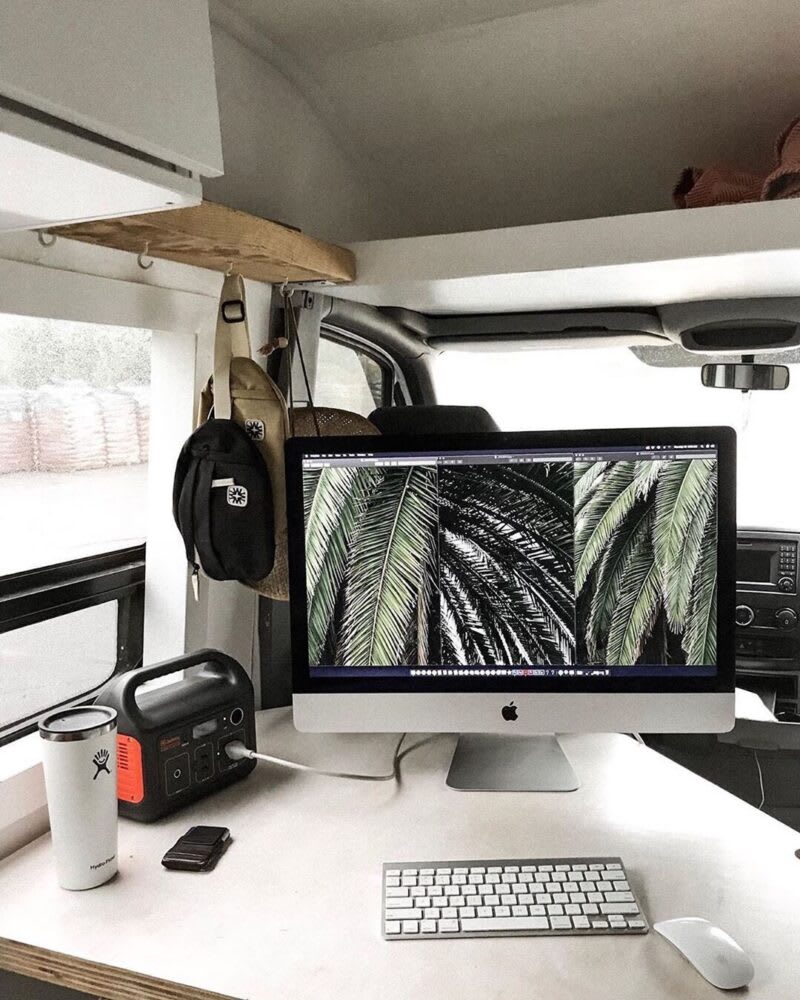 Photography: @jackeryph
CHECK OUT THESE UNIQUE ADVANTAGES AND FEATURES OF WIFI RANGER 
1. Boost Weak WiFi: The WiFiRanger is capable of connecting to WiFi up to 1.5 miles away (direct line of sight) while the Sky4 can connect to WiFi at up to 1 mile away (also direct line of sight).
2. Increase Security: The WiFiRanger firewall adds several layers of security to ensure that RVers are safe when using public networks. Turn on SafeSurf and use a Virtual Private Network (VPN) to encrypt personal information transmitted across public network.
3. Create a Private Network in Your Motorhome: Connect all your devices to the WiFiRanger and be able to use them all at the same time! Gone are the days of having to schedule who gets to use then internet and at which times!
4. Login Just Once: At locations that require agreeing to terms of use (or fees) for service, you simply have to login once through your WiFiRanger, which will then allow all devices to connect to the internet at once.
5. Automatically Reconnect If Internet Goes Down: Save time and avoid the hassle of falling offline. WiFiRanger it can automatically search and reconnect without owner interaction.
6. LTE Ready: The WiFiRanger SkyProLTE has embedded cellular internet capabilities.
7. USB Cellular Tethering: Indoor WiFiRanger units support SUB tethering of over 100 models of 3G/4G/LTE Aircards, MiFi and Smartphones. If you already have a hotspot, you can tether it to the indoor WiFiRanger Core's USB port.
8. Multi-WAN Internet Bonding: Connect to multiple internet sources at the same time for maximum connectivity and performance. Blend your RV park's internet with your personal hotspot to insure stable bandwidth.
9. Bandwidth Management Bonding: Watch and track your personal devices bandwidth usages. You can create rules and restrictions for the devices in your coach – this is particularly useful if you have littles on board. Set data caps to prevent overages and automatically engage Multi-WAN if the public WiFi network speed is too slow.
10. Automated Filtered Login: These products can automatically bypass the filtered login at over 1,000 RV park networks throughout the country. This is made possible by WiFiRanger's partnership with BlueMesh Networks.
11. Management Network for OEM Integration: WiFiRanger can broadcast a WiFi signal that OEM builders can use for factory installed wireless products which include SmartTV's, Blu-ray players, Silverleaf and more.
12. Remote Cloud Access: Each WiFiRanger supports remote network access through the Cloud.
WIFIRANGER PRODUCTS:
Click on each photo to learn more about the Sky4 DC, SkyPRO Pack (Download .PDF)  and Embedded LTE Cellular Data integration (Download .PDF).
Looking for more information or want to get your WiFiRanger product installed? Click here to request a service appointment. Want to learn from the pros who remotely work full-time from their Class B RV? Check out our recent interview with the duo behind RV Lifestyle! From podcasting to creating YouTube videos and more all while living on the road, you'll surly find RV lifestyle inspiration from the Wendlands.