Did you know La Mesa RV offers mobile service? Next time you're in need of a service appointment, let us come to you! Our RVIA certified and master certified technicians are able to meet you at your campground, home, or anywhere your RV has taken you and service your motorhome while you relax by the resort pool or spend the day doing whatever it is your heart desires. Check out the details below to learn where our mobile service appointments are offered, how to book, and the type of services La Mesa RV provides.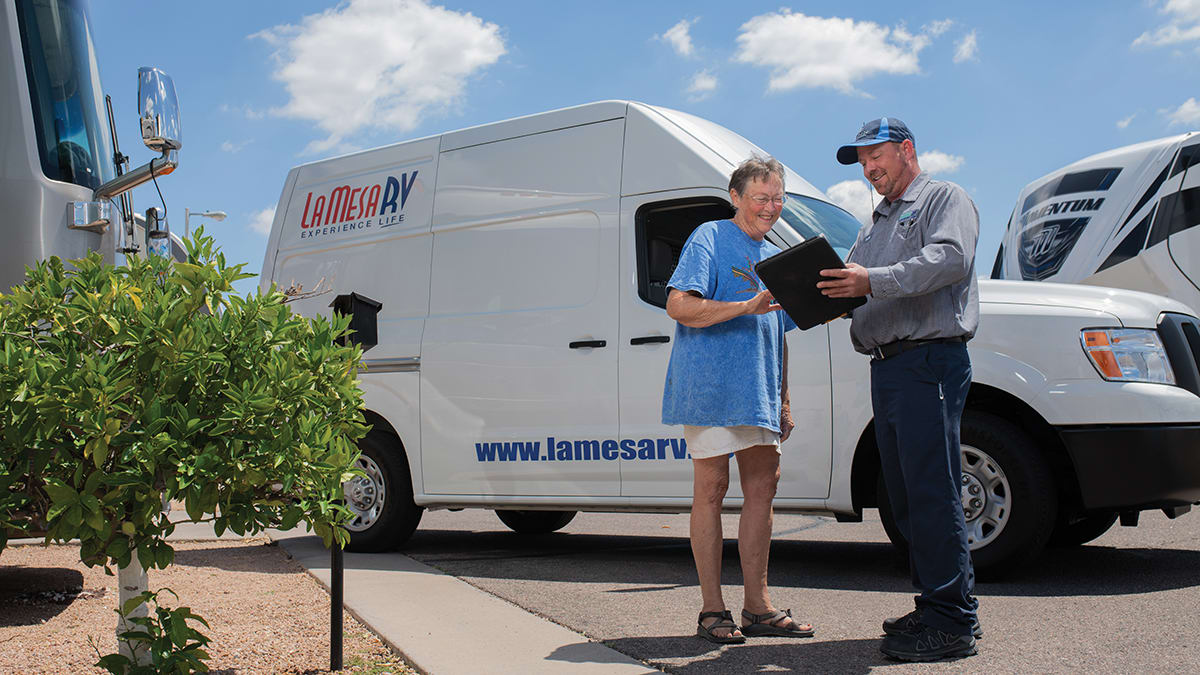 SERVICES OFFERED BY LA MESA RVS MOBILE SERVICE: 
Water leaks
Air conditioners
Furnaces
Water heaters
Roof leaks
Electrical issues – 120 Volt and 12 Volt
Awning issues
Slide-out(s)
DETAILS ON PRICING
Pricing is based on a service call fee and the distance a customer is (within a certain mileage range) of the store. La Mesa RV service vans are able to service RVs within a 50-mile radius of the store, while our Albuquerque store has a radius of 75 miles out. Mobile service appointments include parts and labor. Because each service is unique to the RV, prices vary. Call your nearest La Mesa RV to book a mobile service appointment and to discuss pricing.
SERVICE TECHNICIANS
All La Mesa RV service technicians are either RVIA Certified or RVIA Master Certified.
HOW DO I BOOK A MOBILE SERVICE APPOINTMENT?
You can book mobile service by calling the La Mesa RV store nearest to you and ask to book a mobile service appointment. All La Mesa RV stores have at least one mobile van, some with additional units. Once you find the location closest to you, click on the on that store and call the number for our service department.
WHAT MAKES LA MESA RV MOBILE SERVICE STAND OUT? 
Our mobile service department is backed by La Mesa RV, one of the largest RV service organizations in the nation. The service is unique in not only are we able to make RV repairs, but RV owners are afforded the opportunity to ask the mobile service tech questions about their RV. From how to operate functions to any build-up concerns, our technicians have a wealth of knowledge they are ready and able to share. Long gone are the days of breaking camp, moving to a service facility, and waiting for your RV to be repaired. Now you can take advantage of getting the repairs done from the comfort of your own campground.
Ready to plan your Thanksgiving RV getaway? Check out our Top 10 Campgrounds Across the USA to Spend Thanksgiving 2020. Let us know where you'll be headed for turkey day in the comment section below!