Winnebago Revel Camper Van
As fall 2020 approached, our Senior Editor Kristen and her husband Matt set their eyes on a trip out west. The couple are also the duo behind Hello America, an interdisciplinary platform that brings raw visual storytelling to brands in the outdoor industry. They've traveled the world together, circumnavigating Iceland, exploring Vietnam, Thailand, Mexico, Guatemala, and beyond, yet the two say they've never felt more at home than when in the wild American West. Their two-week road trip through Utah and Colorado provided to be one of grandeur. The 2021 Winnebago Revel, their RV of choice, set the tone for the adventure to come – one full of fall foliage magic through off-road locations and undeniable excitement as they are soon to welcome their first child to the mix. For their adventure and to learn about an RV so comfortable you'll forget you're five months pregnant, the full story and video below.
Author: Kristen of Hello America and LMRV Senior Editor 
My whole young adult life I have longed for the next adventure. At twenty-three I found myself a year out of college, in a great city I loved but restless nonetheless. I had a deep, undeniable itch to see America, particularly the west (as often the case for those raised in Florida or in the south in general) and it was no longer shakeable. A friendship with my now-husband bloomed and together we made our way through, around, what felt like over as well as under every crevice of America. For six months we slept out of my Jeep on BLM land, in National Forests, truck stops, and strangers couches to get a taste of the country we so desperately loved but had seen so little of. Our adoration for photography quickly turned from hobby to career as brands in the outdoor industry reached out to work together in the states and around the world. This started in 2014 and has been our way of life since.
THE ROUTE: UTAH
Earlier this year my husband and I had planned a trip through Colorado… and then Covid-19 happened… and then (surprise!) we found out we were pregnant with our first baby. But as is the nature of our personalities and what one can only describe as true stubbornness, we were not going to forfeit the chance to show this little growing nugget our favorite part of the country. To say I was anxious about this road trip is an understatement. First time pregnant, during a pandemic, driving thousands of miles for two weeks… had I gone mad? The question begged to be asked and then quickly tossed aside because like I said, number one I am stubborn, and two, we mapped out a plan to travel safely and responsibly in accordance with CDC guidelines, which alleviated the moral dilemma of traveling during these strange times. I cannot speak for every RV, but I will confidently say this: had we not been in the Winnebago Revel Camper Van, I might not have lasted the full two-week trip.
The opportunities this diesel Class B offered us were beyond my initial understanding. Off-roading in an adventure mobile in one's second trimester might not seem like a super comfortable ride but it was. The Revel rode like a boat on a glassy lake day over uneven terrain, pot-holed dirt roads, and even as it crawled slowly up mountainsides. Never once were we forced to abandon our dream campsite location. Every forest road campground (we like to camp for free and in the wild as much as possible) was accessible to us by 4WD and the isolated views delivered.
My husband likes to say that Moab is an adult playground and I'd argue he's not wrong. At every turn there is another rock to climb, trail to hike, slick rock to crawl along with whatever motorized grown-up toy you have set your eyes on. It's also unmistakeable stunning. The naturalist Edward Abbey said it best, "there are some places so beautiful they can make a grown man break down and weep." This dramatic, enchanting landscape features Arches and Canyonlands National Park as well as thousands of square miles of BLM and national forest. We spent our days in Moab hiking, swimming, biking, and cooking in the not so cool, 90-degree heat. As the starry night came as she always does, we gazed into the endless black sky, illuminated with tiny specks beyond sight in every possible direction, and then cozied into bed. Another note worth mentioning: We have a king-sized bed at home and like the option of a lot of space when sleeping. At first glance the 49" x 79" power lift bed had me questioning the number of hours I'd actually sleep over the next 14 nights and yet as our first night in Moab came and went, I slept more soundly in the Revel then I had on my own fancy mattress at home in many weeks.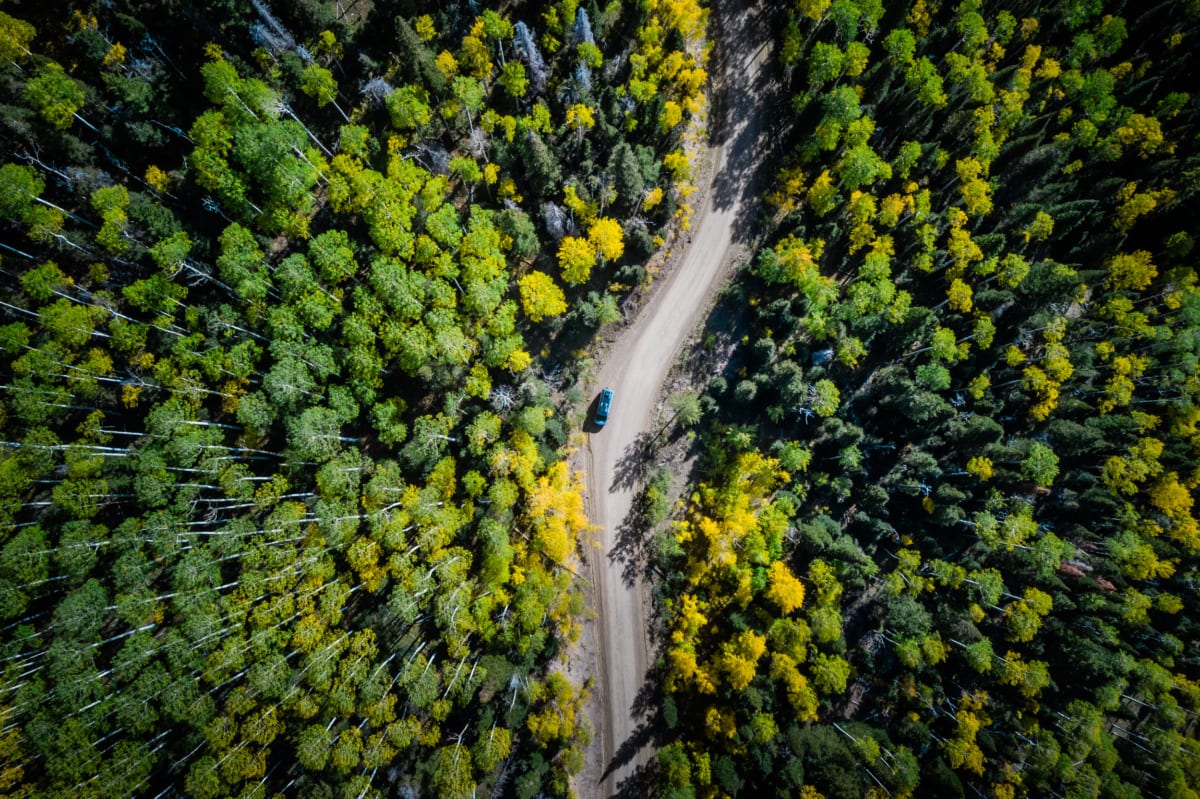 THE ROAD TO COLORADO IN THE WINNEBAGO REVEL CAMPER VAN.
We left for Colorado on a Tuesday morning, in hopes of catching cooler weather and the hype around the changing Aspen leaves. Our plan was really simple – follow the word of Coloradan buds on suspected hot spots for catching the leaves and keep our fingers crossed the locations delivered. We stopped in Fruita right off the border of Utah and Colorado to mountain bike, an area many consider to be a premier destination for this particular outdoor recreation. It did not disappoint.
As we made our way through the state, never staying in one place too long to ensure we captured as much of the wild landscape as possible, we reminisced on why we have always longed for these particular road trips. It's easy to romanticize many parts of life. Our exceptions often lead to disappointment when we experience reality. Over the last six years traveling around the world, I've found that my expectations of my time on the open road has always been surpassed by the sheer beauty of the natural world.
We camped in Route National Forest, spent mornings cooking and making campground coffee out of the back of the Revel, saw the most delicious changing leaves in Ridgway, hiked Devil's Causeway, caught a rising day moon in Lake City, and had our minds blown as we drove through Switzerland of America and along the Million Dollar Highway. We checked out breweries in Fort Collins (I sipped on sparkling water, thank you very much), food trucks in Durango, and made the most incredible campground crunch-wrap supremes in Steamboat Springs. We laughed while reading aloud passages from my first and probably only baby book, "Bringing Up Bebe" and fell asleep watching movies on our tiny but efficient iPad. Every road, trailhead, and city sign we saw became the soundboard for our firstborn's potential name, no matter how absurd. The sight of the changing Aspen leaves was so beautiful, it made me want to stick my face in the dirt and cry (also could have also been the pregnancy hormones).
The opportunity RV travel affords is an utter privilege and we do not take it for granted. It is by this slower pace of earned miles on the road, setting up camp, cooking off the land, and listening to our favorite Waylon Jennings song on repeat with the windows down that we feel more connected to the natural world and in return, responsible for helping protect it for the future generations to come, which includes but is not limited to, our very own tiny human. We invite you to take the road less traveled!
To follow along with Hello America's travels you can find them on Instagram and Hello America Photography.