How To Tips for Spring Cleaning your RV
With the first day of spring less than three weeks away, it's time to open those RV blinds, shake out your floor mats, and kickstart the season on a fresh note. While cleaning is never one's preferred pastime, spring cleaning is a great opportunity to get your RV ready for the adventures that await.
From exterior to interior, roof to ceiling, and every nook and cranny in between, we've outlined a simple and easy-to-follow guide to help you achieve all of your RV spring cleaning goals. If you feel uninspired to start your cleaning journey just remember, the sooner your RV is in top shape, the sooner you'll be able to experience life on the road!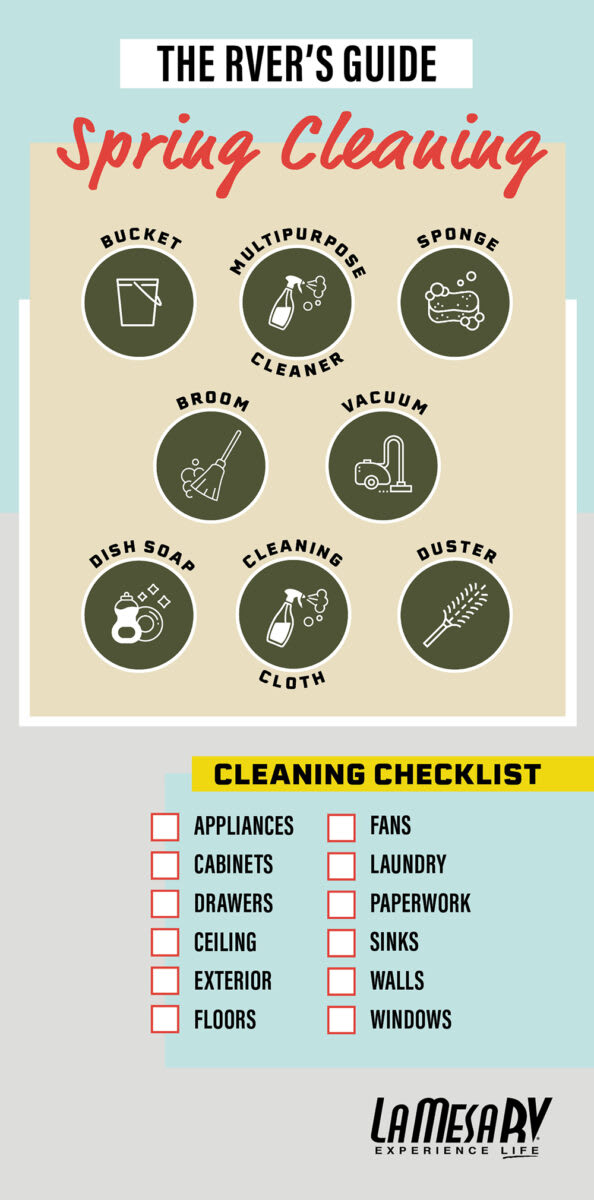 1. EXTERIOR
Give your RV a good wash. If your RV was sitting in storage for the winter months, this is a great time to brush off the dust and give your unit a nice bath. If you've been traveling during early spring, you're sure to find pollen on the exterior of your rig. Be sure to check all pumps, the awning, and exterior storage spaces for critters and leaks.
2. FANS AND CEILING 
Once you finish cleaning the exterior, it's time to start on the interior of your RV. Begin by wiping down the ceiling with a damp rag. Also, wipe down the fans and hardware attached.
3. FROM THE WINDOWS, TO THE WALLS
For walls, you can use a magic eraser on any marks and scuffs you see around the kitchen backsplash, bathroom walls, doors, and so forth. When cleaning windows, use a glass cleaner to thoroughly wipe down both the inside and outside windows. Gently take off and spray all screens and leave to air dry outside.
4. CABINETS, DRAWERS, AND COUNTERTOPS 
When wiping down your cabinets, drawers, and countertops, be sure to use cleaners made for the materials in your RV. Multipurpose cleaners are great for most surfaces. If your countertops are granite DO NOT use vinegar, Windex or bleach. When in doubt, use Dawn soap and water when cleaning all surfaces.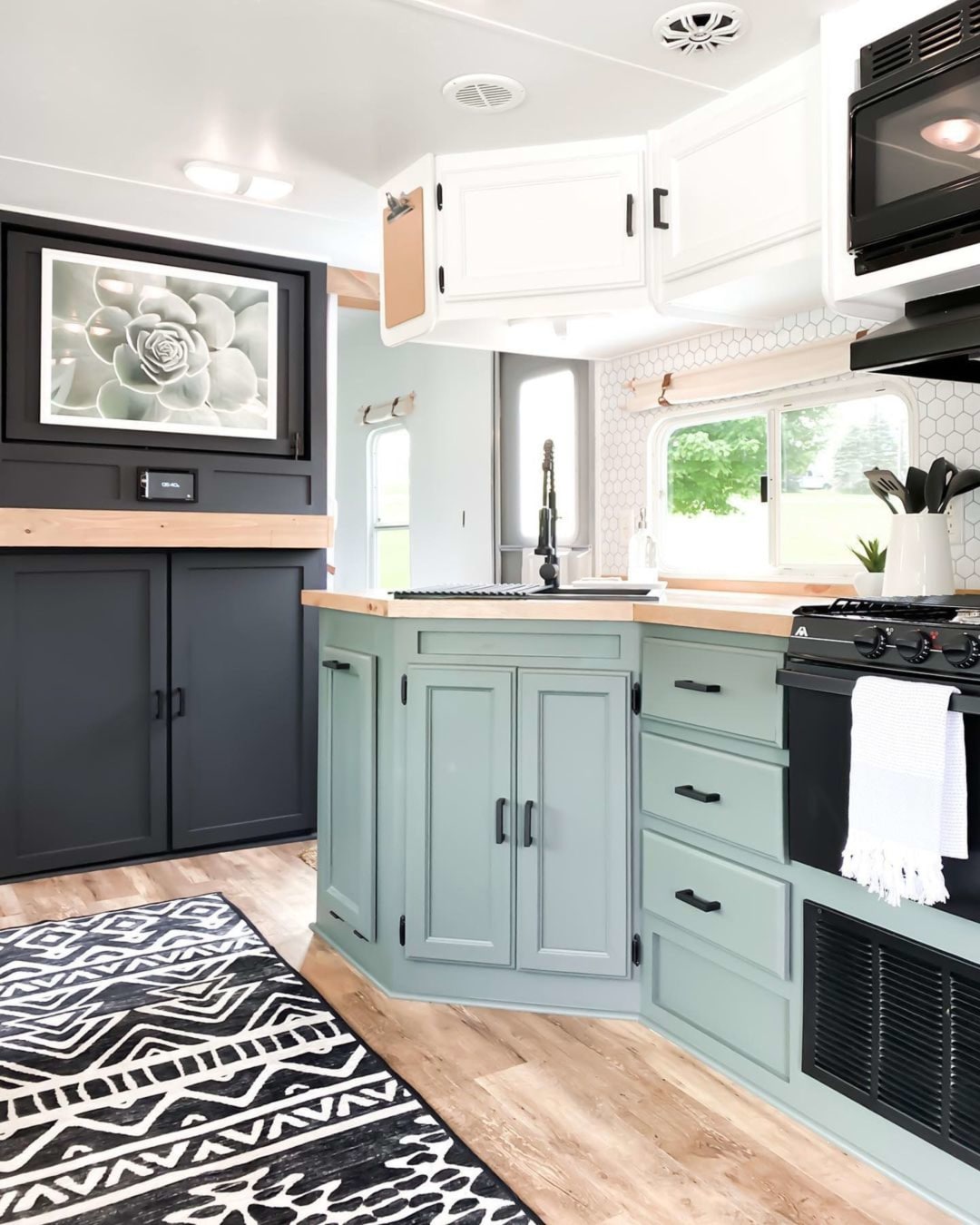 Photography: @thehappyglamperco
5. APPLIANCES
Microwave: If you have a microwave, simply use warm, soapy water to wipe down the interior and glass. Don't forget the ceiling!
Stove: Clean the stovetop with a stove cleaner or make your own! Blend one tablespoon of salt, one tablespoon of baking soda and one tablespoon of water together then pour mixture over the problem area. Use a rag to scrub and voila! Your stovetop is good as new.
Oven: Take out oven racks. Wipe up crumbs and other rouge food particles. Wash over racks outside with warm, soapy water. Wipe down the inside of your oven with warm soapy water. For harder stains, you can use baking soda and water to scrub away tougher residue.
Refrigerator: Take out everything in the refrigerator. Use a damp cloth and wipe down every surface and drawer.
Freezer: Remove freezer goods and wipe down the entire freezer with warm, soapy water. Rise and repeat. Add one tablespoon of bleach/gallon of water and wipe down all shelves and systems. Rise and dry.
6. BATHROOM
When cleaning the bathroom of your RV, be sure to start from the top down. Whether you have a full or wet bath, your RV bathroom is one of the places where water is most frequently splashed around or left in a damp state, making it a good place for mold or other bacteria to grow. Wipe down the bathroom fan and walls with an all-purpose cleaner or a damp cloth. From there, use shower cleaner to freshen up the shower and toilet cleaner for, you guessed it, the toilet. A great cleaning tool to have on hand when RVing is the Hard Water Wand, made specifically for RV toilets.
7. ORGANIZE
Spring is a great season for a fresh start. Now that the curtains are open and warmer days are ahead, who wants to spend precious travel time cleaning out drawers, pantries, and cabinets? Toss expired foods, donate those items you never used last year and make sure everything you need has its own dedicated space in your RV.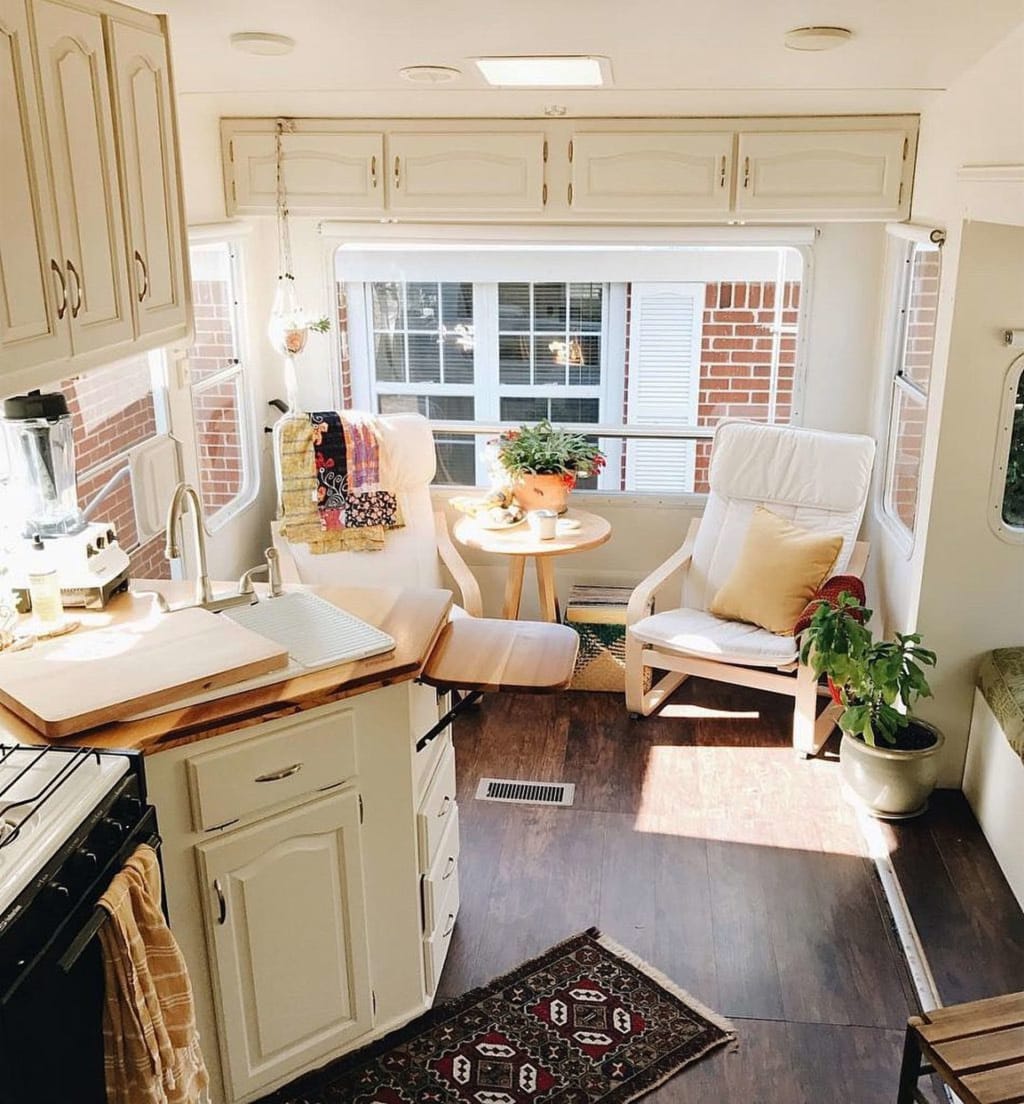 Photography: @ourhandcraftedhideaway
8. FLOORS
There are great options when cleaning your RV floors. First, identify the material your floors are made of and then clean with a non-abrasive material – that can be anything from a mop to Swiffer, vacuum or broom. Beat all mats outside and rinse down driver and passenger floor mats.
9. LAUNDRY
Wash all sheets, curtains, pillowcases, old kitchen rags and anything else you can wash before you start your spring adventure! Check out a lavender laundry detergent to bring the fresh smell of spring inside.
10. PAPERWORK
Spring is the perfect time of year to make sure you are up to date on all your RV paperwork. From insurance to title and RV manuals, double-check that your travel documents are in your RV for your next road trip.
Once your RV has been spring-cleaned, we highly recommend you check out our article featuring the Top 10 RV Travel Destinations in 2021 and start planning your epic road trip adventures!