The age-old question, "which RV is right for me?" doesn't have to be daunting! To assist you on your journey to owning your dream adventure mobile, we are breaking down the details of a Class B RV in a complete RV buyer's guide. Below you will find the advantages of purchasing a Class B RV, size details, amenities, and what to expect from life on the road with this type of RV. We recently featured our Class A Motorhome Buyer's Guide. If you're looking to compare the pros and cons of a Class A and Class B, follow the link here. Explore all the benefits of a Class B and find out if it's the right RV for you below.
CLASS B: THE PRO'S
EASIEST DRIVING MANEUVERABILITY
Class B RVs are by far the easiest RVs to park and maneuver because of their compact size. They are also quite comfortable and offer a smooth drive, making your travel experience enjoyable and stress-free.
GREAT FOR BOONDOCKING
If you're a weekend warrior or like to camp off the grid, a Class B is right up your alley. Add solar to your RV, bring your bikes or recreational adventure toys and get to enjoying nature sans plugins, neighbors, and fees.
EASY EVERYDAY PARKING
Things to consider about your travel experience: Are you often stopping and parking in town? Do you tend to dine at restaurants when on road trips? If you answered yes to these questions, a Class B will provide ease and peace of mind when it comes to navigating small spaces and finding parking. Class B's come in handy at campgrounds as well. Because they are the smallest of classes, they can fit in any spot, giving you the most options when choosing your campsite.
BETTER GAS MILAGE
Class B RVs are more fuel-efficient than Class A and Class C RVs. This means less money spent on getting you to your destination!
CUTTING-EDGE RV TECHNOLOGY
From Winnebago's SmartSpace design approach, created to maximize living and storage space, to Storyteller Overland's OT Energy System which provides sustainable energy while boondocking without the need for onboard power generators, Class B RVs have the reputation for constantly offering the greatest and latest technology and innovation.
EASIER TO STORE
Don't want to rent a garage or storage unit to store your RV when you're home? Fear not! Class B RVs are compact, making them the perfect non-eye sore recreation vehicle. The best place to store your Class B is you guessed it, in your own driveway.
IDEAL FOR SOLO TRAVELERS & SMALL FAMILIES
Because they are compact in size, easy to park, and comfortable to drive, Class B RVs are the go-to RVs for solo travelers, couples, and small families. A common praise we hear from Class B RV owners is the ease all travelers have of taking the wheel.
2021 Winnebago Solis Pocket its the Swiss Army Knife of camper Vans.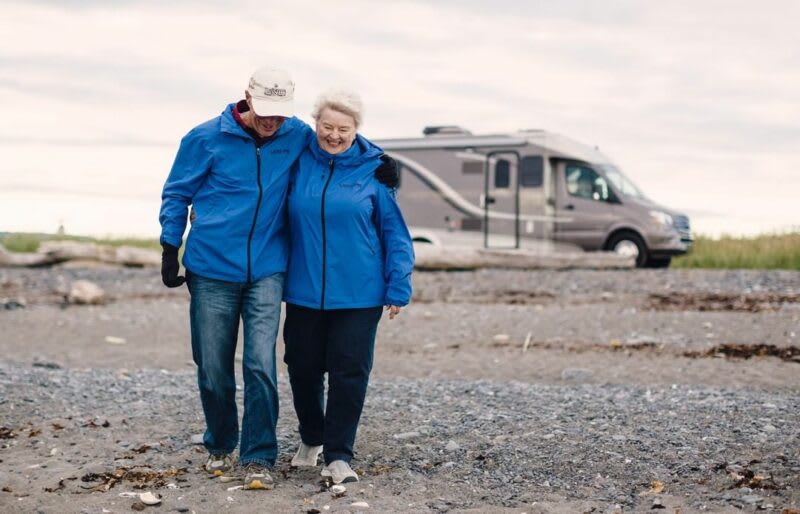 Photography: @leisurevans
CLASS B: THE CON'S
SMALLER LIVING SPACE
Because Class B RVs are compact, they do not offer the creature comforts of Class A motorhomes. Instead of a spacious bathroom, living, and kitchen area, Class B RVs tend to have the kitchen and living room (and sometimes bedroom) in one common space. If hosting and having a spacious unit is a top priority on your list of features you desire in an RV, a Class B might not be for you.
LIMITED STORAGE SPACE
Again, due to its compact size, Class Bs do not offer the luxury of large storage space. If you're traveling with a large family or need to store a grill, large camp chairs, or other camping accessories, you might want to opt for a Class A or Class C.
COMBO TOILET/SHOWER
Class B RVs offer a wet bath option. That means the toilet and shower share the same space. With beautifully designed and innovative Class B's on the market, some might not consider this set up a con! It's really more of a preference.
If you're looking for what life is really like in a Class B, check out our latest interview with the AdventureAyers — an incredibly inspiring adventure couple that has been traveling the world since retirement in a Thor Tellaro and Pleasure-Way Plateau.