Which RV is right for you? With multiple options to choose from, the search for the perfect RV to suit your needs can be a daunting undertaking. To assist you on your journey to your dream adventure life, we are breaking down the details of a Class A motorhome in our complete RV buyer's guide. In this guide you will find the advantages of purchasing a Class A motorhome, size details, luxury amenities, and what to expect from life on the road. Over the next few weeks we will breakdown each RV type, providing a full list of pros and cons to help get you out of the RV lot and on the road.
CLASS A: THE PRO'S
ACCOMMODATES THE WHOLE FAMILY
If you're in the market for an RV that closest resembles a home on wheels, a class A is highly worth considering. Ranging from 30 to 45 feet in length, these RVs provide (almost) all the amenities and comforts of home. Some even have a washer and dryer.
SLEEPING SPACE
Will you be adventuring with the whole family? Depending on which model you choose, a Class A RV can sleep up to ten people, making it the go to recreational vehicle for big families and those who entertain. Many Class A RVs offer a separate master bedroom (some are equipped with a king size bed as well as bunk beds) and dining sets that convert into beds.
LIVING SPACE
The spacious interior of Class A RVs is often luxurious and fully equipped, making it perfect for a full-timer. The interior layout is intentionally designed to bring ease and comfort to you and your family while traveling. You won't ever have to worry about being crowded in a Class A.
STORAGE
With ample storage you can pretty much bring anything you need/want on your RV trips. Class A's usually have the most storage of all RV types. Interior cabinetry is often plentiful and exterior basement storage can contain larger, bulkier items.
DRIVABILITY
Class A RVs are well-known for their smooth drivability. They also feature an elevated driver position, making for nice driving visibility.
TOWING
Class A RVs have the capability to tow a vehicle or support a carrying platform on a hitch. If you want to bring a dirt bike, bicycle or second vehicle, you can do so with ease when traveling in a Class A.
FRESHWATER AND WASTE TANKS
Class A RVs have the largest holding tanks of all RVs. The average Class A freshwater tank holds 75 to 100 gallons of fresh water. That's almost twice as much other classes.
CUSTOMER FAVORITE CLASS A MOTORHOMES
Enjoy a few linked posts featuring Class A manufacturer spotlights as well as customer favorite units:
– Tiffin Motorhomes
– Fleetwood
– Winnebago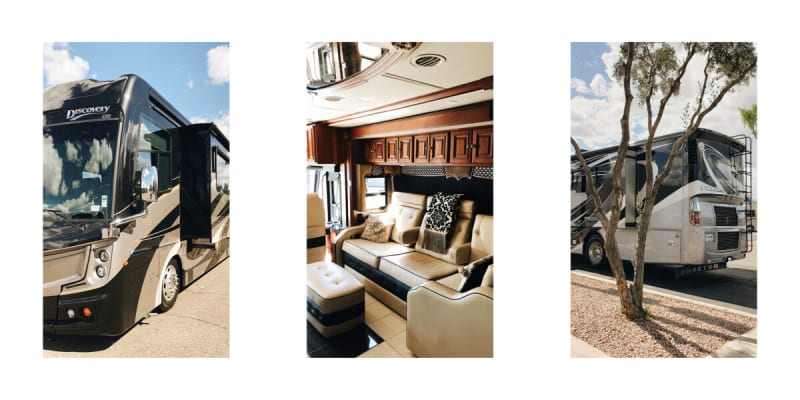 CLASS A: THE CON'S
SIZE 
If you're looking to get off grid and desire to RV in the backcountry, the size of a Class A motorhome may restrict you. Class A RVs can be difficult to maneuver in tight spaces. You also need to be mindful of top clearance when navigating through a campground with low hanging branches or low bridges on highways. Plus, some National Parks have not upgraded camping sites to accommodate today's larger and wider RVs.
STORAGE
When not in use, a Class A RV will require a large storage area. This is something to be mindful of before purchasing if your home cannot accommodate your RV, you may have to pay for a storage unit or figure out alternative storage options.
FUEL
Class A motorhomes offer gas or diesel options. Because Class A motorhomes are quite large, fuel milage will be low Class A tanks may hold 65 to 150 gallons of fuel. While this allows for longer distances to be covered, each fuel fill up can become expensive.
Still not sure the difference of a Class A, B, or C RV? Check out this video to learn the differences.