A Pet-Friendly Camping Guide Your Furry Friends Will Love.
A major perk of RV travel is having the unique opportunity to bring your home with you wherever you go. Home is not merely defined by the things we own but those we spend our lives with. That includes our furry, four-legged friends! When your pet is family, it's difficult and in most cases, impossible to leave them behind. In an effort to create an easy transition to RV life for your pet, we've outlined some helpful tips to ensure their safety while on the road, a few do's and don'ts of RVing with your companion, and a list of some of the most pet-friendly campgrounds in America. These tips are great for all types of Rvers, from weekend warriors to full-timers. Enjoy the details on how to travel with your pet below!
Cover Image by Henry the Colorado Dog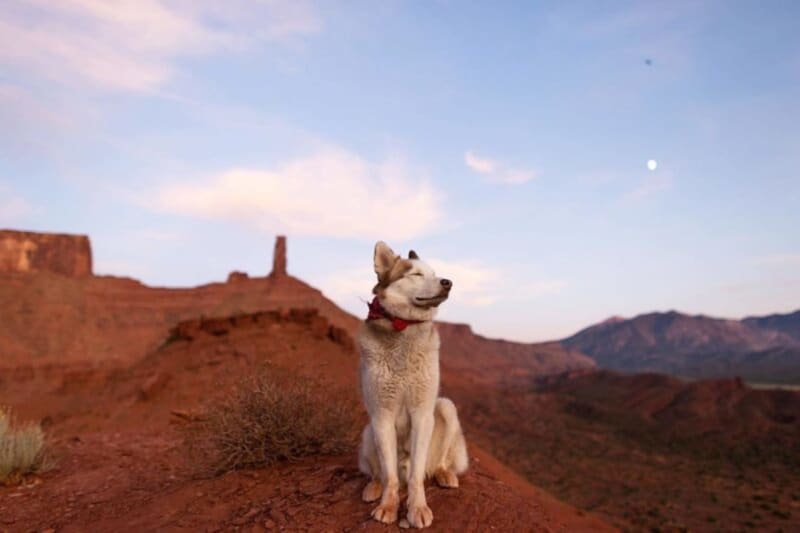 Photography: @kuma_thehuskeybear
EVERYTHING YOU NEED TO KNOW ABOUT TRAVELING WITH YOUR PET
PREPARATION
Before you take off on your road trip, make sure you consider the following:
– Know the potential medical needs/assistance your pet might encounter while on the road
– Pack a copy of your pet's medical records, vaccines, etc.
– Have a full supply of their medications and know what side effects come with their medical issues.
– Identify the health risks they may be exposed to (other dogs, heat, etc.) and avoid those situations if possible.
– Make sure your pet is up to date on all vaccinations. This is incredibly important if you decide to drop off your pet at a daycare facility as they will require the most up-to-date records for your pet.
– Have ALL the essentials: enough dog food, clean drinking water, leash, collar with updated tags, crate, waste bags, etc.
DO'S AND DON'TS OF RVING WITH YOUR PETS
DO:
– Get your pet daily exercise.
– Develop a routine (feeding, downtime, adventuring, etc).
– Opt for an outdoor shower system to rinse off your pet after a long day of adventuring.
– Stop for ample potty breaks when road-tripping!
– Check the weather before you embark on the day and make sure your furry friend has everything he needs for the weather ahead.
– Be a considerate neighbor! Pick up your pet's waste and make sure to follow campground rules. If the campground requires your buddy to be on the leash, keep him on the leash.
DON'T:
– Leave your pet unattended at your campground, period. Some may say that it's ok if you are remotely monitoring the temperature of your RV. The fact of the matter is, safe temperatures cannot be guaranteed. RVs can reach over 100 degrees, making it a very dangerous place if your power accidentally shuts off while you are away. This can happen with severe weather, human error, or a faulty air conditioning system.
– Allow your pet to roam around when you're driving.
– Assume your campground is pet-friendly. Call ahead and confirm before rolling into your site for the night.
PET EMERGENCY ROOMS
Before you head out on an RV adventure, make sure to locate the nearest vet, pet hospitals and emergency rooms along your route in the event your pet needs medical assistance. Be sure to have the numbers on hand, should you be in an area with spotty service. Don't be afraid to tell strangers that your pet isn't up for hugs and pats and know the warning signs/symptoms of your pet's medical concerns so you know when or if it's time to go to the emergency room. Keep your vet's number on speed dial so that any questions concerning your pet can be answered in a timely and stress-less manner.

Photography: @loki
MAKE YOUR RV FEEL LIKE HOME
Your pet finds comfort in the routine of their home life. Bring along their crate if they enjoy sleeping or hanging out in it, as well as any toys, pillows or blankets they prefer to rest with. Your furry friend needs to feel a sense of security, so know your animal and create an environment that is as comfortable and stress-free as it possibly can be while in an RV. This includes meals and snacks. Keep snacks on hand should you find your pet stressed or in need of sustenance.
PET-FRIENDLY TRAVEL KIT
Don't forget all the accessories that go along with your pet! Clean drinking water, food and water bowls, a leash, collar and tags, doggy bags, treats, toys, life vest, pillows, dog bed and whatever else your furry friend likes at home should be packed in your RV. Be sure to bring along a pet first aid kit for emergencies that include but are not limited to burns, sprains, tweezers for ticks, and so forth.
MEDICATIONS
If your pet is on medication for pain, infection, disease, and so forth, be sure to follow a strict schedule for administering medications. Read all labels fully. Consider your pet's comfort and be sure to give medications that need food with food, water with water, etc. This simple task of following a schedule is imperative while RVing because road life is known to be unpredictable. A flat RV tire can completely throw off your schedule, so set your alarm for your pet's medications as you would your own. Be sure to have enough of your pet's prescription for the duration of your trip! Know the side effects of the medications your pet is on and have additional medicine on hand if need be (anti-nausea, anti-diarrhea, anxiety, etc.).
TAKE BREAKS
If your companion is sick, remember that raveling with a sick pet is similar to traveling with an ill person. Many medications have the side effect of nausea, and pets are not immune to car sickness. Schedule in rest area stops so your pet can get fresh air, use the restroom and enjoy the solid ground. Keep an eye on your pet's demeanor. Shaking, shivering and excessive panting is common for pets that have medical issues, making it hard for them to regulate their internal body temperature. Keep extra blankets on hand and be sure to give your pet lots of snuggles in times of distress to create a sense of security and well-being.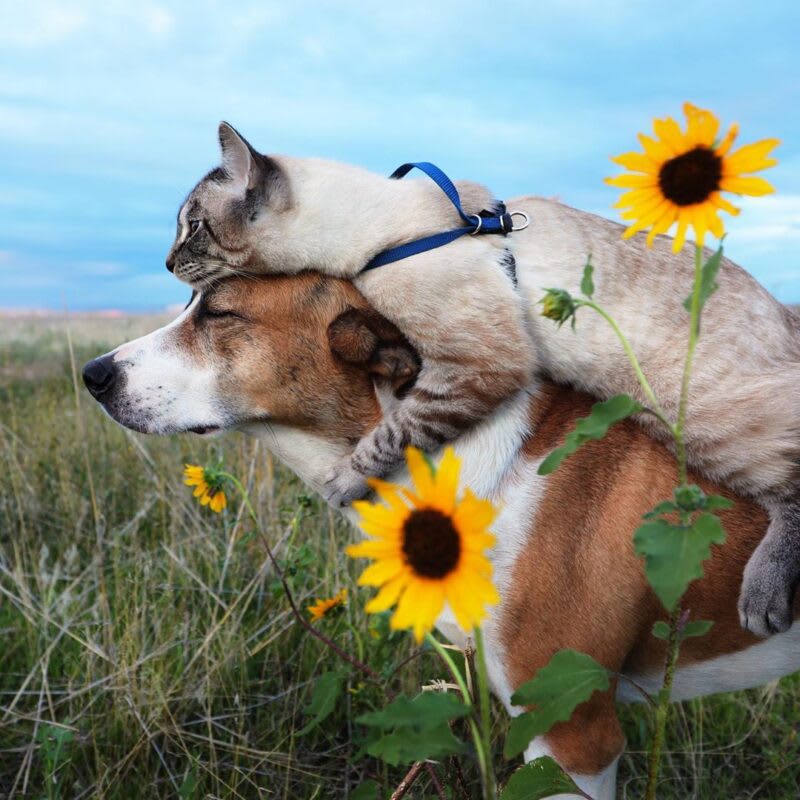 Photography: @henrythecoloradodog
BOOK A NIGHT AT ONE OF THESE PET-FRIENDLY CAMPGROUNDS! 
NOTE: Check-in with the specific campground before you head that way to make sure they are open. With the pandemic still in full swing, some states may have closed down their campgrounds for the time being. If they're not open when you plan to adventure, bookmark them for a future date! Pet-friendly camping can be done all around the US.
NORTH CAROLINA 
4 Paws Kingdom Campground and Dog Retreat 
Where: Rutherfordton, North Carolina
Details: 4 Paws Kingdom is a dog-dedicated campground for canines and their humans – but it's mostly catered to your pup! This pup heaven has every amenity you could ever want for your dog. From a fully fenced swimming pond to multiple off-leash play parks, that's only the beginning. 4 Paws offers an agility park, hiking trails, doggie bathhouse (with a grooming station so your pup can pamper it up) as well as RV sites with fenced in yards!
FLORIDA
Disney's Fort Wilderness Campground
Where: Orlando, Florida
Details: Bring your pup with you when you make your way to the happiest place on Earth! Fort Wilderness is the ideal campground for your pup to feel the magic of Disney World. The campground is equipped with multiple designated dog areas as well as a leash-free park known as Waggin' Trails. You're welcome to bring two dogs of any size while camping. Each additional pup is $5/dog per night. At check-in, your pup will receive "Pluto's Welcome Kit," which includes bowls, mat, pet ID tag, poop bags, and a dog walking map. Be sure to bring your pet's up-to-date medical records.
Lake Whippoorwill KOA
Where: Orlando, Florida
Details: If Disney is calling your name but you'd like to be a little further from the park traffic, check out Lake Whippoorwill in central Florida. What makes this KOA stand out is the campgrounds leash-free Kamp K9 Pet Playground that is fully equipped with a pet obstacle course. Limit of 3 pets per campsite.
TEXAS
Mustang Hollow Campground
Where: Mathis, Texas
Details: Mustang Hollow is a stunning RV campground located near Corpus Christi. The park includes 47 wooded acres of wildlife, ideal for you and your pup to explore together. The park also features a dog run and no-wake zone for your pup to swim and fetch a frisbee without boat interference!
COLORADO
Garden of the Gods RV Resort 
Where: Colorado Springs, Colorado
Details: Fun for your furry friend awaits! Garden of the Gods RV Resort offers a "Bark Park" made with your pup in mind so they can relax and take in the beauty of Colorado in the safety of a gated and spacious area. Local trails are also a big draw to this particular RV park. Bring your pup with you on a hike through Garden of the Gods, Red Rocks Canyon, Pikes Peak and so much more!
OREGON
Osprey Point RV Resort 
Where: Lakeside, Oregon
Details: Osprey Point RV Resort is nestled between mountains, lakes, dunes, and the Pacific Ocean, making it the ultimate adventure landscape for you and your pet. Does your pup like to swim? Tenmile Lake is calling their name! Osprey Point RV Resort also offers a large activity field for your pup to explore and stretch their legs.
Are you in search of some cute dog photos (let's be honest, who isn't during these unprecedented times?) Check out our round-up of the Top Pet Road Trip Photos that Will Make Your Heart Melt. There are even some super cute cats that make an appearance as well! Do you RV with your pet? Leave us a comment in the section below for a chance to be featured on our Experience Life Blog!