What Are Super C RVs?
Once upon a time there was a prince who decided he wanted to marry a princess. But not just any princess. He wanted to find just the right princess that was perfectly suitable to be his wife. This 19th century childhood fairytale, known as "The Princess and the Pea" by Hans Christian Andersen, seems to be an ever-dominant influence on the consumer mindset of the 21st century. We search to find just the right version of whatever product we are looking to purchase. Manufacturers and brands have picked up on this trend and are continually coming up with new hybrid products that take the best features of one product and combine them with the best features of another product, to create a more perfect product for a niche of consumers. Super C RVs, as they have been popularly dubbed, are a product of this evolutionary thinking. And they may just be what you are looking for in your next motorhome.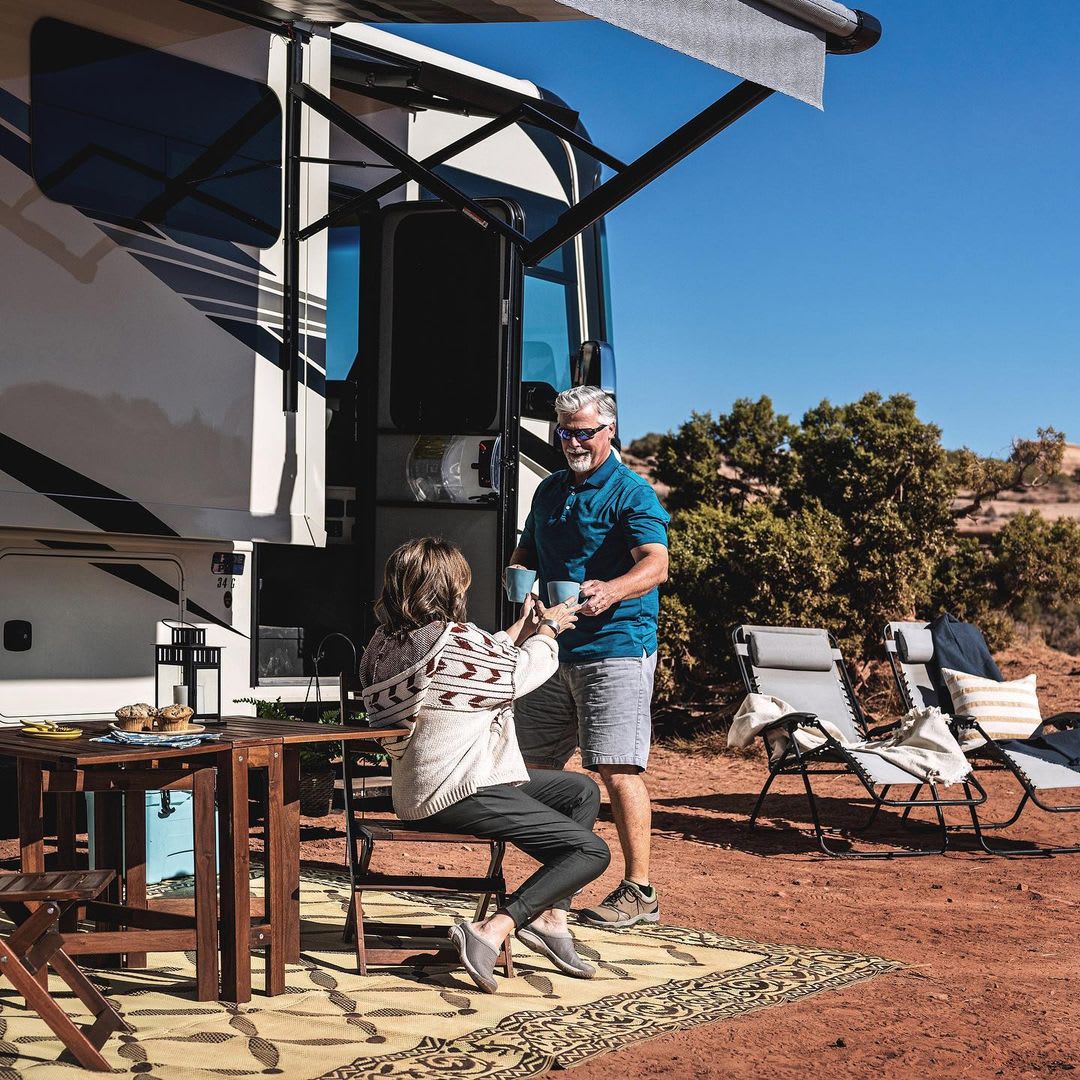 Photography: @jaycorv
What is a Super C RV?
A "Super C" RV is the largest of the Class C motorhomes, built on a large truck, commercial truck or semi-truck sized  chassis. They're typically built with a super-large frame, an overhead bunk, and an extra-powerful diesel engine that can tow more weight. They have a larger wheelbase that makes them sturdier, provides more floor space inside the coach, and makes them able to carry more weight versus a standard Class C RV. Many Super C motorhomes are built on a heavy-duty Ford F-550 or a Freightliner S2RV chassis. Some people would jokingly argue that a Super C looks like a "grown-up" version of a Class C RV, or a Class C on steroids.
Why are Super C RVs so popular with RVers?
There are many reasons why RVers are flocking to Super C motorhomes. Here are the big ones:
Truck Driving vs. Bus Driving: Some RV'ers just don't care for the feel of driving a bus-sized motorhome with a rear engine when compared to driving a large truck with a front engine. It just comes down to drivability. They may have truck or semi-truck driving experience and prefer the front-engine feel. It can also be the pure power of a diesel truck engine that they prefer, or the option of six-, eight-, or ten-speed automatic transmissions that are available with larger trucks.
Easier Engine Repair & Maintenance: There are more service shops and truck mechanics that can work on and repair traditional large-truck engines versus diesel pusher engines in Class A RVs. Plus, the Super C engine is easily accessible from outside the RV.

Photography: @bendavis
Slightly smaller than a Class A, but with most of the Class A size and features: While Class A motorhomes generally offer the largest and most luxurious motorhomes on the road, they also have their limitations in terms of where you can take them. With a Super C RV, you can get just about all of the luxury features of a Class A in terms of higher quality and heavier materials inside the coach, plus a great amount of space in a slightly smaller overall package. The difference between a 40' to 45' Class A and a 30' to 38' Super C can be a lot at some RV parks and campsites that just can't quite accommodate the turning radius or length of a Class A bus, but can accommodate a slightly shorter Super C RV.
Increased Towing & Cargo Capacity: With a heavy-duty, large truck engine and transmission, and a beefier chassis, Super C's usually have higher towing and cargo carrying capacities compared to standard Class C motorhomes. This makes towing golf carts, motorcycles, four-wheelers, boats and other towable items feasible. Plus, spacious exterior cargo bays allow you to take along more items for daily living.
Wider Wheel-Base: Super C's can provide a safer, more enjoyable driving experience due to a wider stance, and more solid wheel base in comparison to their height.
Roomier interiors. While most Class C motorhomes are typically built out at 98 to 100 inches wide with slide-out rooms retracted, a Super C often is 101 to 102 inches in width with slides retracted. This slight width difference combined with higher ceilings can provide a more spacious feeling in the interior living space while the unit is in motion or set up at camp. With more space to place holding tanks below floor level, interior space is gained to allow for more cabinetry or seating options that can sometimes constrain smaller and shorter Class Cs.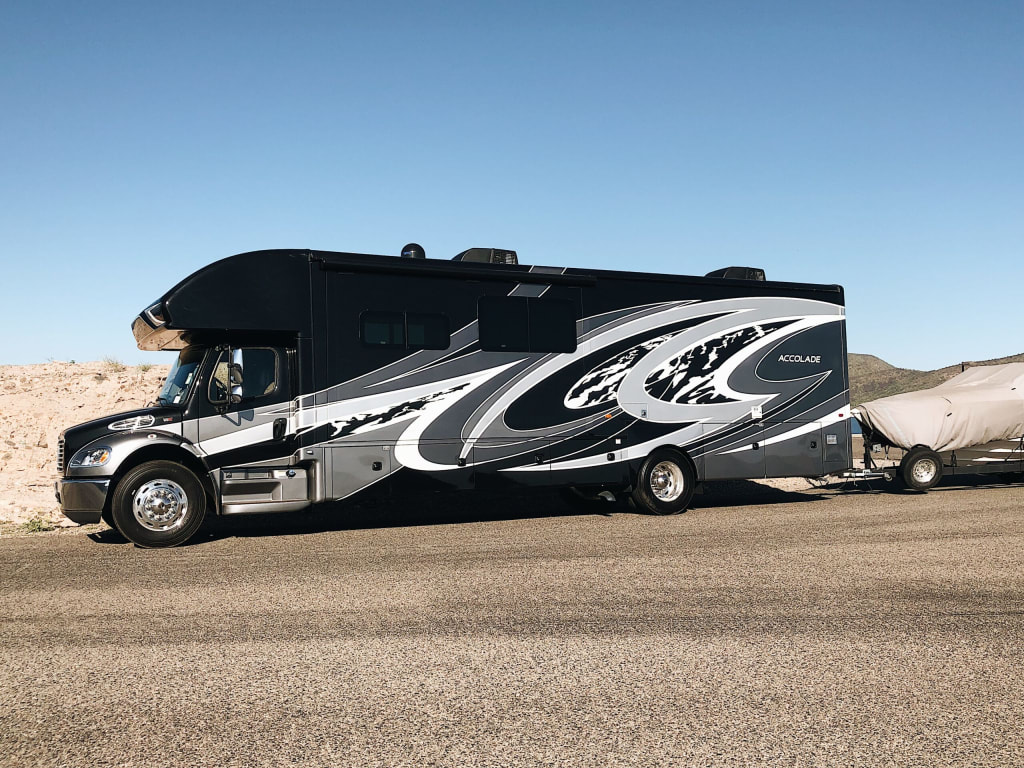 Why do RV manufacturers like building Super C RVs?
RV manufacturers build Super C motorhomes with fewer concerns about the weight of the materials used to construct the coach. High-quality real wood cabinetry, granite countertops, porcelain floor tile, and other luxurious amenities are often found in a Super C. This allows them to design and build some of the most luxurious RVs on the market today.
Which RV manufacturers make Class C RVs?
Some of today's top brands of Super Cs come from well-regarded manufacturers.
Entegra Coach Accolade – click here for inventory 
Jayco Seneca – click here for inventory 
Thor Motor Coach Magnitude – click here for inventory 
Thor Motor Coach Omni – click here for inventory 
If you're in the market for a Super C RV, or any other size RV, be sure to visit La Mesa RV or one of our stores near you. With dozens of manufacturers and hundreds of models in stock and on order, we can help you pick out the perfect Super C, diesel pusher, motorhome, travel trailer, 5th wheel or toy hauler for your RV lifestyle.