It might come as a surprise to some, but today's recreational vehicles come with a well-equipped kitchen. Just because you are camping doesn't mean you are limited to cooking over a campfire or making microwave meals. Whether you travel full-time or are a weekend warrior, your RVs induction cooktop and convection oven give you the ability to cook great meals anywhere you go.
Once you get familiar with your RV kitchen appliances, you will find that making a healthy meal does not have to be complicated. Instead of spending a lot of money eating out, you can make your everyday favorites or even a special occasion dish with ease. A few pointers and a little practice are all you need to make mealtimes a breeze when you are on the road.
Guest Post by Robin Buck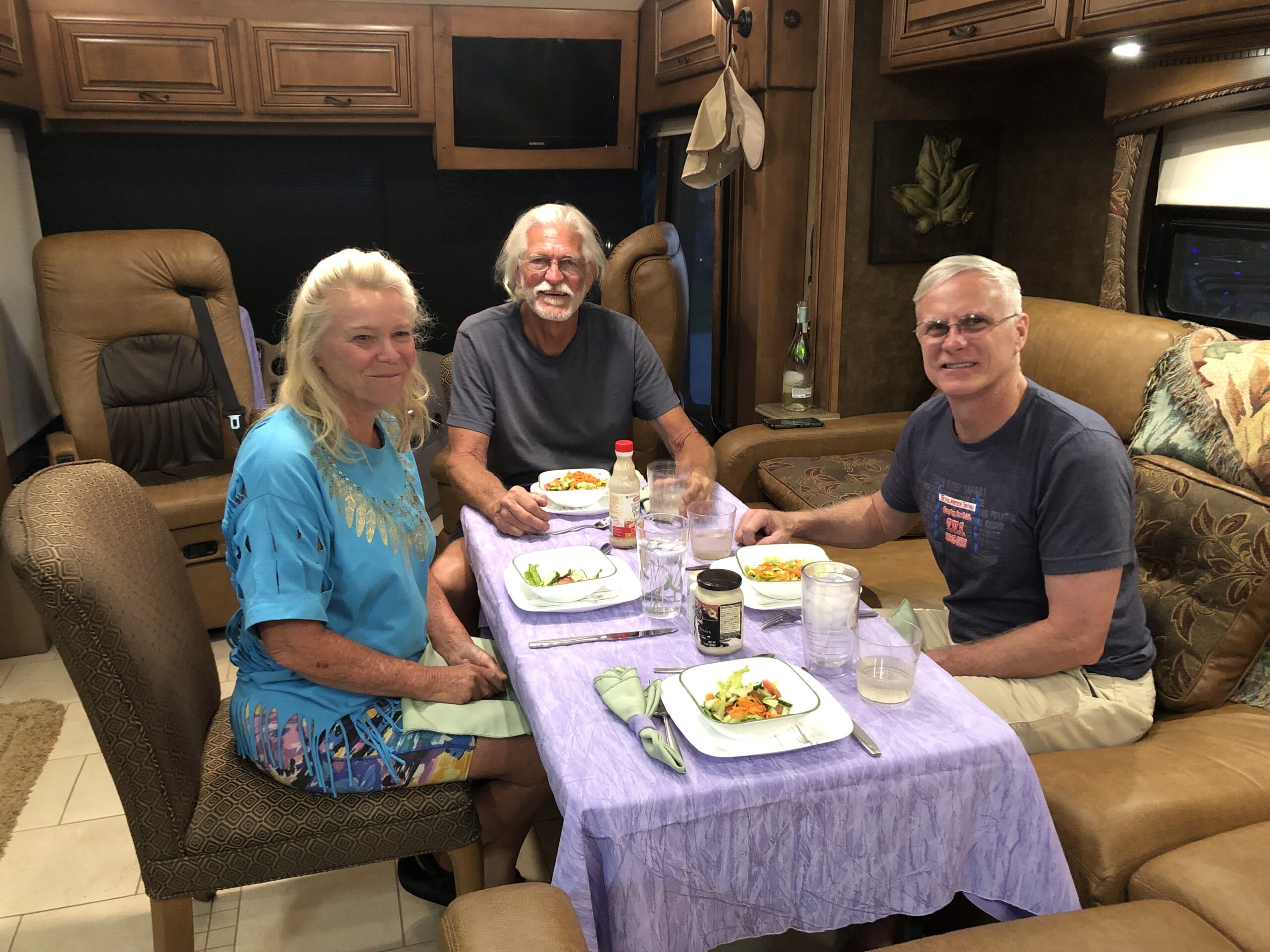 RV CONVECTION OVEN 
An RV convection microwave oven is a compact appliance that makes good use of a recreational vehicle's limited space—it is really two appliances in one. The microwave setting is used just as you would at home for things like reheating foods, cooking packaged meals, or making popcorn. The convection setting works like a standard kitchen oven and can bake anything from cakes to casseroles.
As the convection oven warms up, a fan is used to force air movement and heat the full interior. Hot air moves around, under and over the food so it cooks faster and more evenly than in a typical oven.  Each convection oven can be a little bit different, so you will need to try out a few recipes to see how cooking compares to your regular oven. Reading your owner's manual is always a good place to start, or you may want to purchase a convection oven cookbook.
These tips can help get you on your way:
1. Reduce the oven temperature for your recipes by 25 degrees. Since the heating is so efficient in a convection oven, you will be able to get the same results with a lower temperature.
2. Place pans on a metal rack rather than directly on the bottom of the oven because the heat needs to be able to move around the food. Just remember to never use metal when using the microwave functions!
3. Use bakeware with lower sides to allow the air to circulate more effectively around the food. This is especially helpful for cookies or crispy foods. The good news is you don't need to buy any special pans as glass, metal and even silicone baking cups work fine in a convection oven.
4. Don't overcrowd items inside the oven or you could block the flow of air around the food. You can use multiple racks, but make sure to leave some space between items for the most productive cooking.
5. Check on your food about 10 minutes sooner than the recipe calls for to make sure you do not overcook items. Since the hot circulating air maintains a very steady temperature, foods tend to cook more quickly and evenly. After you get used to baking in your convection oven, you will know how to make minor cooking time adjustments for your recipes!
RV INDUCTION COOKTOP
An induction cooktop cooks differently than a gas or electric stove. It uses a magnetic field to generate heat and then transfers it directly to your metal cookware, skipping the need to heat the surface first. Because there is no heat lost between the cooking surface and the pot, induction cooking is much more energy efficient than standard cooktops.
An added benefit to an induction cooktop is its cool-to-the-touch surface which will prevent accidental burns. There are no open flames, and the flat cooking surface makes clean-up so easy. Any item you normally cook on a stovetop can be done on an induction cooktop.
You can start today with just a few tips:
1. Be prepared for faster cooking times by having your prep done before you start. You can heat a pot of water for spaghetti or rice in just a few minutes. Sautéing veggies or meats is a quick process and can have your meals ready in a snap.
2. Learn your cooktop's settings. It is always a good idea to read your owner's manual to understand its capabilities like heat settings, temperature controls, and timer options.
3. Check your equipment. For the induction process to work, you need to have the right kind of cookware (I use a great space saving stackable set from Magma). Pots and pans with a high ferrous metal content at the base work best, and can include cast iron, steel, and magnetic stainless steel. An easy way to test a pan is to hold a magnet from your fridge near the bottom surface of the pan. If the magnet sticks to the base then the pan is magnetic and will work with an induction stovetop.
GIVE RV COOKING A TRY
Understanding your RV kitchen appliances will simplify your vacation cooking and save you time and money. Once you try it out a few times, you will be amazed that your convection oven is so easy to use. It is excellent for roasting, baking, and crisping all of your favorite recipes right in your recreational vehicle. Give it a try with my easy Best Banana Muffin recipe that your family will love!
Using your induction cooktop is also a timesaver for safe, summer cooking. Spending less time in the kitchen will allow you and your family to create more fun vacation memories. Here is a simple and healthy 3-Ingredient Orange Chicken recipe that will have even have the kids coming back for seconds. Happy travels and happy cooking!
Robin and her husband, Mike, are Air Force veterans and empty nesters who travel full-time in their Entegra Anthem motorhome. Always ready to explore, they love nature and wildlife, meeting new friends, and discovering America's many hidden gems. Robin chronicles their adventures and experiences on her travel blog RVing with Robin.