Do you get a thrill from trying out new tastes in the comfort of the great outdoors? Whether you're a master chef, grill master, or simply enjoy making a meal when you're out camping, there's a full menu of RV options that are designed to satiate your love for outdoor meal prep. If you're in the market for an RV, travel trailer, or motorhome that includes an exterior kitchen, we've got you covered with a complete round-up of the top picks available to you today. From luxury fifth wheels to clever Class C floorplan styles and everything in between, read on to find the ultimate ride for making all of the delicious meals you can dream of.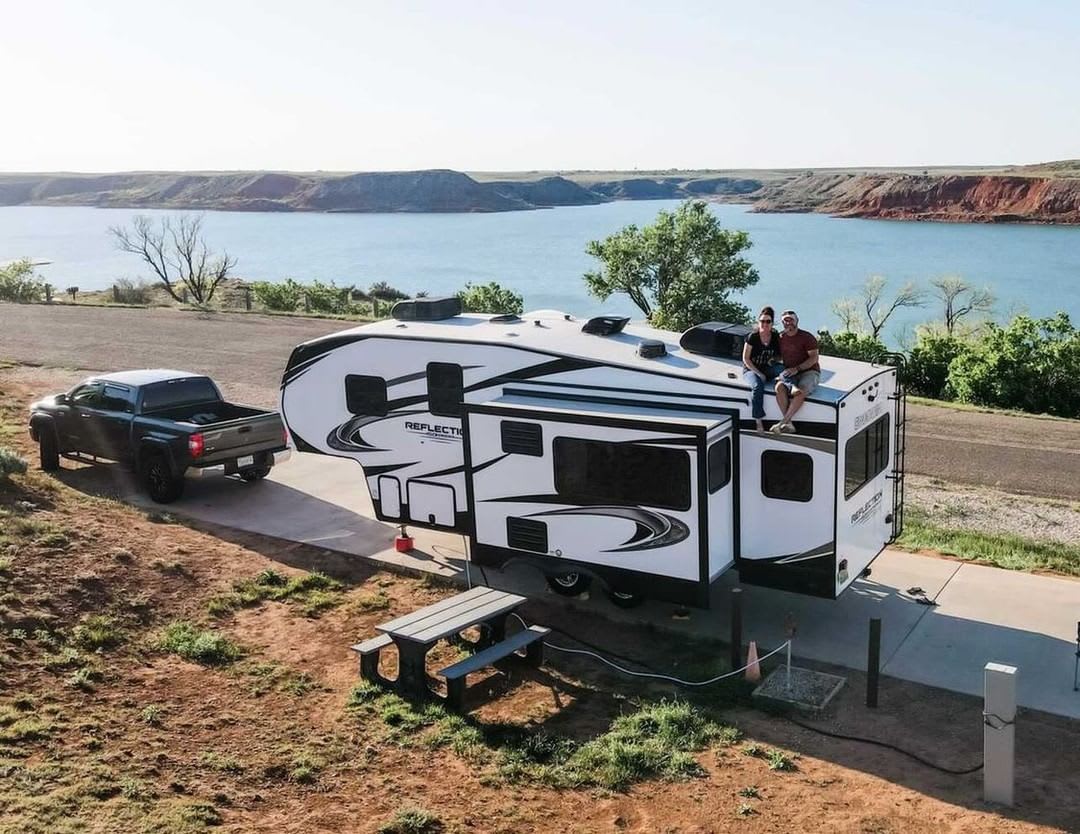 Photo Credit: @chasingthecashes
TOWABLE RVS WITH OUTDOOR KITCHENS
Grand Design Reflection (297RSTS, 31BHTS) – 5th Wheel – Click Here for Inventory 
Tow along long-lasting luxury wherever you go and enjoy gourmet meals along the way. Not only does the Reflection come with an outside kitchen, but also features a spacious interior kitchen that serves as an absolute treat for those who love to explore foods and flavors. Enjoy residential-style island counter space complete with a deep-seated stainless steel sink, high-rise faucet, and pull-out rinser. Solid surface counters and hardwood panel refrigerator fronts complete the look and feel of home sweet home when paired with the mouthwatering aromas concocted in the great outdoors. Should you wish to meal-prep beneath the shade of your electric awning, the exterior kitchen includes outdoor speakers, sink and cabinetry, a 4.1 cubic ft. refrigerator (1.6 cubic ft. in the 297RSTS floorplan), 2-burner LP cooktop, and an LP quick connect for your grill. There's also a COAX TV connection for you to stay up to date on all your favorite sports! An outdoor shower is also conveniently included for beachside excursions and cook-outs, making it easy to keep the interior space of your 5th wheel clean while the ductless floor vents take care of any remaining dirt or residue you may track in after a day outside. Most importantly, this RV includes plenty of exterior storage space for you to pack in your grill and any other outdoor recreation gear you may want to take along on your next adventure.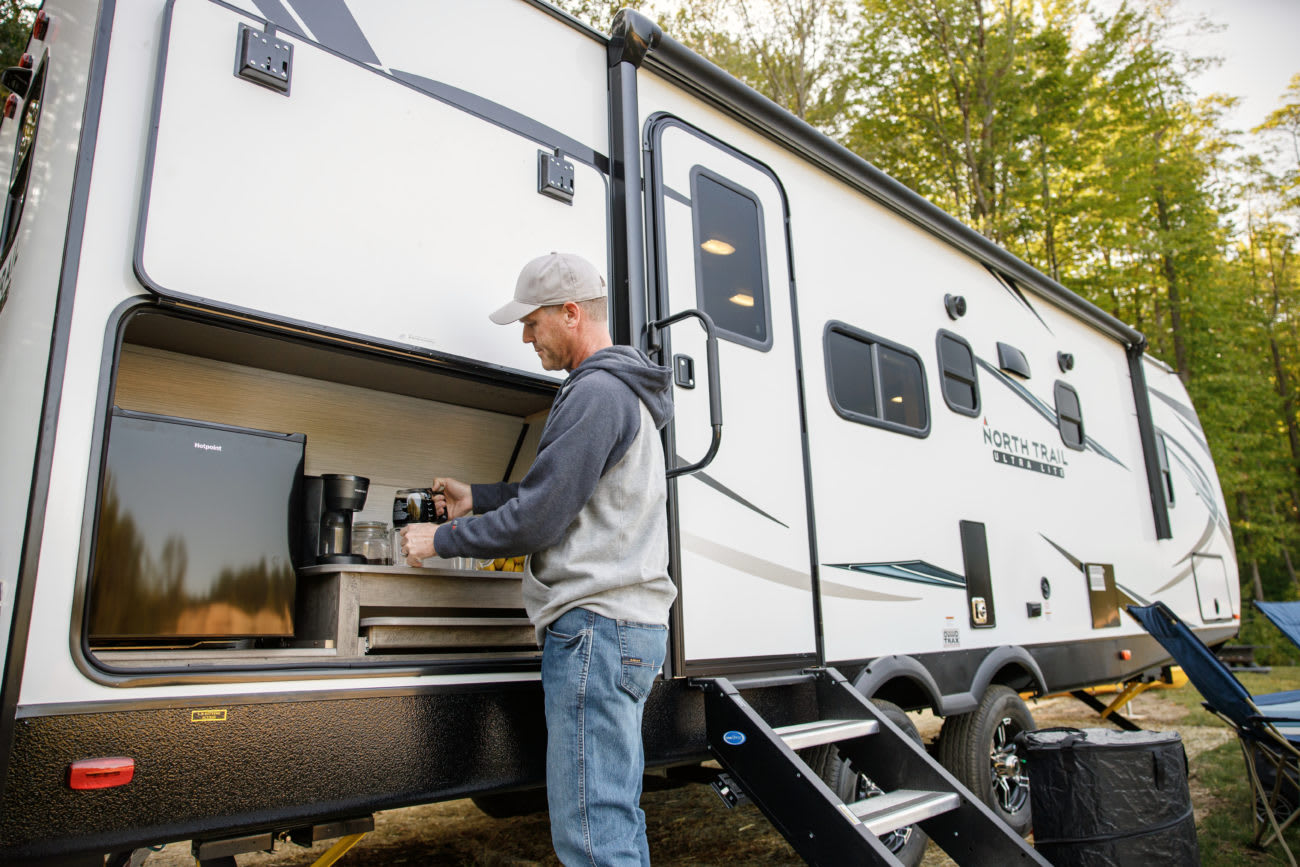 Heartland North Trail Ultra Lite – Travel Trailer – Click Here for Inventory 
This pet-friendly travel trailer provides all of the space you'll need for your family, including your large pups! Are you a grill master or master chef? Eight unique floorplan options allow you to personalize your exterior kitchen space with the choice of a 2-burner LP cooktop or RVQ grill. Travel with all the camping gear you need for a great escape with premium pass-through storage, housing up to 67.5 cubic ft. of space. Key interior features include a massive king-sized memory foam mattress with under-bed storage, easy to clean flooring, and a backlit fascia for a relaxing ambiance. If you have a taste for luxury, you'll love the interior galley too! Standard features include infinity edge countertops, a three-burner power range with a glass top, hood and light, a high-rise faucet, and messy-meal-resistant premium flooring (resistant to tear, slip, mold, and mildew). The 8 cubic ft. refrigerator is covered in chalkboard material so you can jot down lists and notes while you're on the go. No matter what your adventure goals look like, the North Trail is made to match your creativity and ambition.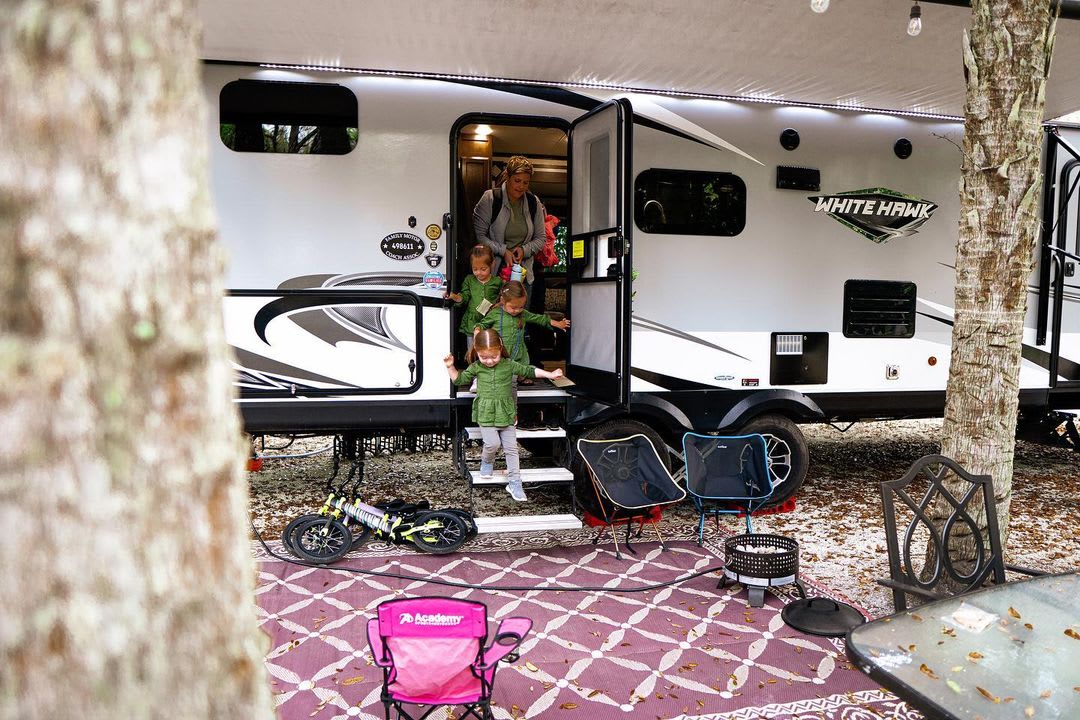 Jayco Whitehawk – Travel Trailer – Click Here for Inventory 
If you're looking for floorplan flexibility, this travel trailer will meet your every need. Of the nine floorplans available in the latest 2021 model, eight are available with an outdoor kitchen. Every style is available with the same upgradeable features and designed with the pedigree of Jayco quality, making it the perfect marriage of luxury and lightweight. Enjoy the comforts of home wherever you roam with solid hardwood cabinetry, a deep split bowl stainless steel sink with a high-rise and a pull-out faucet, a complimentary dry rack and sink cover combo, and a decorative backsplash at the galley. The Whitehawk also includes the finer touches of home with a decorative wall clock and electric fireplace to cozy up to at the end of a long day in nature. The outdoor kitchen is built with a 2-burner LP cooktop, oil-splash guards, a stainless steel sink, fold-out counter space, netted and LED light condiment storage, and easy-to-clean embossed metal countertops. An exterior TV bracket with 120V and cable outlets and marine-grade speakers are also included for your campground entertainment. Depending on the floorplan you choose, you can sleep from five to up to ten campers, yielding plenty of family road-trip opportunities with the kitchen space to spare for an unforgettable meal in the heart of nature.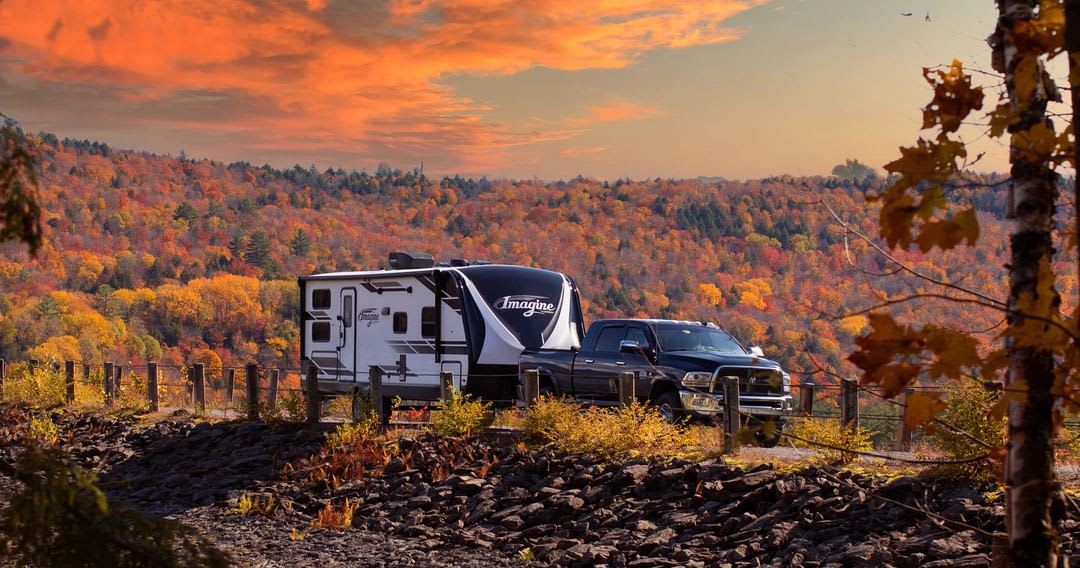 Grand Design Imagine – Travel Trailer – Click Here for Inventory
If you're looking for a lightweight travel trailer with the best-in-class storage and tank capacities, look no further than the Imagine. This towable RV is a great choice for pet owners, with select floorplans featuring a pull-out pet food and water drawer beneath the refrigerator. Snuggle up with your four-legged best friend in your residential queen-size bed, or create a space for your pet with the bunk bedding floorplan. Wander through the finer corners of the country with the feeling of home sweet home. There are five floorplans with an exterior kitchen to choose from, each with unique details such as booth or U-shaped dinette seating, an electric fireplace, a residential-style island counter, and a rear bunk area that doubles as bike storage space. The Imagine's outdoor kitchen is equipped with a two-burner LP cooktop, an LP quick connect for your grill, and a 1.6 cubic ft. refrigerator. If you have many mouths to feed, the 3250BH travel-family floorplan is equipped with a larger 4.1 cubic ft. exterior fridge along with a storage drawer, cabinetry, and counter space for meal prep. Go ahead and run wild with your travel goals, because the opportunities for adventure in this towable RV are as boundless as your imagination.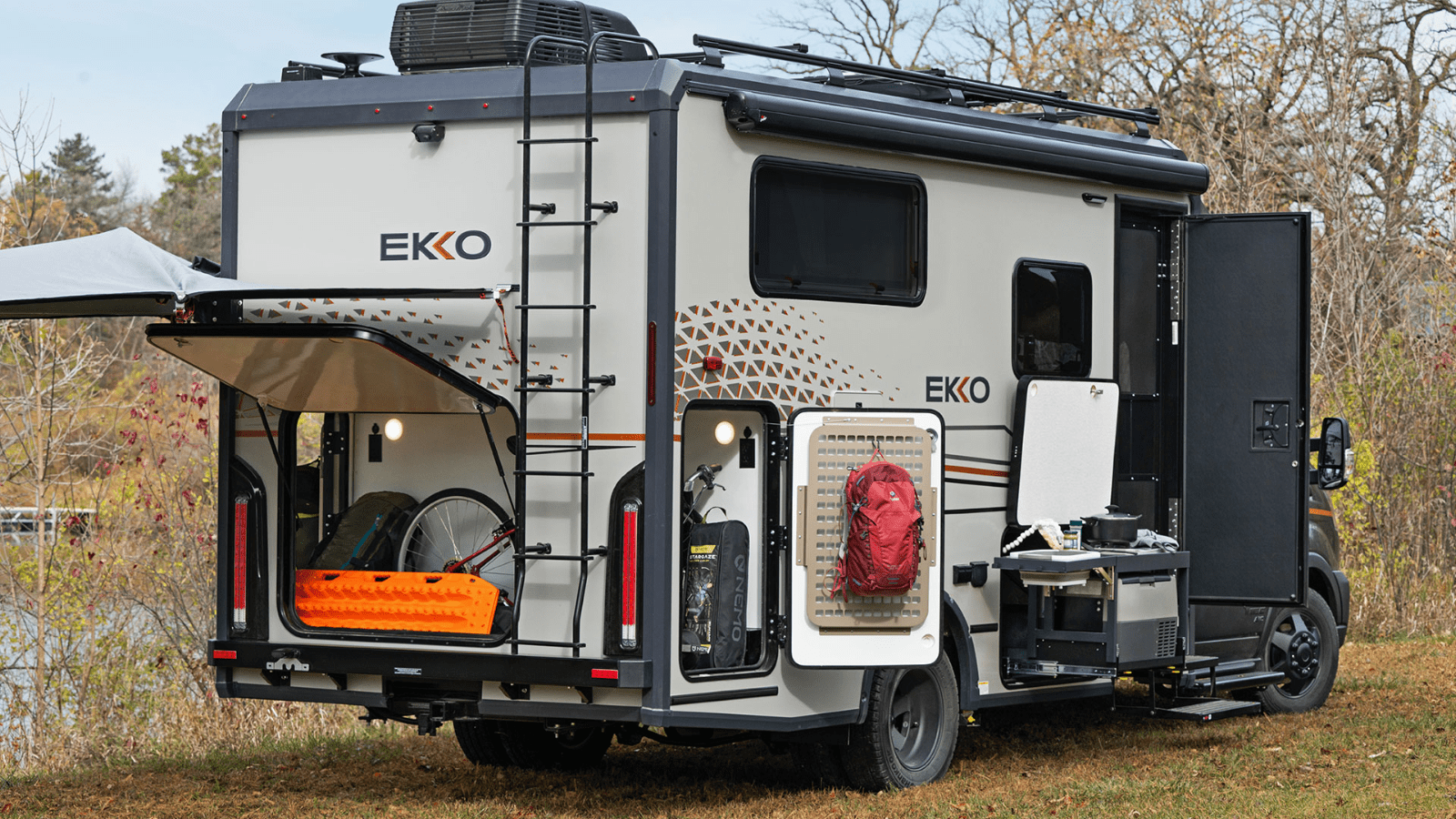 Class C MINI-MOTORHOMES WITH OUTDOOR KITCHENS
Winnebago Ekko – Class C – Click Here for Inventory 
This Class C is the perfect choice for those who wish to truly enjoy a good meal absolutely anywhere. With AWD capability and all-season insulation, you're free to enjoy the comforts of a freshly cooked meal with a backdrop of a desert valley, quiet forest, mountaintop, or shoreside view. Though petite in comparison to most towable trailers, this mini-motorhome packs plenty of interior and exterior storage space for your adventure gear, along with a 5,000 lb. trailer hitch. What makes this Class C most unique is the built-in heated gear garage with L-track cargo tie-down capability, allowing you to make your space completely your own with boundless organizational opportunities. The customization doesn't end there! Choose between upgrade options including a luggage rack or a pop-top sleeping area. Meal prep is made easy with the adjustable counter extension, removable for extra traffic space when not in use. The exterior kitchen includes a chest-style freezer/refrigerator, 2-burner LP cooktop, flip-up counter extension, quick-connect faucet, collapsible sink, LP quick-connect hose (not available with pop-top) and an LP quick-connect for your grill. Enjoy a freshly made meal beneath the one-of-a-kind batwing awning as the LED lighting will keep your camping space bright when the sun is ready to set.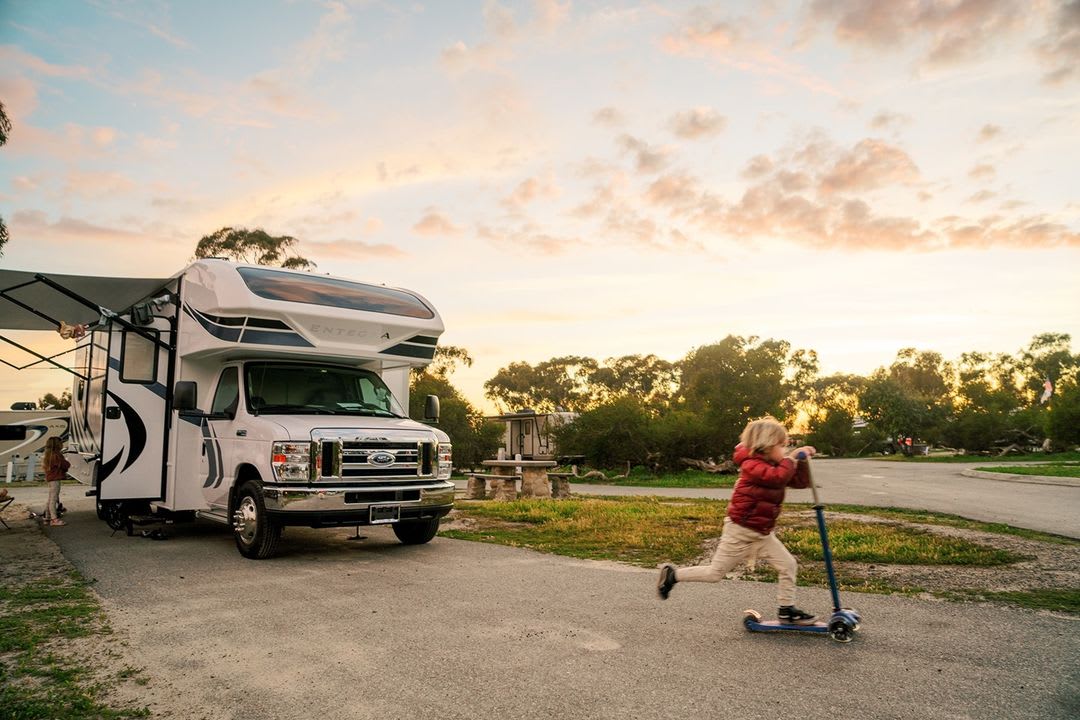 Entegra Coach Odyssey – Class C – Click Here for Inventory 
Enjoy the conveniences of Class C mini-motorhome camping while living in luxury wherever you wish to go. While the Odyssey has been a customer favorite since its first release in 2018, the latest 2922 model comes with a lot more opportunities for entertainment and laid-back enjoyment for campground families. Do you travel as (or with) a master chef or grill master? When it comes to the coveted exterior kitchen in the Odyssey, the freedom is yours to choose between a two-burner LP (25R) cooktop or a built-in grill (26M). Keep up with the latest game, whether you're partial to baseball, football, golf, or soccer with the exterior LED TV and marine-grade exterior speakers. Additionally, an outdoor shower is included for those looking to freshen up before stepping inside to turn in for the day. Inside, create your favorite dishes and snacks at any hour with the 8 cubic ft. refrigerator, all-in-one cooktop and oven, residential-size microwave, and LED-lit pressed countertops. The interior galley also features a recessed stainless steel kitchen sink with cutting board coverage and pop-up outlets for your on-the-go appliances. No matter where your travel goals (and taste buds) take you, the Odyssey is equipped to make your travels a memorable adventure.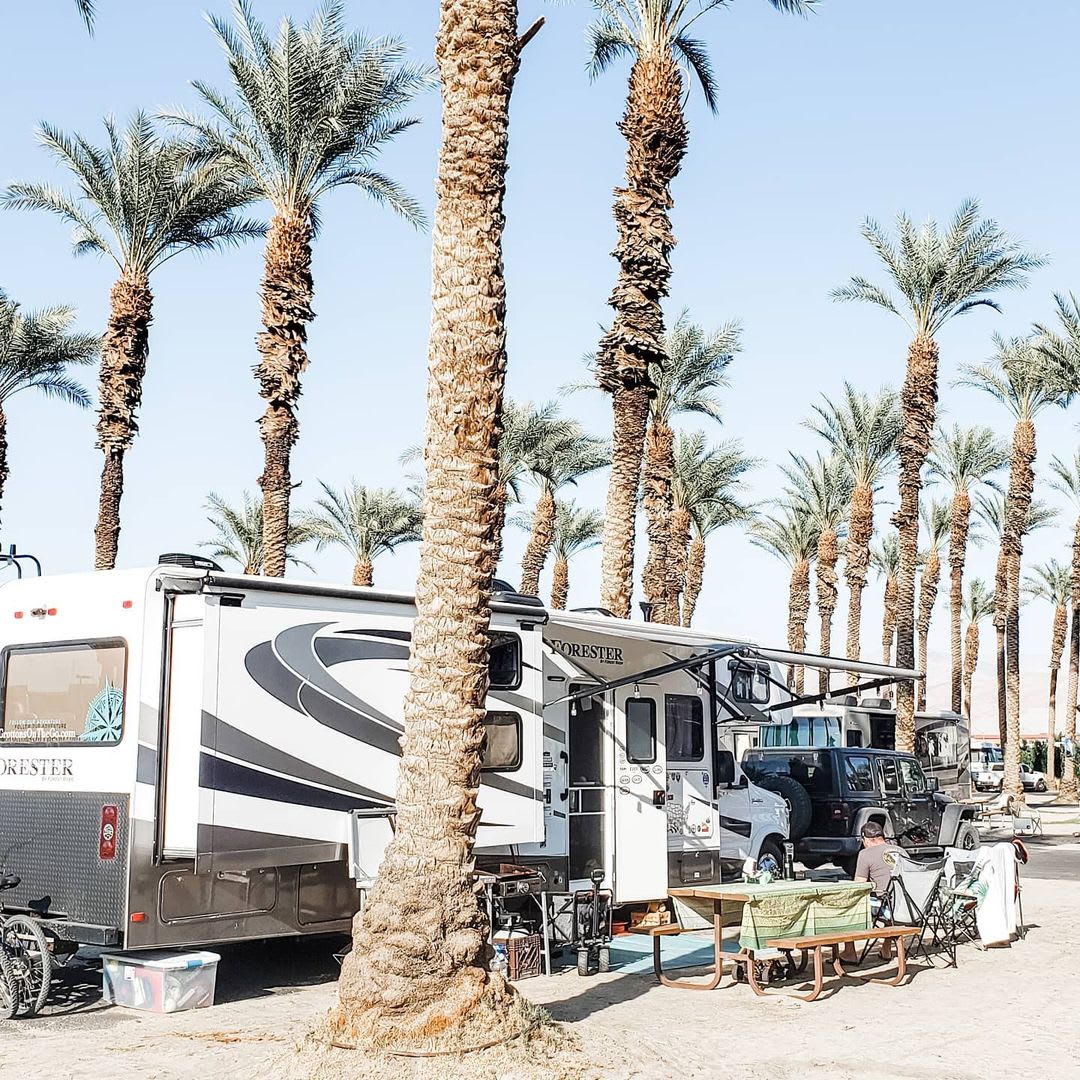 Photo Credit: @grottonsonthego
Forest River Forester – Class C – Click Here for Inventory 
This classic Class C makes for the perfect getaway vehicle for smaller families, featuring a slide-out queen size, cab bunk bedding, and collapsible galley counter space for when meal-time comes around the corner. The 2861DS floorplan is the perfect pick for campers looking to take their cooking outside, complete with an exterior refrigerator, counter and cabinetry, rotocast storage compartments, and an LP quick connect for grill masters. Optional upgrade includes an LED TV in your outdoor cooking space so that you'll never have to miss a beat when you're on the road. An outdoor shower is also included for your post-adventure clean-up convenience, making it easier to keep your Class C clean through the grittiest of getaways. The interior galley boasts luxury with a recessed 3-burner range and flush glass cover, convection microwave, 10.7 cubic ft. refrigerator, flip-up counter extension, and a cordless 12V charging plate. Extensive sleeping space allows you to travel with family, including a rear queen bed, sofa bed, front cab, and a dinette that converts into additional sleeping. An impressive 7,500 lb. hitch allows you to tow along what matters most, whether it be a pair of ATVs, kayaks, or a commercial vehicle for easy grocery runs and tow-based sightseeing. If you're looking for an accessible and incredibly tasteful Class C motorhome to serve all of your road-trip goals, this mini-motorhome is ready to answer the call.
THE ULTIMATE CLASS A MOTORHOME FEATURING AN OUTDOOR KITCHEN 
Winnebago Adventurer – Class A – Click Here for Inventory 
Offering an ample amount of living and storage space for a family of five, this Class A motorhome is also available with enhanced wheelchair accessibility exclusively at La Mesa RV! Experience the ultimate campground cook-out with the featured exterior entertainment center, fully equipped with a 32″ HDTV, DVD player, AM/FM radio, and two speakers to provide front-row entertainment right outside your front door. Upgradable with the Tailgate Package, your outdoor kitchen will include a refrigerator, three-drawer cabinet, stainless steel sink, quick-connect LP hose, convenient bottle opener, garbage bag holder, and paper towel holder, all under LED lighting for your night-time campground gatherings. The interior galley is an absolute treat too! Enjoy elegant solid surface countertops, a large under-mounted stainless steel sink complete with bamboo covers. There's also plenty of comfy premium leatherette seating for your friends and family to enjoy as you sit out the sizzle of your mouthwatering meals. This is the ultimate Class A for families that thrive off of serious bonding time in the great outdoors. No matter where your road trips lead you, the Adventurer is designed to accommodate all.
Are you still settling into your new motorhome? Sink your teeth into our Tips & Tricks for Making Your RV Feel Like Home for a list of simple steps to personalizing your space. You'll be surprised with how much you can update with your own personal brand of adventure without breaking the bank!