RVing with your pet, one of the wonderful things about RVing is that you always have your home on wheels with you wherever you go. You've got your fully stocked kitchen to make great meals, your comfy living spaces to relax in, and your own bed for a good night's sleep. The only thing left is someone to share the journey with. Luckily, another great benefit of RV travel is the ability to bring the whole family along on your trips, including your furry loved ones.
According to a 2020 survey by Go RVing, a whopping 68% of RV owners bring a pet with them. The majority are dog owners at 92% and another 14% are cat owners. If you are considering bringing your beloved Fido or Garfield with you on your next RV journey, it is helpful to know what to expect and how to prepare. Here are some tips and tricks for a successful RV adventure that includes your four-legged family members.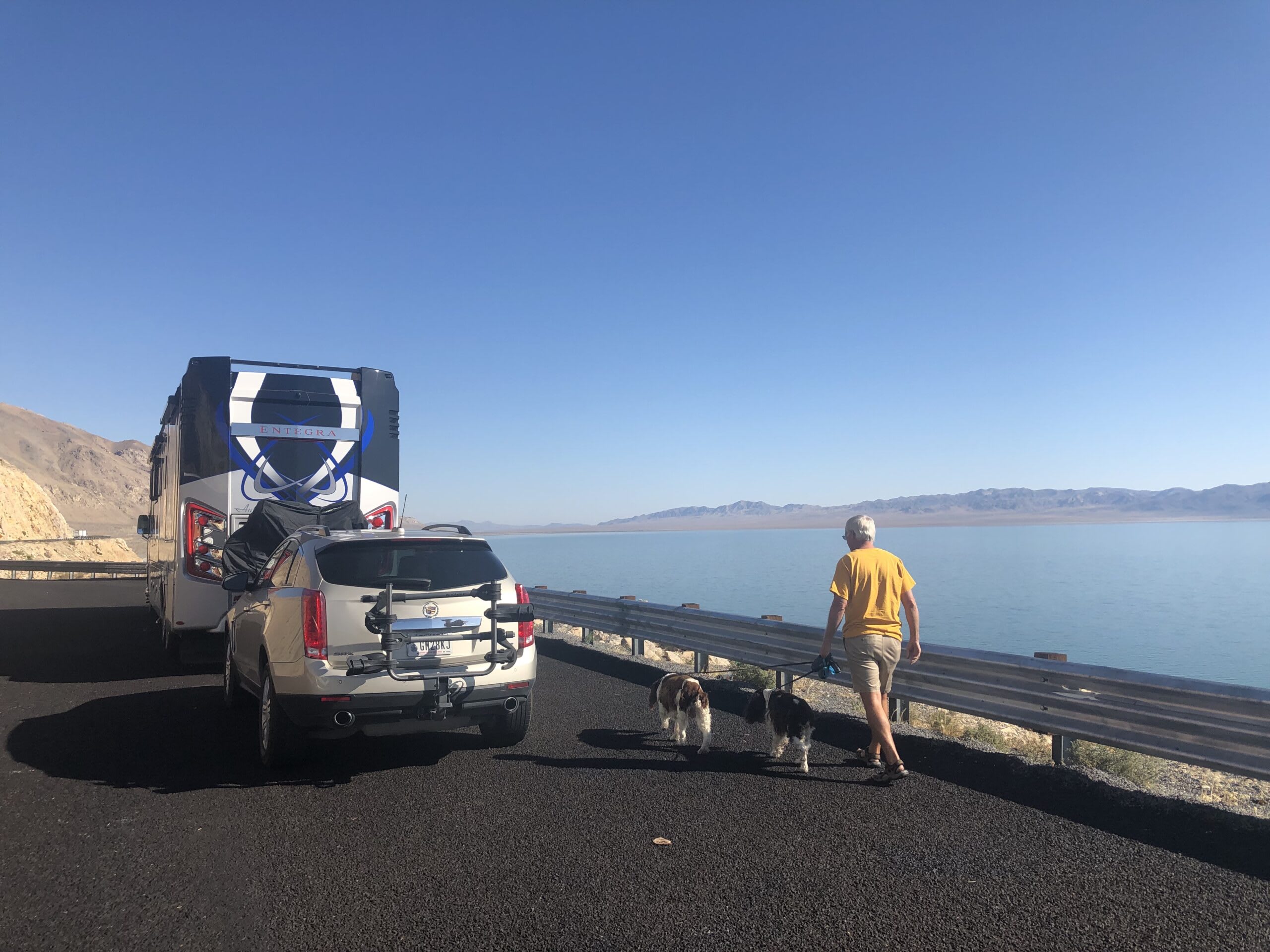 Guest post by Robin Buck
BEFORE YOU GO:
A successful RV trip with your pet begins by making some key preparations before you actually hit the road. One of the first and most important steps is to get him comfortable with being inside the RV. If possible, spend some time parked in the driveway just letting him explore and familiarize himself with the new environment. Bring your pet's bed, favorite blanket, and water bowl into the RV so he can settle in and find his space. Lots of praise and maybe even a few treats and toys can help him accept this new living arrangement as a positive experience. If you can take a few short practice trips in the RV first, it will be an easier adjustment before heading out on a major vacation journey.
Having a packing list of pet items will make sure you bring all the essentials. The basics include plenty of food, water, treats, a leash, waste bags or cat litter, a brush, and some favorite toys. Think about any outdoor activities your pet will be doing and bring along necessary items such as a life vest, water toys, booties to protect paws, or a collapsible water bowl. Extra towels are good to have on hand for rainy day feet-wiping or for pet baths after romping outside.
We have found a flashlight or headlamp is vital for finding your way around on those after-dark potty walks. Bringing a small handheld vacuum or broom can be a lifesaver to help control pet hair. You will be surprised how fast it accumulates in a small RV space. Get an airtight container for all pet food so it stays fresh and to prevent attracting rodents or bugs. If your pet is older or mobility impaired a collapsible ramp can make getting into the RV easier for him.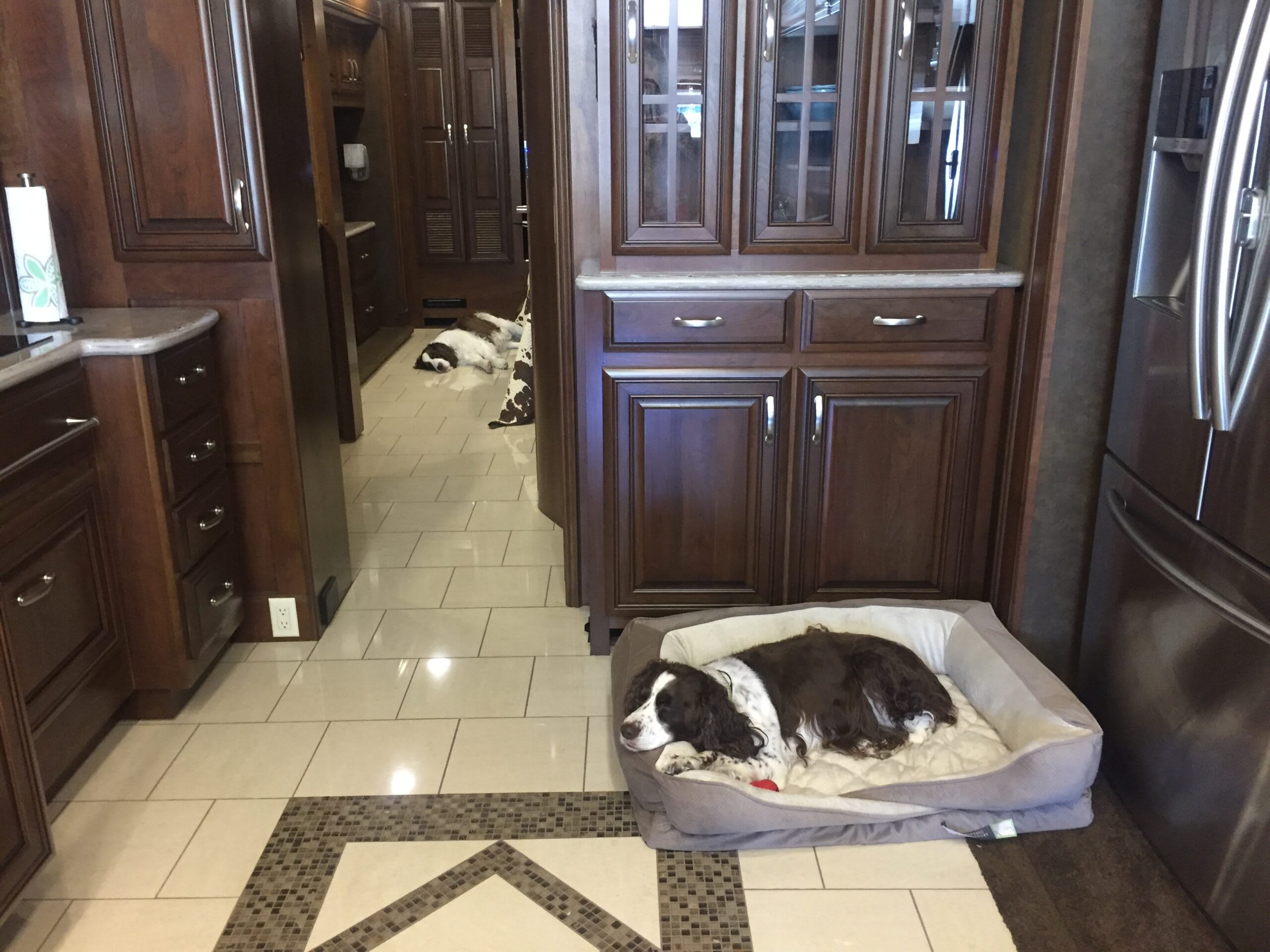 Make sure your pet is microchipped or at least has an ID collar with your cell phone number in case he ever gets lost or separated from you. Some campgrounds want to see vaccination records, so make sure shots are up to date and bring proof along. Talk to your veterinarian about how to care for any ongoing conditions while on the road and stock up on necessary medications. Get a copy of your pet's health records to show any new vet you might have to visit during your travels. Just as for humans, a first aid kit is always a good idea…just in case.
Since you are making plans to have the perfect vacation with your pet, you will definitely want to make sure your destinations are as pet friendly as possible. Finding places to go and things to do where your pet will be welcome can be frustrating at times. At Go Pet Friendly you can see hundreds of listings of pet destinations and resources to assist in your planning. Bring Fido is another website that lists activities and destinations that welcome pets and includes photos and user reviews. While your pet likely won't be able to go everywhere with you, you can maximize your fun time together with some good advance planning.
When you are looking to book campgrounds, be aware that while many are pet friendly some are less so. There are campgrounds that limit the number of pets you may bring or the type of breed allowed. The restrictions can vary widely, but the most common dog breed restrictions are for Pit Bulls, Rottweilers, Dobermans, Mastiffs, and Chows. And of course, any dog that acts aggressively toward others, even if not on the restricted list, can be asked to leave the park due to unwanted behavior. If you are not sure about pet policies, it is best to call ahead and make sure.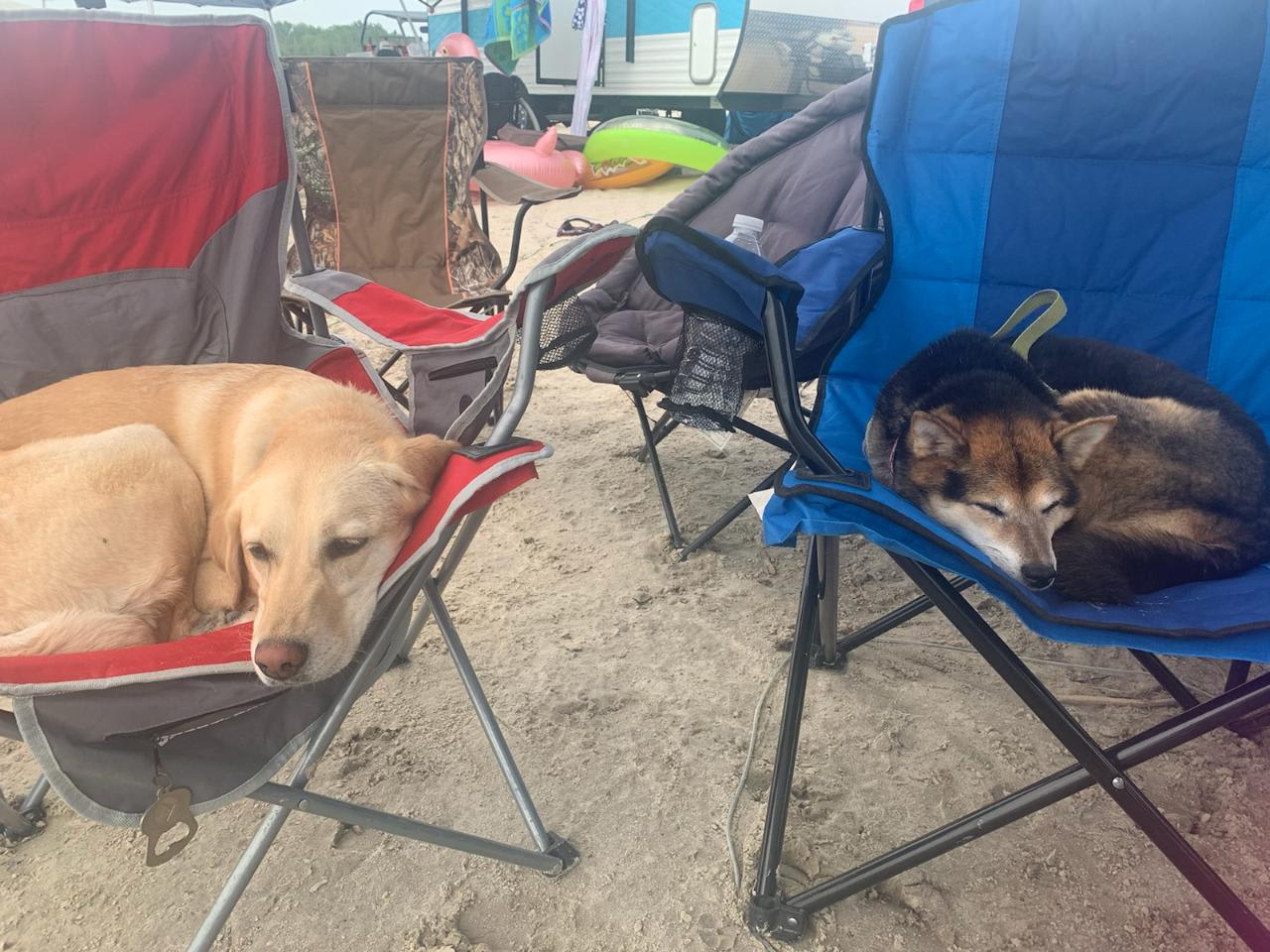 DURING YOUR RV TRAVELS WITH PETS:
Once all your preparations are complete you are ready for travel day. Before you hit the road, it can be helpful to take your pet on a long walk so he is relaxed for the journey. He is likely to be more calm and less stressed after getting some exercise. Even cats can get accustomed to a harness and leash and enjoy walking outside. Always keep your pet in the travel vehicle with you – it's not safe for any people or pets to ride in a tow vehicle or trailer. Have a designated location for the ride such as a pet bed placed near you, or in a crate if he is anxious.
Be aware that it may take some time for your pet to become completely comfortable riding in the RV. Especially if you are traveling in a motorhome, it will be a very different experience than riding in a car. Give your pet time and space to adjust to the noises and motions of this new vehicle. Our dogs find it more comforting to lay near us when we are on the road. Being patient and encouraging your pet will help him to be more comfortable and less anxious during the drive.
Plan for frequent stops while you are driving. Not only is this good for your pets, but you need a break too. We've found that we are more alert and less stiff if we stretch, get a snack, and change drivers about every two hours. Remember to never leave your pet in a vehicle on a warm day without the air conditioning running. If you don't need gas, rest areas are the best places to stop. They usually have lots of room and grass for your pet to check out. He will appreciate the chance to walk around, go potty, and drink some water during the stop.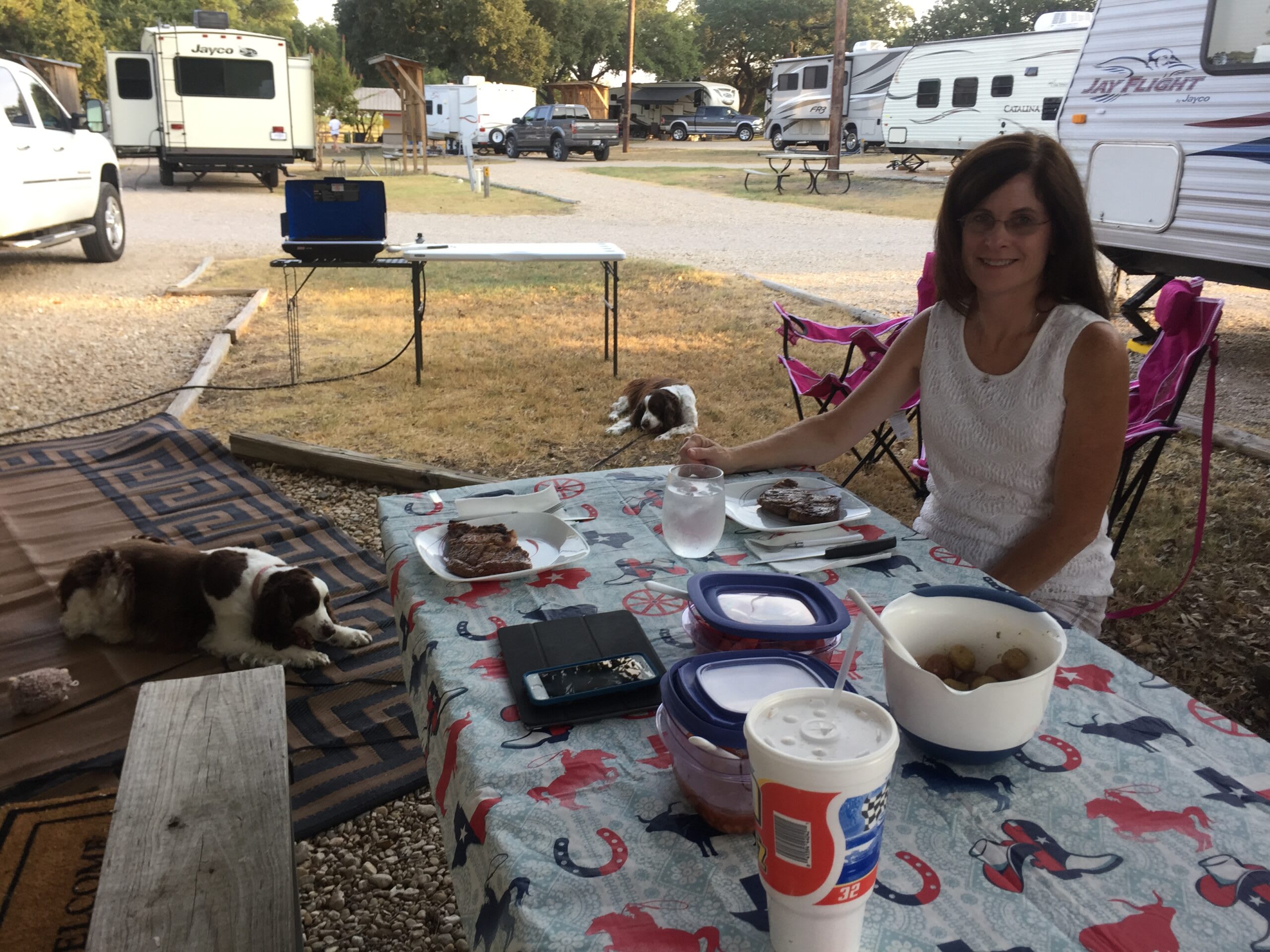 AT YOUR RV DESTINATION:
When you arrive at your destination, make sure your pet stays in a safe place while you are busy setting up your campsite. Many people use a portable pen so their dog can hang out nearby. Your pet may also be excited to explore the new area, so going for a walk will be a priority once you are set up. Many campgrounds have a fenced-in dog park where your pet can burn off some energy. Other than in the dog park, campground rules usually require all animals to be kept on a leash and controlled when outside.
One of the best ways you can be a good representative of the pet travel community is to pick up after your pet. Not only is it considerate, but it is a requirement in campgrounds. Top on the list of campground complaints is when pet owners do not clean up after their pet. Another top complaint is barking dogs. Rules usually prohibit leaving your pet outside unattended where they might tend to bark at passersby or because they are bored.
ENJOY YOUR RV TRAVELS WITH YOUR FURRY FRIENDS:
Considering your pet's health, safety, and comfort will help him adjust to your RV travels and have an enjoyable experience. He will feel more secure by having consistent routines and procedures, so he knows what to expect. His water, food, and bed need to be in the same place all the time. Exercise and playtime should be often since his living space is much smaller than it was at home. Walking your pet is a good way to help you stay fit as well and is a great way to meet new friends at a campground.
RVing is the easiest way to travel with your pet and, luckily for us, nowadays there are more pet friendly places and activities than ever before. Pets are such an important part of our family, and we enjoy being able to have them with us. They provide not only companionship but even health benefits such as improved mood and lower blood pressure. With some research and preparation, you can plan a trip that you and your furry friends will enjoy together and make memories that will last a lifetime.
Robin and her husband, Mike, are Air Force veterans and empty nesters who travel full-time in their Entegra Anthem motorhome. Always ready to explore, they love nature and wildlife, meeting new friends, and discovering America's many hidden gems. Robin chronicles their adventures and experiences on her travel blog RVing with Robin.