Finer life on the road doesn't always have to come with an excessive price tag. In fact, a great way to cut down on the costs of luxury RVing is to wander down the pre-owned section of a lot and browse motorhomes with minimal mileage on them. You would be surprised by how much you can save simply by searching for a lightly used home on wheels that is in need of a family ready to take it on for a lifetime of adventure. You don't have to opt for a fresh-out-of-factory RV to enjoy the like-new feeling that comes with traveling in a high-end motorhome. Read on and take a ride on the lavish side with our round-up of sumptuous Class A and Class C motorhomes to see where you can score an amazing deal on the best luxury RV's that we have to offer.
Tiffin Motorhomes Phaeton – Click Here for Inventory 
There's nothing quite like the touch of Tiffin-signature luxury. Brimming with opulent features and design, it's no wonder why the Phaeton has remained a customer favorite through the years. With up to seven unique floorplans to choose from, your home away from home can truly be your own. No matter which set-up you're set on, the Phaeton is designed with key essentials to match your vision, promising maximized space, organization, relaxation, and elegance. You'll feel like a true captain at the helm as you cruise along on this smooth and safe ride with high-end road features including electronic stability control, automatic traction control, collision mitigation, and tire pressure monitoring. Once you're parked and are ready to refuel with a home-on-wheels-cooked meal, surrounding window views will enhance your family-favorite dishes. Don't hesitate to pack along your must-have appliances too! The deep-space cabinetry located above and below your galley workstation will provide for all you need to make the mouthwatering meals you've been craving.
Kick back like royalty just as you would at home with sumptuous furnishing and a complete entertainment command center. When it's time to turn in for the day, you'll enjoy the kind of comfort you can't find in standard hotel stays. A queen-sized memory foam mattress framed with night-stand space, overhead reading lights, and cabinets bring all of the comforts of home to the serenity of surrounding nature.
More Highlight Features:
Galley dishwasher for easier clean-up after a big family meal

Residential-sized stainless steel refrigerator and freezer

Mirrored closet door and bedroom counter space

Expandable kitchen counter for added meal prep and workstation space

Restroom medicine cabinet with tri-view vanity mirror
Tiffin Motorhomes Allegro Bus – Click Here for Inventory 
Taking every element of roughing it on the road out of the equation of RV travel, this luxury coach is best known for its standard of upscale camping for the whole family. The Allegro Bus provides plenty of space with 7 foot ceilings, four slide-outs, and 45 full feet of comfort, power, and storage. If you plan to pack along plenty of adventure toys and gear, the Tiffin signature PowerGlide chassis makes for an opulent amount of exterior cargo space and tow capacity. Pull up and ease into the perfect spot at your dream destination with integrated leveling control accessible by a high-end digital dash. There is no spared expense for entertainment, with four HDTVs, a brilliant sound system to match, and an integrated Spyder Multiplex System for complete control. Additional driving safety features include electronic stability control, tire pressure monitoring, tire pressure monitoring, and traction control. Expandable counter space and ample handcrafted cabinet storage make it easy to create any mouthwatering meal you can imagine on the road.
The living area is designed to provide every level of comfort you need for relaxation and remote work. Expandable desk space creates a t-shaped workstation for two and an ascending HDTV is thoughtfully placed in front of window space, eliminating the issue of light-glare when you're in theater mode. The master-suite style bedroom is a dream come true with double-paneled insulated windows and a memory foam mattress with an optional king-size upgrade. If you wish to feel like true royalty on the road, this luxury coach is ready to serve your every need.
More Highlight Features:
Stainless steel convection microwave for quick bites before your next adventure

Expandable kitchen counter for added meal prep and workstation space

Travel anywhere, any time with year-round climate comfort

Keep cozy in colder weather with optional heated flooring 

Optional washer and dryer combo upgrades are available
Winnebago Forza – Click Here for Invenotyr
Wish to whisk your family away on a luxury road trip? The Forza is best known for its versatility in sleeping and seating arrangements, making it a wonderful fit for traveling families. This model is available in four unique floorplans, allowing you to freely create the feeling of home sweet home however you see fit. Expand your space with three slide-outs and relax with top-of-the-line features including a benchmark dinette, a sofa sleeper, or a theater seating set-up. Whichever style you choose, you'll be furnished with swivel cab seats and overhead bunk space for extended comfort flexibility. You'll feel right at home with the details of exquisite wood cabinetry and plank flooring kept warm with a ducted furnace system.
Keep the party going outside with the exterior 32″ HDTV and entertainment center. Your pet can join in on the campground fun too with the exterior leash tie-down system. Built on a Freightliner XCS chassis, the Forza provides an incredible total of 228 cubic ft. exterior storage space. Why consider leaving behind some of your gear when you can bring it all? Enjoy comfort and entertainment anywhere you choose to roam with a fully equipped high-end galley, master bedroom space, and sky-lit bathroom space and so much more.
More Highlight Features:
Accessibility Enhanced option available only at La Mesa RV

Surround yourself in entertainment with the home theater soundbar system

Charge up overnight with nightstand USB charging outlets, 110V outlets, and induction charger stations 

Washer and dryer combo option available

Electric fireplace available in select floorplans (36H, 38D, 38W)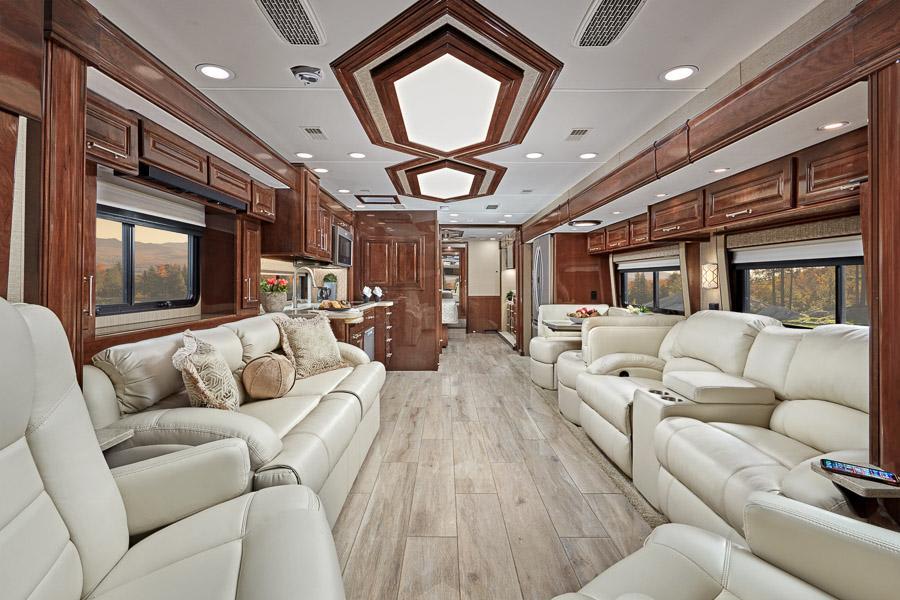 Entegra Coach Aspire – Click Here for Inventory 
This diesel coach brings modern luxury to the open road with premium features from the cockpit to the rear master bedroom and every inch in between. Confidently take on the road with a 360-degree monitor camera, a massive 12.3″ digital dash with mobile pairing, and ultra-leather cockpit seating. Choose your layout for leisure with up to eight floorplans available, all equipped with a 50″ Samsung 4K UHD Smart TV, blu-ray player, and a Samsung soundbar with sub-woofer. Premium villa ultra-leather furnishing and hand-laid high-gloss porcelain floor tiling create the look and feel of a true vacation stay wherever you wish to travel. The galley is also fully decked out for a memorable meal, including a Whirlpool stainless steel residential refrigerator with an ice maker and water dispenser, a convection microwave oven, easy-clean solid surface countertops with dimmable LED accent lighting, touch screen controllable power vent exhaust, and deep drawer space for wastebasket storage. 
Wind down in style with the king-sized gel memory foam mattress and  32″ Samsung smart RV, BL soundbar, and nightstand USB ports. A ceiling fan will make you feel right at home as you keep cool throughout the night. Finer living details including the mirrored wardrobe with motion-activated LED, sky lit textured porcelain tile shower, teakwood shower seat, and dimmable countertop accent lighting make your moments of rest and recovery an absolute delight. Skip out on the standard hotel stay and enjoy the higher standard or Entegra Coach luxury.
More Highlight Features:
Maximize your energy efficiency with solar panels

Keep warm and cozy with the LED fireplace

Pack up your gear with the slide-out basement storage tray

Stacked washer and dryer with drain pan

Easy cleaning with the central vacuum system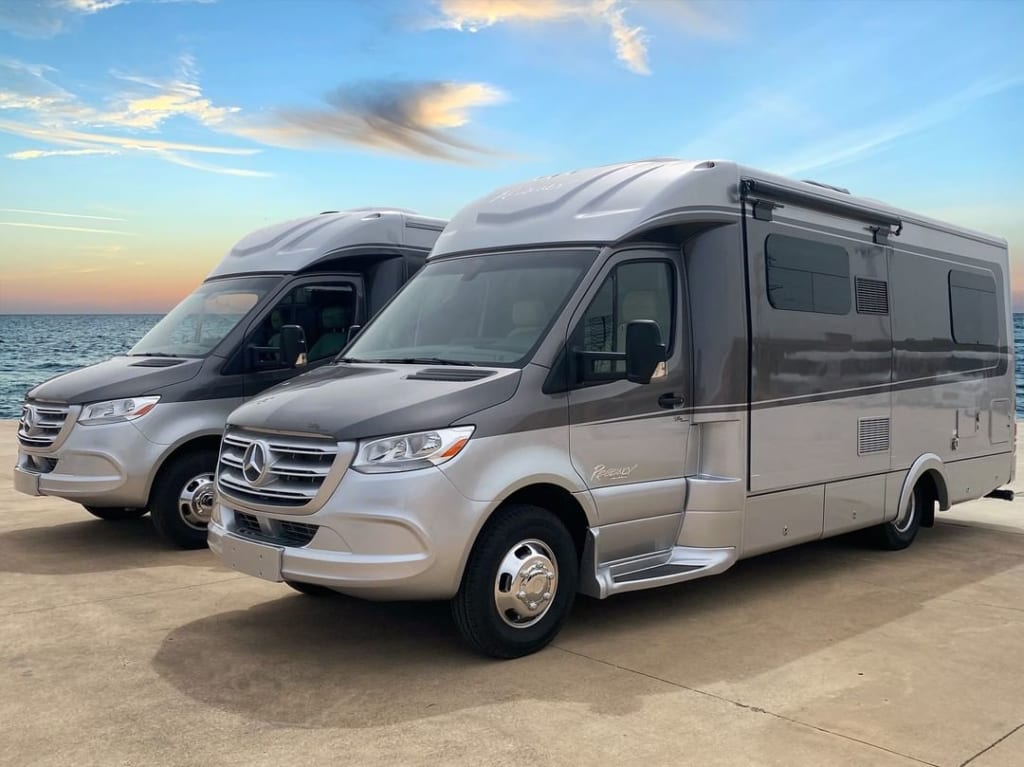 Regency Ultra Brougham – Click Here for Inventory 
If you're looking for a smaller motorhome option but don't want to miss out on all of the luxury details featured in large coaches, the Regency Class C diesel will be your sanctuary. The structure details of this mini-motorhome make for comfortable travels in harsher weather with five-sided laminated walls and a fiberglass cap build. The curved exterior design makes for greater aerodynamics and fuel mileage while making room for added interior space. Enjoy just the right lighting inside with LED edge-lit countertops and temperature-resistant night/day privacy shades. This luxury Class C is available in four floorplan options, featuring rear twin bedding with or without a slide-out option, rear island queen bed, or murphy bed setup. Built on a Mercedes Benz sprinter chassis and powered by a 3.0L V6 turbo diesel engine, the Regency is geared to take you anywhere, even off the grid. Hand-crafted details including double-diamond stitched leather touch upholstery, hardwood cabinet, Corian countertops, and dimmable lighting create a high-end vacation feel for every moment of your getaway. A built-in smart TV is included to keep you entertained on your days inside, while the residential-style pantry, dual door freezer/refrigerator, convection microwave, and flush electric 2-burner cooktop will keep you well fed along your travels. 
Enjoy the simple joys of home with the finer details of instant hot water, USB ports throughout the interior, a sky lit shower, and a bathroom medicine cabinet. This luxury sprinter is also pre-wired with solar capability to power through extended travels and stays. If you're looking to take a trip off the grid in refined comfort, the Regency is the perfect sprinter to spirit you away.
More Highlight Features:
Increase your travel vision with the optional blind-spot side view cameras

Integrated laundry chute that is accessible from both inside and out

Freshen up after a gritty getaway with the exterior shower and water access port

Store your gear with easy-access exterior storage compartments

Camp after dark with LED patio lighting and lighter assist entry handle
Entegra Coach Qwest – Click Here for Inventory 
With space-efficient design and incredible torque, this luxury sprinter is the ultimate choice for families on the go. Measuring at 25 ft. in length and 6'8″ in interior height, the Qwest is a go-to adventure vehicle for families with kids. Travel in comfort through any season with bead-foam insulation, TuffShell vacuum-bonded laminated sidewalls, and fiberglass front cap and roofing. The cockpit provides a clear panoramic view of the road ahead as you navigate with a Mercedes-Benz 10.25″ infotainment and GPS system. The ultra-leather cockpit seats swivel to face a spacious living area complete with high gloss cabinetry, hard-wood fascia, and an LED TV for your entertainment needs. Your cooking space is truly your own with the choice between a legless dinette table or a u-shaped dinette with stow-away pedestal legs. Appliances include a stainless convection microwave, gas/electric 12V refrigerator, and a stainless steel sink with a wooden cover and cutting board. This luxury sprinter is the perfect choice for fuel and energy-conscious travelers, complete with old-world craftsmanship, unmatched engineering, and design innovation.
More Highlight Features:
Energy-efficient 190W solar panel for extended travels and stays

Freshen up after a gritty getaway with the exterior shower

Decorative kitchen backsplash for a touch of home

Enjoy shade beneath an automatic encased 14′ awnings

Large wardrobe storage
Holiday Rambler Navigator XE – Click Here for Inventory 
Creating the perfect combination of on-road luxury and powerful torque, the Navigator XE is the perfect home on wheels for families looking for a luxury ride to the great outdoors. Travel season is all season with the year-round comfort of Vacu-Bond™ floors, walls, and ceilings. Built on a Freightliner custom modular chassis, the Navigator provides plenty of space for storage, along with an astounding towing capacity of 10,000 lbs. Enjoy entertainment outside with an exterior 43″ TV and Bluetooth soundbar system, complete with a universal satellite system for catching up with your favorite sport. An LED-lit electric patio awning will provide you with the shade and lighting you need to enjoy a campground cookout, whether the sun or moon rises above. Each slide-out is topped with an awning as well, so that you can feel free to expand your camping space all around your luxury RV instead of sticking to just one side. Continue your entertainment inside with three LED TVs (bedroom, living area, and front overhead) and a blu-ray player with sound-bar audio to match. 
The interior provides plenty of space for relaxation with a free-standing dinette with credenza, sofa/queen bed sleeper, and a reclining swivel glider sofa. The galley will satiate your taste for finer dining on the road with a stainless steel residential refrigerator, 2-burner induction cooktop, convection microwave, polished solid surface counter space with matching sink covers, and a shadow box glass tile backsplash with a window view and shading. Clean-up is a complete breeze with the residential faucet, pull-out sprayer and pull-out wastebasket space. Once you're ready to turn in for the night, the sky lit fiberglass shower, residential faucet, and mirrored medicine cabinet will provide all that you need to wind down in your king-size memory foam mattress. The hardwood wardrobe storage and 110V/USB nightstand charging ports will help you prep for your next day of adventure, wherever you wish to wander.
More Highlight Features:
Cruise mountain roads with 340 horsepower and 700 lb. ft. torque

Electric fireplace included in every floorplan

Hardwood ceiling feature trim with lighting

Stackable washer and dryer combo included in every floorplan

Optional dishwasher upgrade available in select floorplans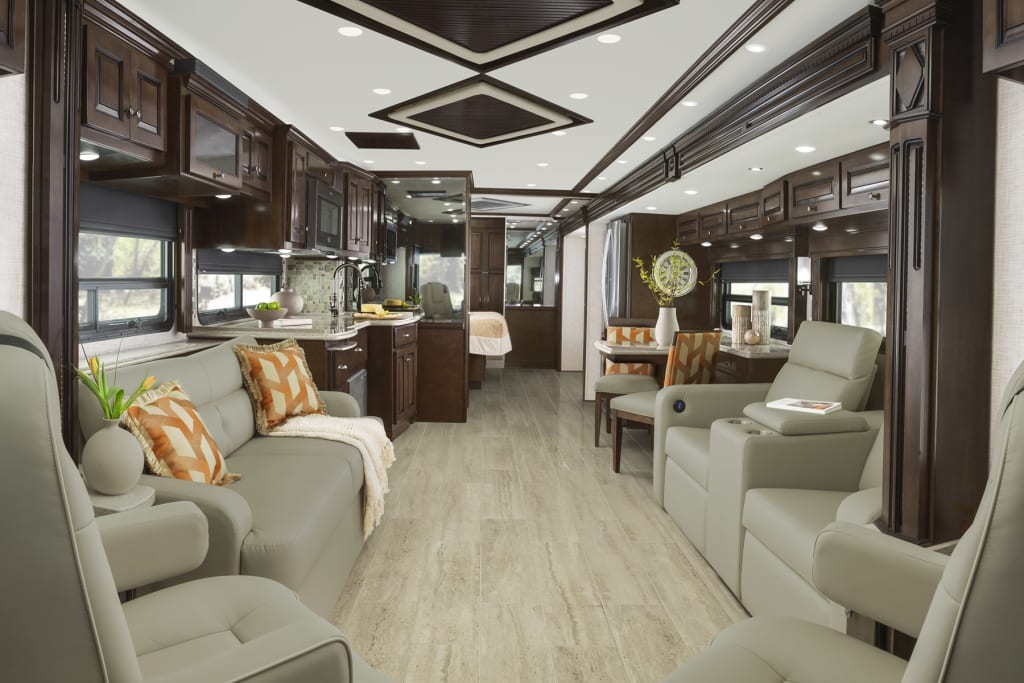 Newmar Dutch Star – Click Here for Inventory 
If you're looking for a ritzy ride, this luxury diesel is decked out with all of the state-of-the-art amenities you can dream of. Enjoy a smooth and safe drive with automatic traction control, collision mitigation tech, electronic stability control, and tire pressure monitoring. The Dutch Star comes with plenty of room for personalization with up to 11 floorplans available along with a choice between a Freightliner and Spartan chassis. Packed with storage space galore, the option to upgrade with pass-through storage trays is available for those who enjoy traveling with ample adventure gear. The living space is your for the making with a choice between a dual recliner and a tri-fold sofa, each facing a retractable Samsung 50″ 4K LED TV with soundbar audio. Finer details of luxury design include maple hardwood cabinetry with soft close, ultra-polished solid surface countertops, adjustable dinette table space with bench seating, and a passenger seat workstation.
 Become a master chef with the equipment of an appliance garage, stainless steel microwave, 3-burner recessed gas cooktop, residential Whirlpool 19.7 cubic ft. refrigerator and dishwasher. Nearly every inch of overhead space is covered with cabinet storage space, including the lighted headboard in the master bedroom space. This luxury motorhome offers an experience unlike any hotel stay because it's all your own. Want an unforgettable RV road trip? The Dutch Star will be your wish come true.
More Highlight Features:
Wheelchair accessible floorplan available

Keyless entry door with touchpad and doorbell integration

Optional floor tile radiant heat for a cozier stay inside

Rear-bath floorplans with cathedral ceilings available

Patio hammock backer for a relaxing day outside
Are you planning on taking your pets along on your next RV adventure? Check out our guide of Tips and Tricks for RVing with Your Pet for everything you need to know before you go. After brushing up on our pet-travel know-how, you and your four-legged best friend will enjoy smooth and comfortable travels across the country.