Storyteller Overland has heard your call for the ultimate camper van adventure and is answering with the all-new 2022 MODE LT. This Class B brings all of the customer-favorite elements of the Classic MODE 4×4 on the all-wheel-drive Ford Transit chassis. With the recent introduction of Ford's AWD system, it only made sense that the perfect union was made with Storyteller Overland's adventure-oriented audience.
This partnership has been in the works with years worth of contemplation and collaboration for an all-new camper van that runs on a Ford 3.5L EcoBoost engine. This gas-powered chassis comes with an enhanced range of service point availability that only the Ford Transit brand is best known for. If you have been pining to take the wheel of this one-of-a-kind vehicle but ride with the preference of Ford AWD accessibility, this debut model will be your wish come true.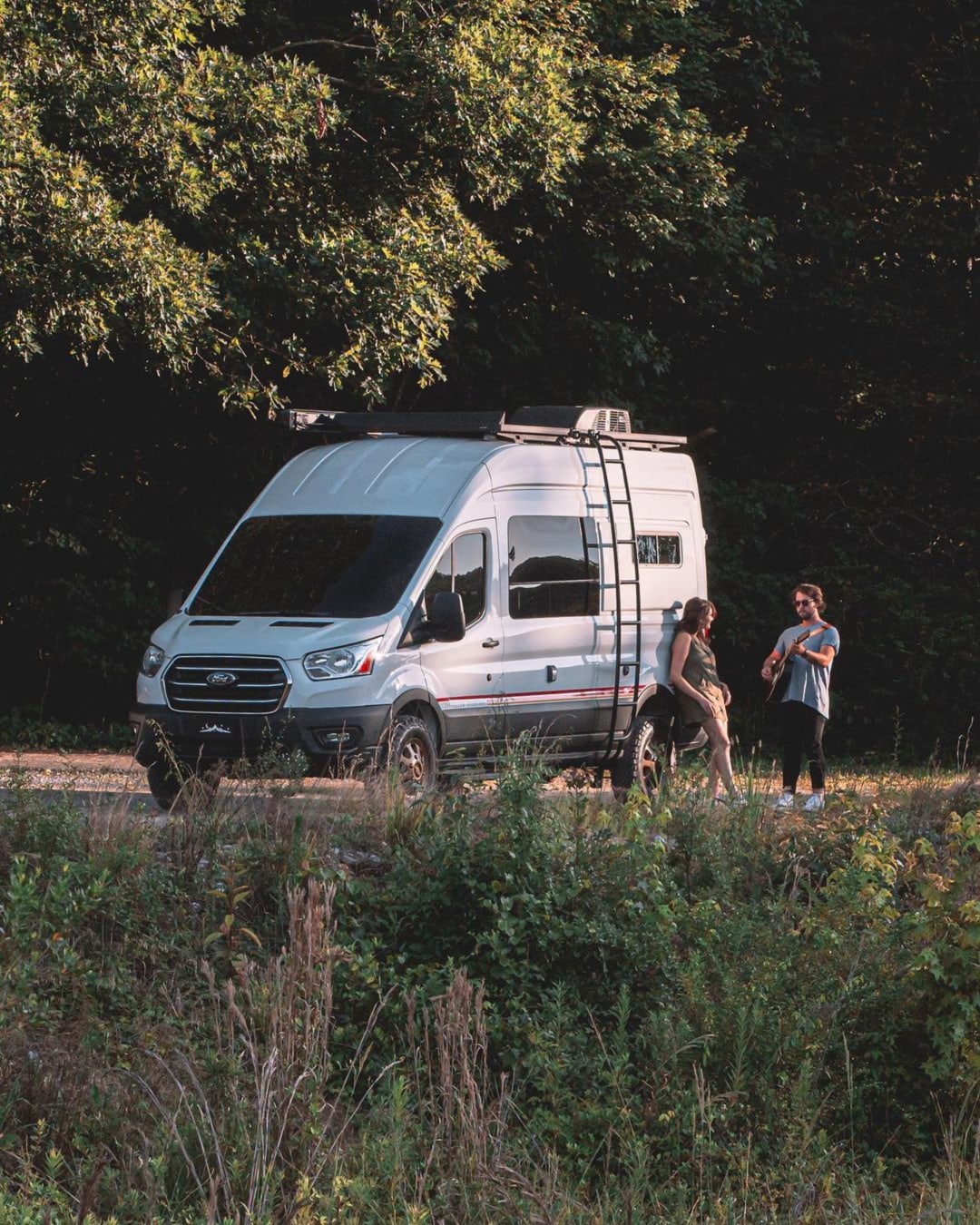 Introducing an Enhanced Cockpit Experience
The MODE LT comes with a slew of cockpit creature comforts unique to the Ford Transit chassis. Cab conveniences include a SYNC3 8″ multimedia screen, a front and rear split camera, swiveling front seats, adaptive cruise control, and a keyless entry pad for easy entry after a long day outdoors. Most importantly, this model also comes with an extended fuel tank, taking your opportunity to travel further than ever before. Should you wish to upgrade your ride to your rugged adventure specifications, additional packages are available, including the HD trailer tow package and the scuff plate kit.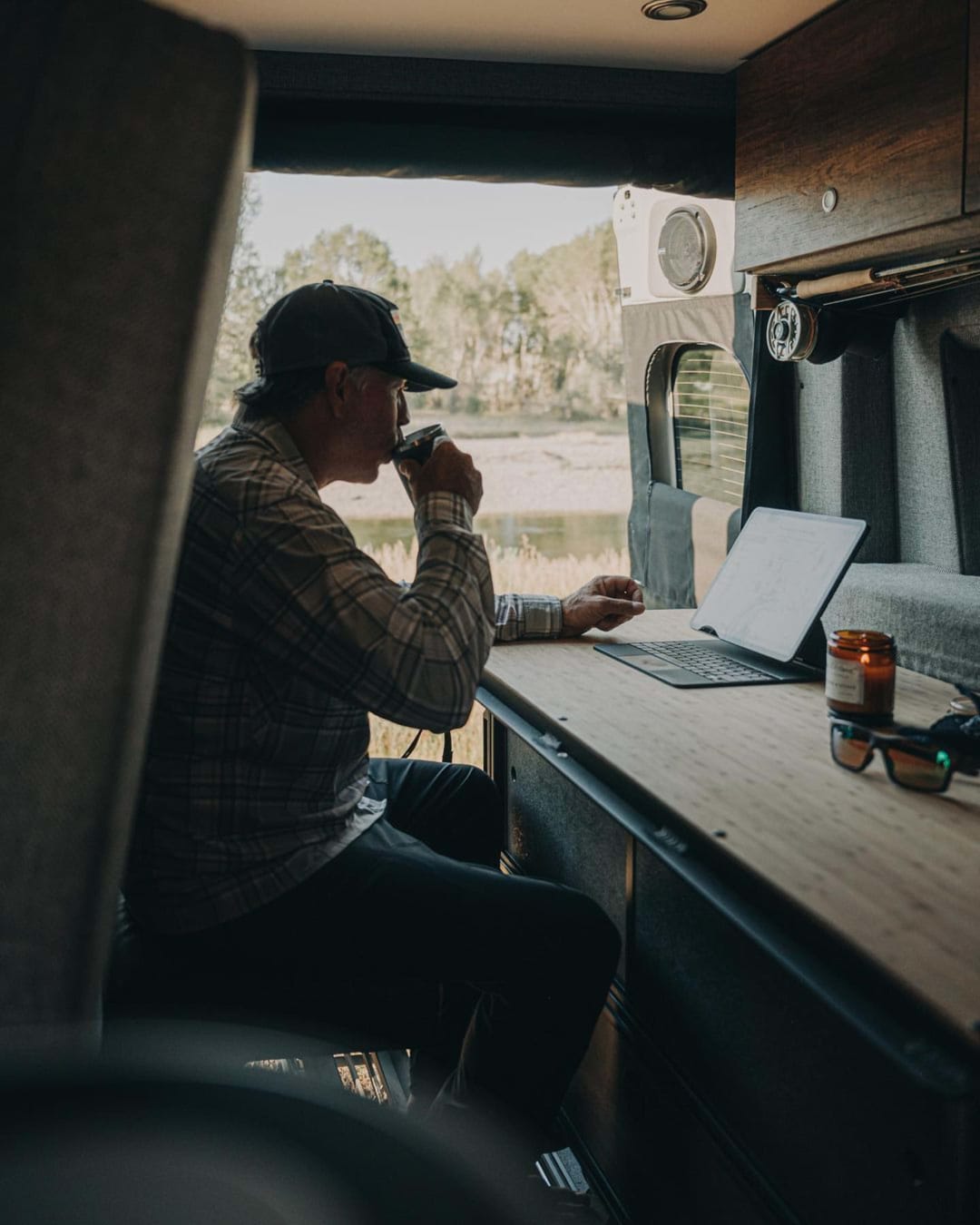 Built With Additional Space for Adventure
One of the key differences between the newest 3.5L EcoBoost AWD Ford Transit and the original 2500 turbo diesel Sprinter is the additional chassis headroom, length, and width construction you'll enjoy in the MODE LT. The rear of the interior is geared with an L-Track integrated garage area for larger cargo storage. A rugged roof rack is included for additional travel toy storage space. Are you ready to kayak or go mountain biking? The freedom to enjoy nature to the fullest is yours in high-quality comfort tailored for the truly ambitious van camper. The galley also comes highly convertible with an exterior fold-down table, dual voltage refrigerator and freezer, portable induction cooktop, and a stainless steel sink with folding faucet capability.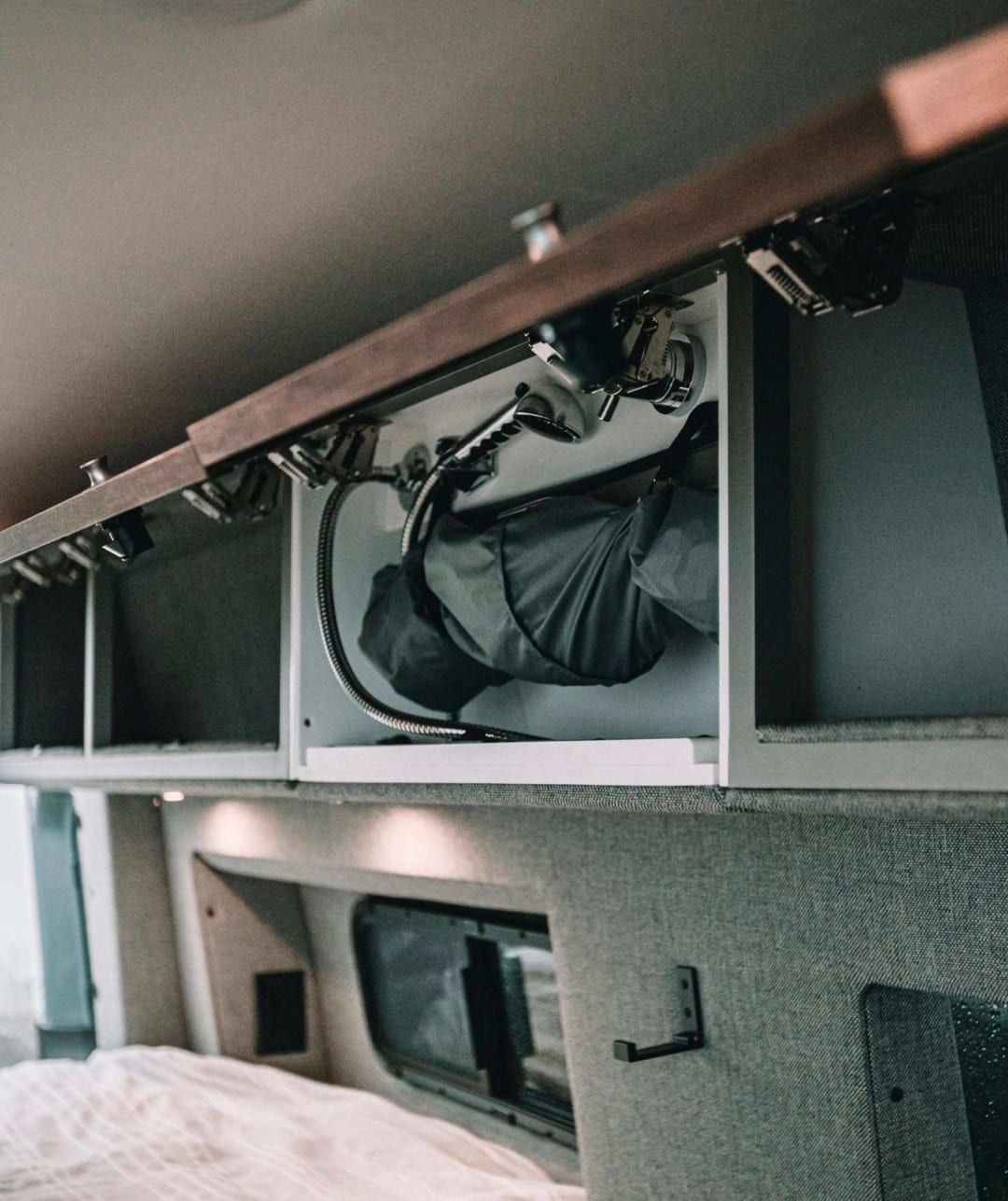 A Boondocker's Absolute Dream Come True
The Ford Transit chassis was built to serve as your go-to off-roading adventure van. This is the perfect choice for van campers looking for a true off-roading or rock-crawling escape, no matter how aggressive the unpaved road may be ahead. The model's agility also stays true for easy urban excursions, providing all of the comfort and safety you need for a smooth ride in any environment. The interior is lined with Sheep's wool insulation for natural temperature control throughout your winter getaways, whether you're looking to go on a winter ski trip or stargazing tour in colder hours of the evening. While a 90W solar panel is included to empower you with additional camping time off the grid, your system can be expanded to equip up to 600W of renewable energy, creating the perfect treat for the ultimate boondocking retreat.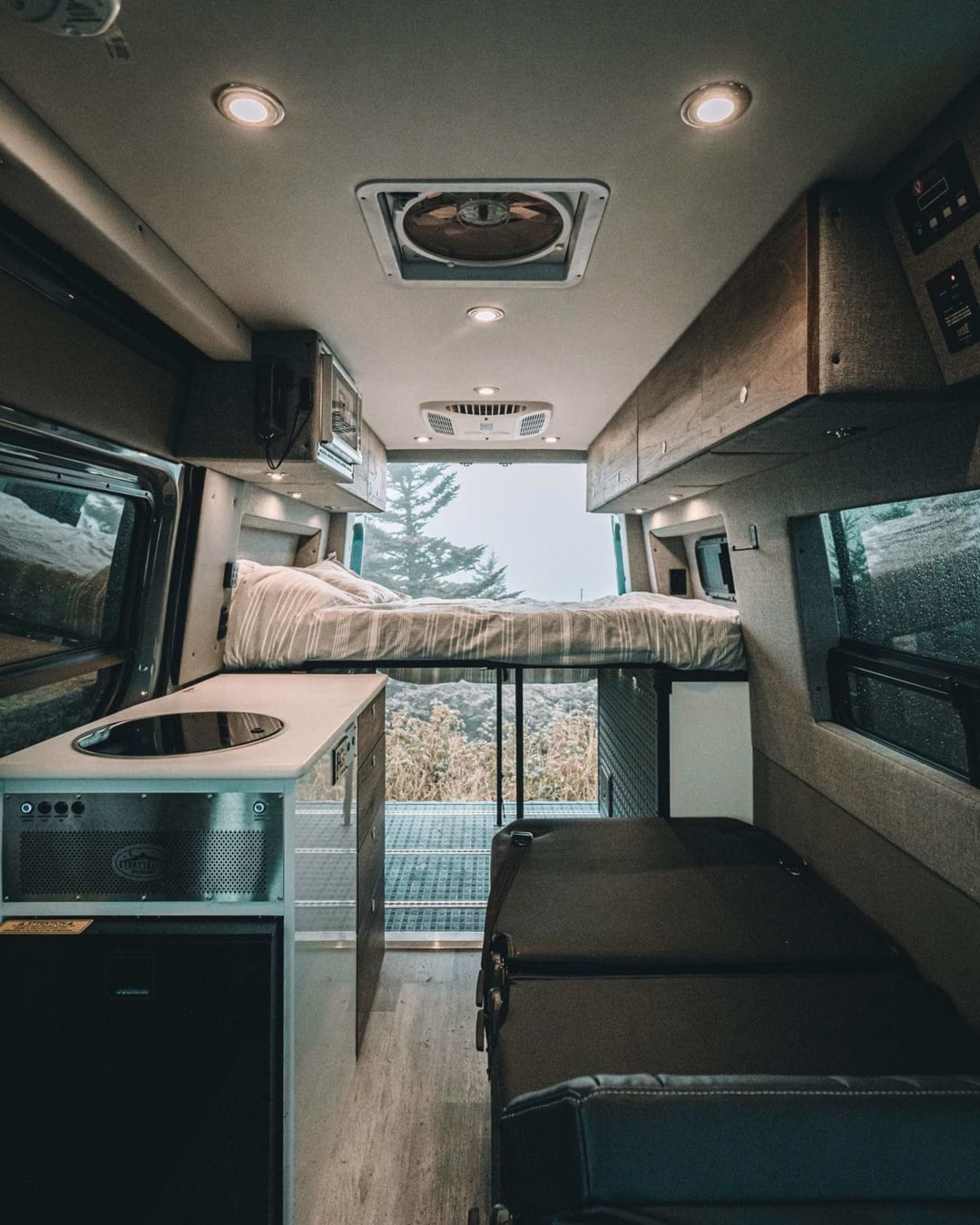 Unforgettably Seamless Camper Comforts Wherever You Go
Fully equipped with all of your favorite features from the original MODE, this model is made for Class B campers looking for clever versatility and innovation. Key interior features include a workspace that easily converts into a bed, magnetic privacy shades, and a slide rear door bug screen for fresh air when you're docked. Enjoy signature Storyteller Overland elements such as the anti-microbial HALO shower system that easily collapses and expands for efficient interior space and the iconic Groove Lounge that effortlessly converts between a seating space, lounge, recliner, or extra bed. No matter what mode of adventure you envision, the visionary American-made quality and craftsmanship of Storyteller Overland is equipped to make your wildest travel dreams a reality.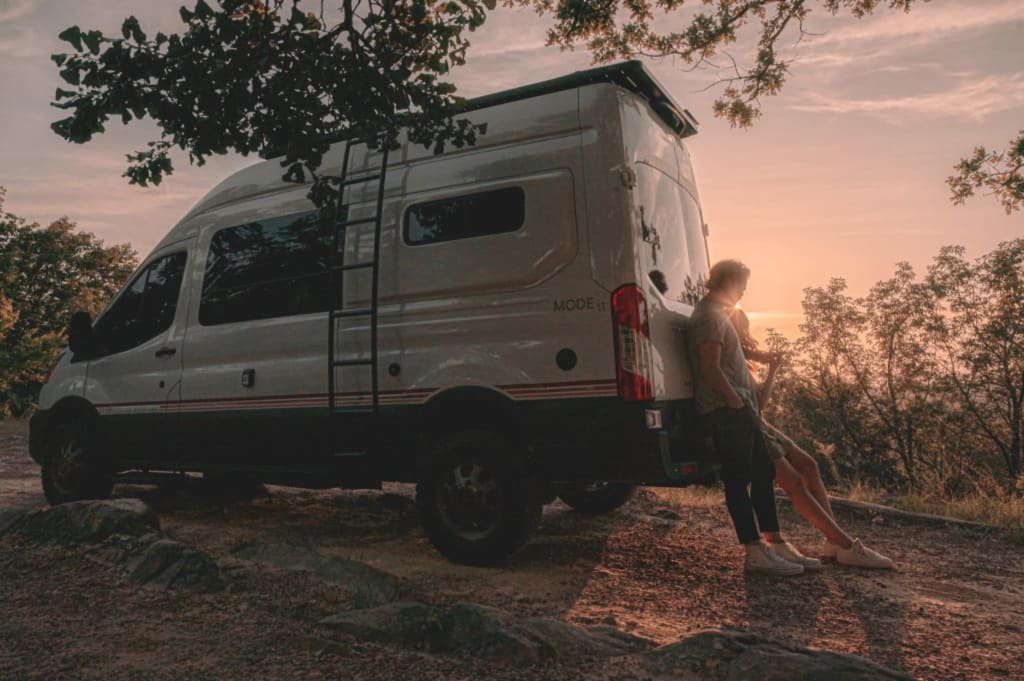 Outdoor Adventure Has an All-New Meaning
Fire up the grill beneath the comfortable shade of the LED power awning with dimmable LEDs, charge up your devices while you relax outside with one of the four 110V outlets, and turn at the end of your outing with the easy-step running boards. A tubular side mount ladder is included to offer easy access to your overhead gear, along with a unique perspective for moments of stargazing and campground photography. Rinse off before returning inside from a sandy beach excursion with the outdoor shower. Your freshwater (21 gal.) and grey water tanks (24 gal.) are effortlessly accessible with exterior connections for refilling and maintenance.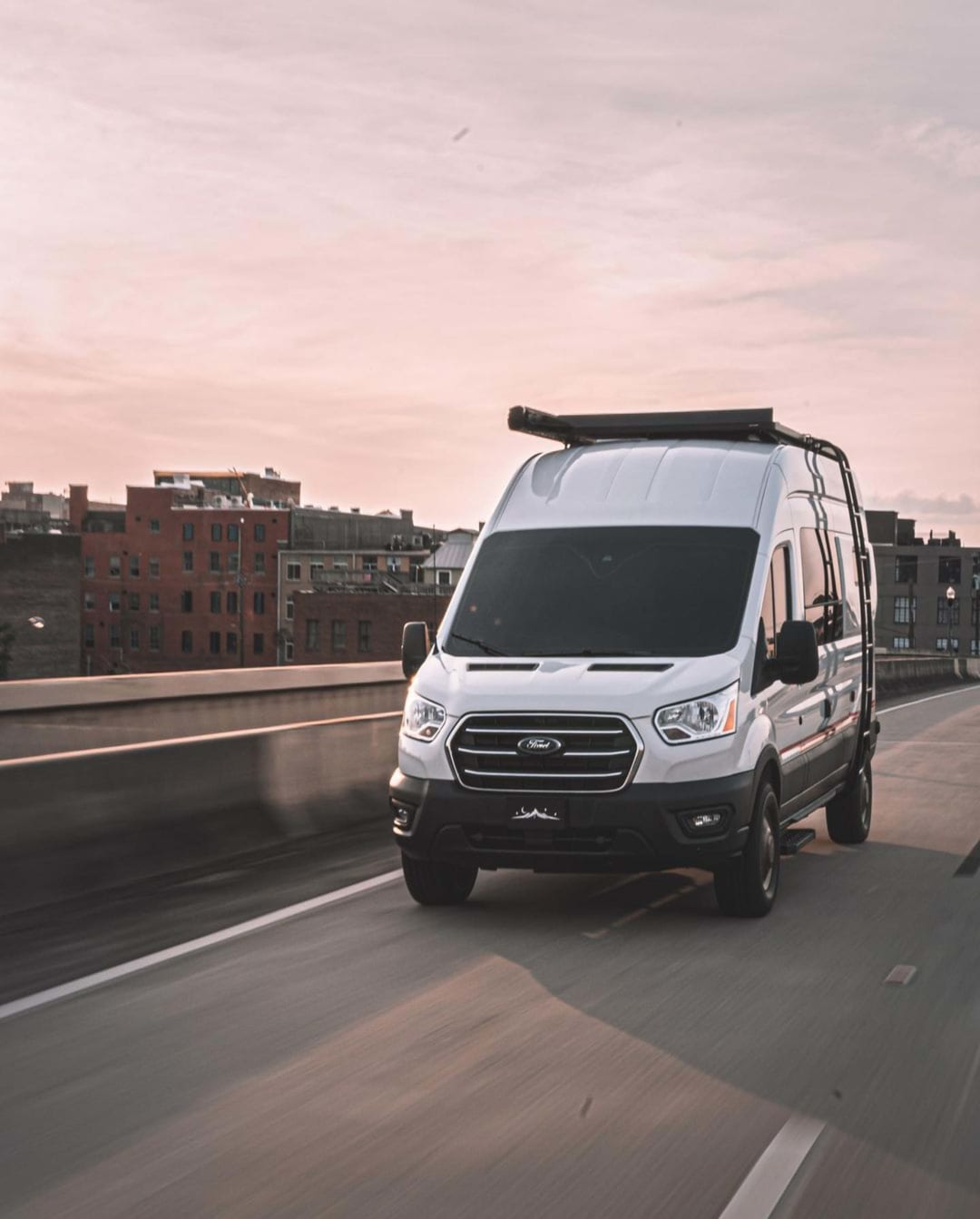 Key Specifications:
3.5L EcoBoost with 10-speed Transmission

148″ Wheelbase

Storyteller Transition Rims w BFG KO2 255/70R16 Load Range E

Six 110V outlets, six USB ports, and three 12V outlets for interior device recharging

M-PowerTM 12kWh Energy Storage System

3200W Inverter

High Output Auxiliary Alternator

Portable Cassette Toilet
Looking for the ideal destination to take your mini-motorhome during the fall season? Check out our complete RVers Guide to the Fall Crossing for a list of attractions and locations to enjoy across the country. From educational spots to lighthouses, museums, parks, and campgrounds, we've rounded up a little bit of everything for every type of explorer!