When you are an RVer, there are certain items that are essential to operating and using your vehicle. Your RV will come with all of the needed components to run the various onboard systems such as the plumbing, electrical, and leveling jacks to name a few.  However, there are some additional items that can really help make using your RV easier. Here is our list of some popular RV accessories that make our life on the road easier and safer.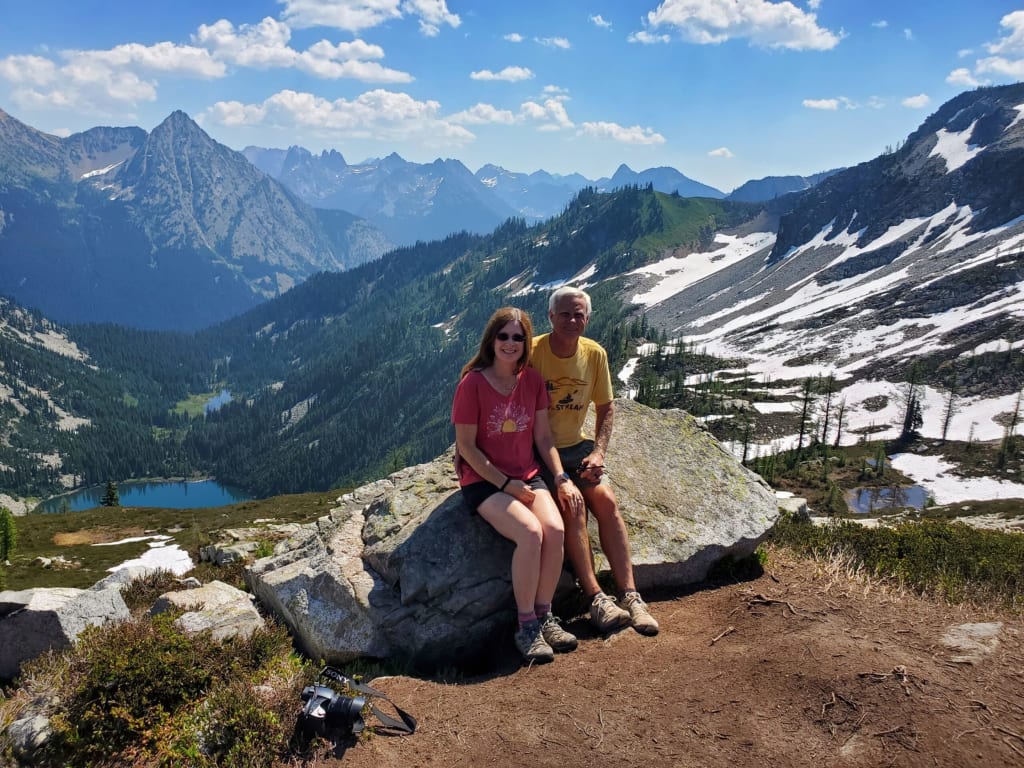 Guest Post by Robin Buck
RV Tires:
Since RVs are designed to move down the road, their tires get a lot of wear. Tire pressures can change quickly due to weather or from damage. Having an RV tire blowout is not only expensive but can be dangerous as well. A tire pressure monitoring system (TPMS) uses sensors that are placed on each tire. A good TPMS allows you to easily monitor any decreases/increases or asymmetry in tire pressures as you travel. Being aware of tire pressure changes can ease any anxiety about a blowout.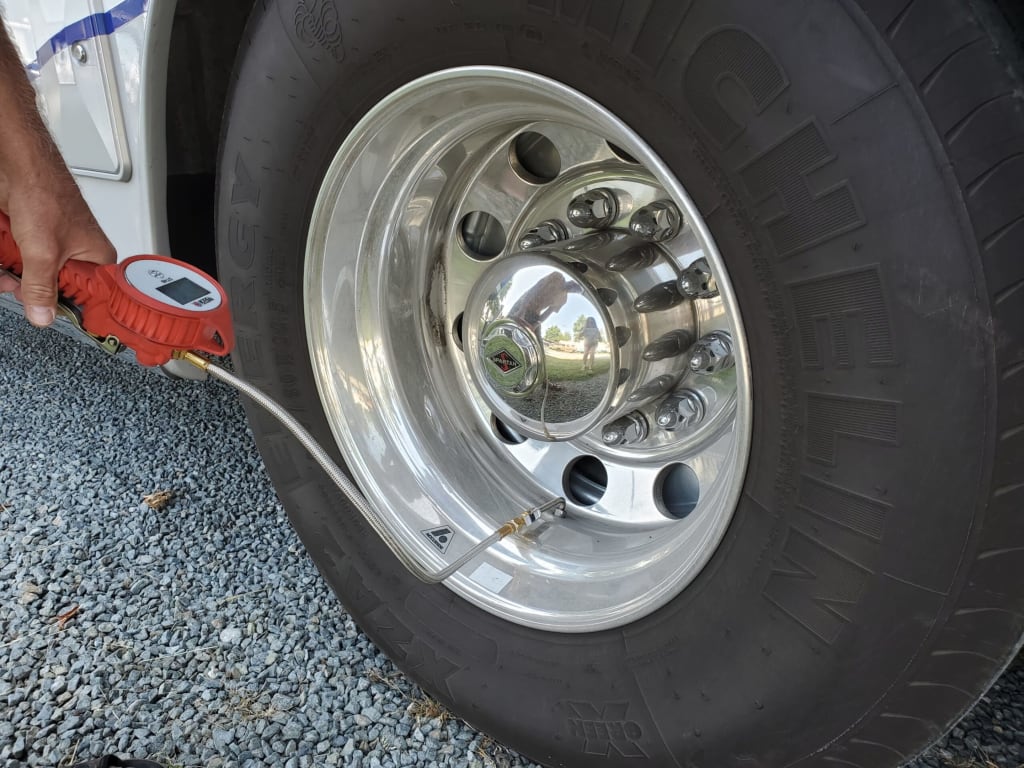 Speaking of tire pressures, it is important to keep your tires at recommended cold tire inflation levels. We carry a portable air compressor with us so that we can add air to any tires that are low in pressure. Having a reliable tire gauge is also important to accurately measure tire levels. Setting correct tire pressures can extend the life of the tires and keep your RV rolling along smoothly.
We also found a revolutionary new type of blowout protection called Rettrobands. Designed to prevent damage from front wheel blowouts, Rettrobands consist of a hard rubber material inside the front tires of a motorhome. Its job is to keep the tire on the wheel, preventing much of the damage that can come from a shredded tire. It also allows more easily controlled driving on a run flat structure so you can pull off to a safe place should you have a blowout. Hopefully we will never need it, but having the Rettrobands and our TPMS makes us feel safer as we drive down the road in our RV.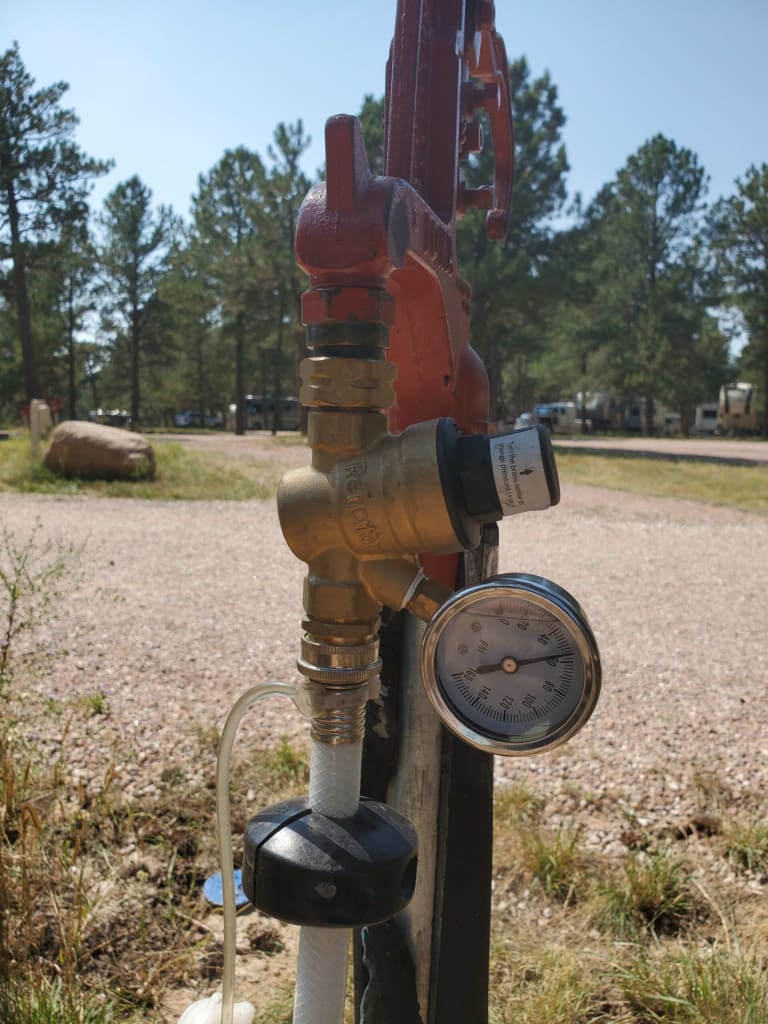 RV Water(s):
You never know about the water pressure at different campgrounds. Sometimes the pressure is low but other times it can be extremely high, which could damage the plumbing systems in your RV. For that reason, we think it's extremely valuable to carry a water pressure regulator with us on our travels. We use it between the campground water spigot and our water hose to keep the pressure regulated to a safe level. Some campgrounds now require these if they have known high water pressure.
Another item we have found very helpful is our weighted Sewer Saddle Bag. When you are using your hose to empty grey or black water tanks, many times the hose does not stay securely in the dump drain. We purchased the customizable saddle bag and filled it with gravel as instructed. It not only gives weight to allow keeping the sewer hose in place but is also flexible enough to fit over any server connection we have encountered. This simple product saves us from dealing with messy sewer overflow.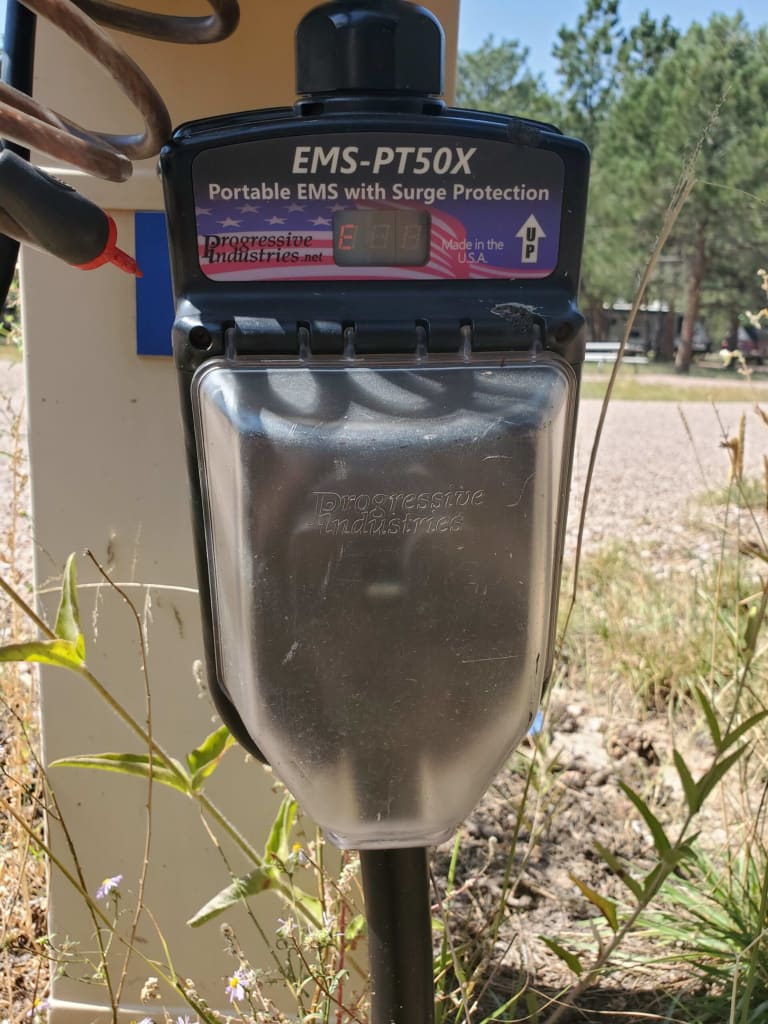 RV Electric:
Electricity is important to all RVs for running our systems and appliances. While it might be inconvenient to not be able to use your microwave, it can be vital to run air conditioning to keep pets safe in hot weather. If you get a surge or spike in electric current, your RVs systems could be damaged. A portable surge protector can prevent problems should the campground electricity have issues. Ours has detected low voltage issues at several campgrounds, as well as protected us during a nearby lightning strike. It has been well worth the money we paid to keep our expensive onboard systems from electrical damage.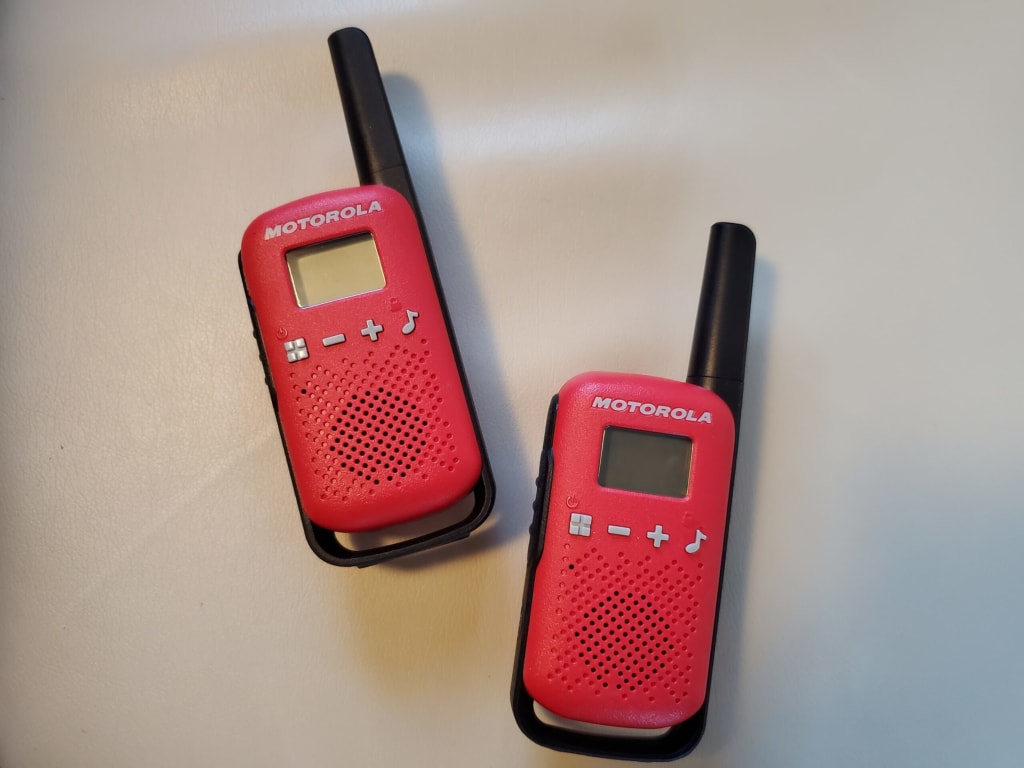 RV Communication:
When parking in the RV in a campground, we have discovered that a good set of walkie talkies is essential for clear communication. We originally used our cell phones to help me guide my husband when backing our RV into a parking spot. That is, until one time when poor reception blocked my instructions from going through and we narrowly avoided hitting a tree! Now we have learned to use well-coordinated hand signals in addition to the reliable walkie-talkies to make parking a breeze.  
Not having reliable cell phone coverage in many areas has been an issue with staying in touch as well. We use a cell phone booster to increase signal in weak areas and allow us to increase our connectivity. This gives us a reliable and usable cell signal for staying in touch with family and friends or to contact help should we have any trouble. We have found using our cell phone hotspots also gives us Wi-Fi connectivity for internet access. In our experience, the hotspots have been more reliable than Wi-Fi in the majority of campgrounds we have visited.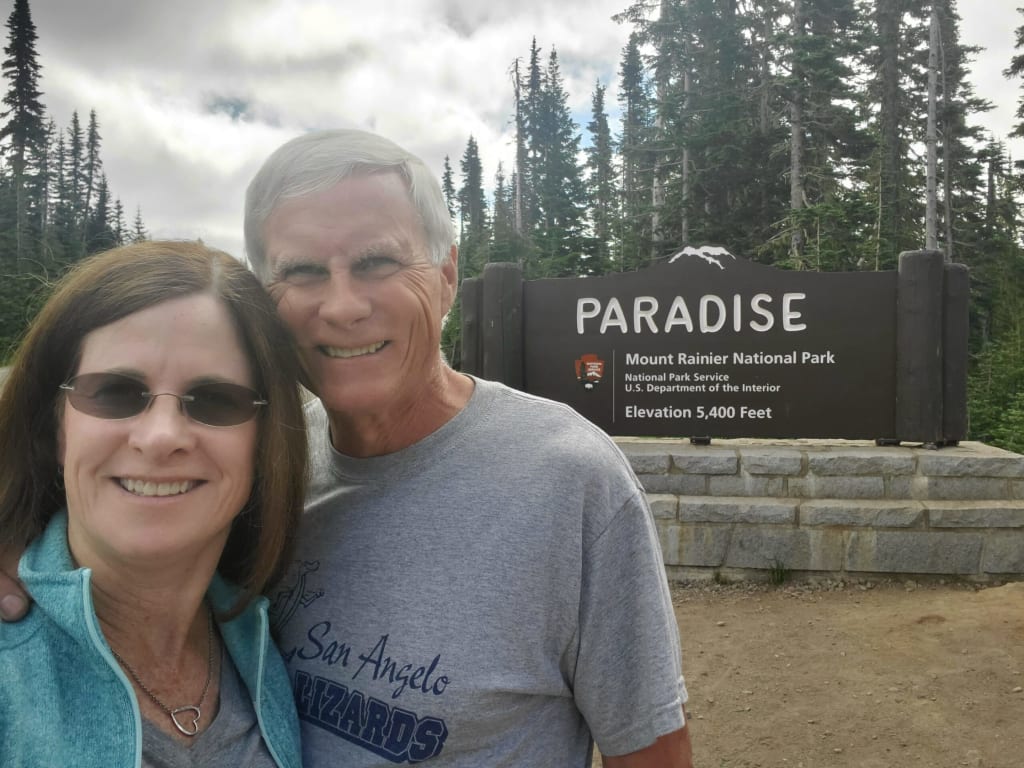 RV TRAVEL ACCESSORIES
On the Road:
As you are driving your RV down the road to many exciting destinations, it takes gas to get you there.  n a diesel motorhome, we can spend quite a bit filling our large tank. We learned that a fuel savings card was very helpful in getting discounts to save money. The trucker services based EFS fuel card has saved us as much as 70 cents per gallon at truck stops. In addition to saving money, truck fueling centers give us more room to maneuver and have faster flowing pumps. 
Hopefully all goes well on your RV travels, but sometimes things happen. Having a good roadside assistance plan, as well as a reserve of emergency savings, can get you back on the road quickly should problems arise. Roadside assistance plans usually include provisions for a mobile mechanic and/or even towing if necessary. We also use an extended warranty for our RV. While some folks we have met prefer keeping a large savings repair fund, we feel more comfortable knowing our extended warranty will cover many of our costs should the RV require work or repair.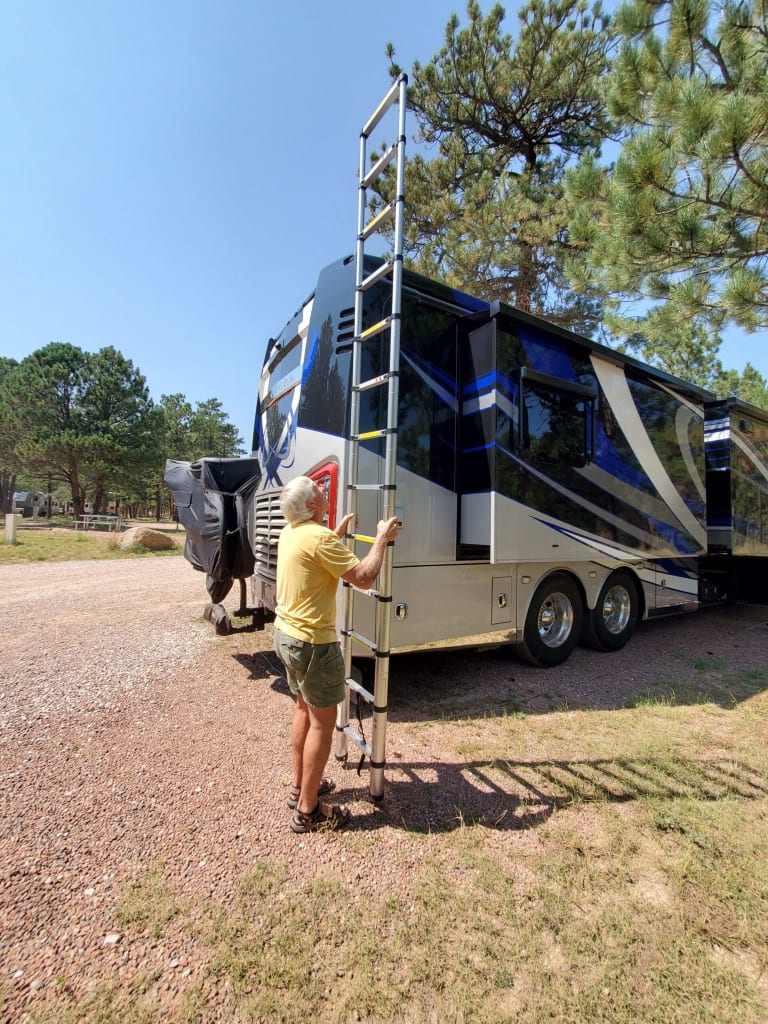 At the campground:
Our RV has a large front windshield which is great for views outside, so we meticulously clean it each time we are ready to hit the road. We purchased a folding 7-foot ladder that collapses vertically into a long thin 4×4 shape for storage. It only takes a few minutes to pull it out to clean the windshields and doesn't take up much room to store. If we need to get on top of the RV for cleaning or maintenance, we found a great telescoping ladder. It extends to 14 feet to make reaching the roof easy, but also collapses to 30 inches for easy storage. Of course, I hold the ladder when my husband goes up high to check out the roof. The combination of both of these ladders has been essential in helping us maintain our coach.
When we are parked, that great large windshield also lets in a lot of heat. At our campsite, we use our Magne Shade window coverings to significantly reduce heat while also letting us see outside. The customizable shade not only makes our coach look great but reduces the inside temperature by up to 20 degrees. The magnetic connections are hidden, and it only takes a few minutes to put up all four shades on the front and side windows. Magne Shade also offers fold-up tire covers and rear-view mirror covers to further protect your coach from sun damage.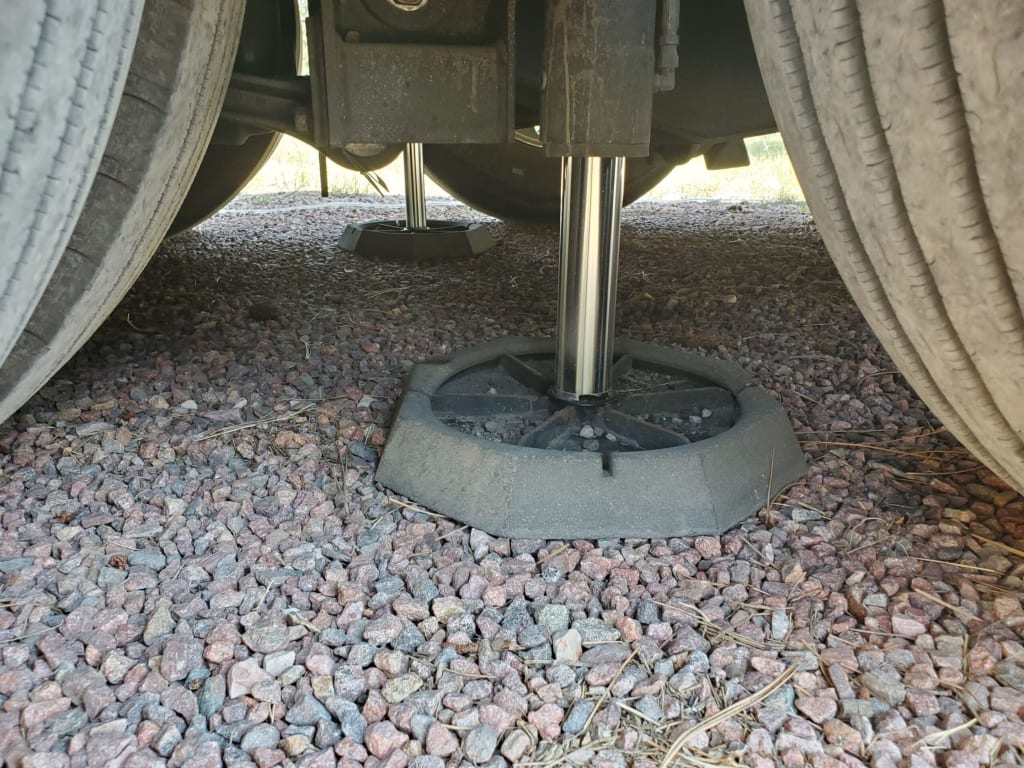 Many Rvers have pads that they slide under the RV's jacks to keep it stable on dirt or gravel. Some campgrounds actually require these pads. Setting up and removing the pads is just another chore that you must do when arriving at or leaving a campground.  We found a company called Snap Pads that designs a pad to fit directly onto your jacks, while also making the entire jack pad footing 25% larger. They remain permanently mounted, so now we don't have to worry about placing the extra pads each time we camp—they come down with the jack automatically. So much easier!
These are just a few of the RV accessories that we have found to make our traveling life more convenient. There are certainly many more out there, depending on your RV type and your needs. Anything you buy that eases your routine is worth a look because you want to spend your time having fun rather than attending to your RV. A great benefit of RV travel is seeing new places and enjoying time with family and friends. Here's to finding the best accessories to make all your trips easier and safer!