Although you're undoubtedly down for RV adventures whenever the mood strikes, your van might not always share your enthusiasm for the open road. If preventative maintenance has been lacking, then your van may fail to get fired up for your travels. You know what that means… a trip to the shop, costly repairs, and wholly derailed travel plans. Fortunately, you can potentially avoid all that by putting RV maintenance on your itinerary on the regular. Here's what you need to know.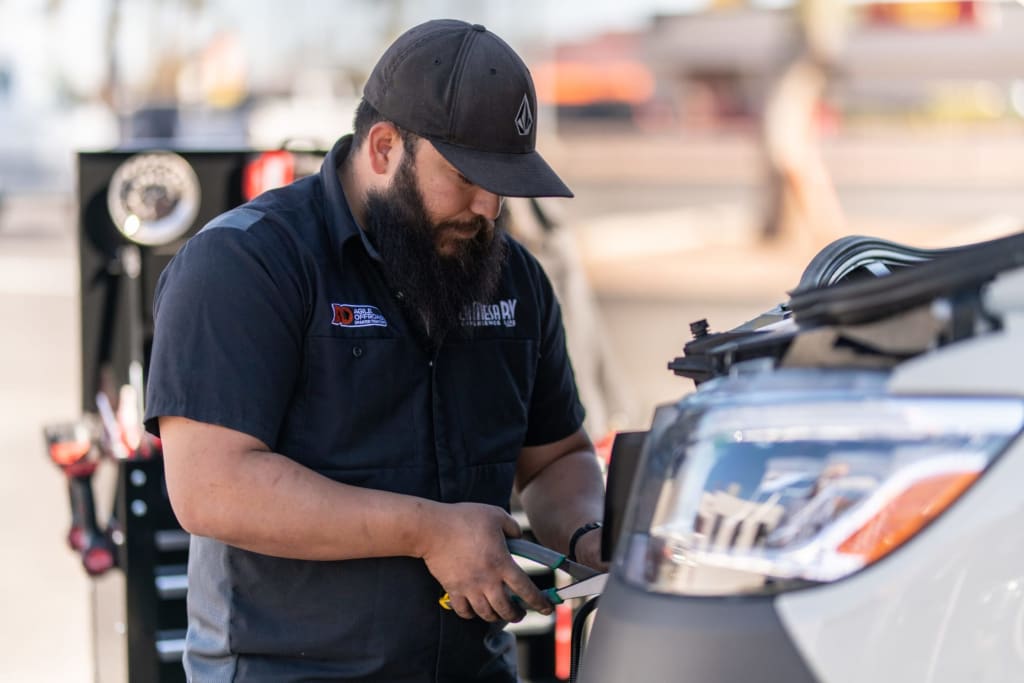 Why Complete Timely RV Maintenance
Whether you're a full-time RVer or just like to get away from it all a couple of times a year, your RV can benefit from timely preventative maintenance. Each maintenance task rejuvenates consumable parts and helps keep systems from failing while you're out on the open road. With a little effort, you can rest assured that all the systems will be in working order, no matter how far away from home you end up. Plus, staying on top of RV maintenance will help your van keep you on the road and out of the shop.
Types of Preventative RV Maintenance
Although every recreational vehicle is unique, most RVs, motorhomes, and vans can benefit from these preventive maintenance services:

Oil Change
The oil wears out over time and loses its ability to properly lubricate, clean, and cool the moving parts in your engine. Plus, it gets contaminated with dirt and debris, thickening up to the point where it cannot freely flow through all the passageways. To prevent that from happening, have the engine oil and filter changed every 3,000 to 15,000 miles, depending on your van year, make, and model. You can find information specific to your RV in your owners manual. While you're at the shop, get the rest of your fluid levels checked, too. La Mesa RV offers excellent service care. Click here to find a service location near you.
Tires
Tires are your vehicle's only point of contact with the ground, so you'll want to check them often to verify they're in good shape. Before leaving each site or before you set out on a new trip, do a quick visual inspection for damage and check the tire pressure while you're at it. If you notice any problems, ask our techs about tire repair and replacement services. Make sure to get a tire rotation done with each oil change as well.
Brakes
When it comes to bringing large vehicles to a stop, the braking system has to work overtime to provide enough stopping power. As that happens, the consumable parts in the braking system loose material, resulting in the need for brake service. For that reason, most vans and RVs need brake service every 10,000 miles or so. Plan to have your wheel bearings checked and replaced at that time as well.
Other Important RV Maintenance Services
Additional preventative RV maintenance services to consider include:
Check all the fluids, and then replace the old fluids with a quick flush
Inspect and replace the seals around the doors and windows
Clean the roof and apply a new waterproof coating
Inspect, wash, and lubricate the awning and its hardware
Service the heating and air conditioning system
Have your battery tested and serviced or replaced as needed
While getting all these services done, you can get ahead of small problems before they get worse. Your investment in RV maintenance can save you plenty of money in the long run as a result.
How Often to Complete Maintenance on Your Van
For best results, preventative RV maintenance needs to follow the manufacturer's recommended schedule. How often you must do each service depends on the miles driven or the total amount of time between service visits. If you're not sure how to best care for your RV, let our repair technicians create a preventative maintenance schedule for your vehicle. They will use the manufacturer's recommendations and your van's service history to see when to do each maintenance task.
After that, you just have to show up at any one of our LMRV service shops when your van hits the listed mileage figures. Upon getting the work done, you can head out on all your travels with confidence that your RV is ready for whatever comes your way.