With recent holidays and rolling back into work, it's easy to feel as though winter has a habit of sneaking away from us. There's so much to do and to explore in chilly climates and snowy plains. Even if you're a snowbird looking to escape the cold, there are several destinations to discover without the bustle of warm weather vacationers. From vacations to weekend getaways, we're helping you make the most out of the season with some of the most fun and exciting activities you should try before the spring season starts to creep in. You can even get started right away from wherever you may be with your RV using our list of top-rated destinations. What are you waiting for? Winter's not over yet!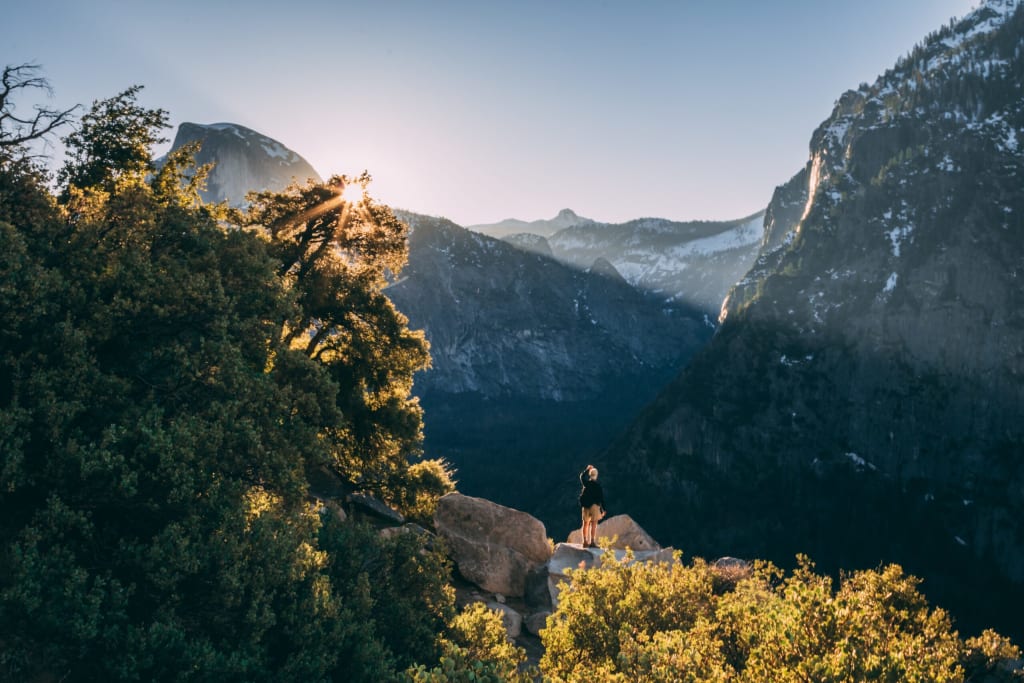 Strap on Your Hiking Boots
No matter where you are or where you're headed, a great winter hike is just around the corner. If you're looking for snowy trails, consider Montana, New Mexico, Tennessee. The pumice fields of Crater Lake National Park provide great spots for a deep blue lakeside view encompassing a pine-covered dormant volcano. Visit Oregon's Oswald State Park to hike along a stunning shoreline vista. Should desert trails call your name, Utah brings an abundance of hiking opportunities with the Delicate Arch, Bryce Canyon, and Zion to explore. You can even enjoy a particularly unique backpacking experience at the Mojave National Preserve's Kelso Dunes Trail where you can walk along the sandy knolls of the desert.
Best Winter Snow Hike Spots:
Gila National Forest (New Mexico)

Glacier National Park (Montana)

Lake Blanche (Wasatch Cache National Forest)

Methow Valley (Washington)

Mt. Hood (Oregon)

Pigeon Forge (Tennessee)
Best Winter Rock Hike Spots:
Death Valley National Park (California/Nevada)

Dominguez Canyon Wilderness (Colorado)

Garden of the Gods (Illinois)

Ironwood National Monument (Arizona)

Lost Mine Trail (Big Bend National Park)

Johnson Canyon Arch Trail (Snow Canyon State Park)

Soak in the Sun and Saltwater
Are you a snowbird seeking warmer climates? The Sunshine State is snowflake-free and full of adventure. Stroll along limestone bluffs and spot some alligators at Suwannee River State Park or go sailing along the Keys and treat yourself to the best seafood you've ever tasted. Break out your golf clubs and seek out a seaside golf resort after building a sandy snowman with the kids at the beach. Go biking, hiking or take a fishing charter at the Everglades if you're looking to get active. The boardwalks of Pa-hay-okee Trail will surround you withsubtropical scenery with grassy rivers and canopies of trees.
There are several state parks to launch a kayak or paddleboard excursion, each with a unique experience of its own. Drift along the corals of John Pennekamp Coral Reef State Park, make your way through mangrove estuaries at Cayo Costa State Park, or paddle through the masters of Anastasia State Park. There is so much to do along the southern coast that it's easy to forget that we're in the winter.

Slip into a Hot Spring
Work the kinks and knots you got from last year's travels with a steamy mineral spring visit. This makes for a great winter getaway with your loved one. There are natural and man-made springs across the country that you can dip your toes in. Bring extra layers for after you get out because the cold can get frigid after you've gotten used to the unwinding heat. Wyoming's Hot Spring State Park is home to a free spring-fed bathhouse with a view of bison and other local fauna. You can hustle for your destination with a leading hiking trail at Deep Creek Hot Springs (CA) or opt for a picture-perfect spot like the heart-shaped spring in Wild Willy's Hot Spring (CA) near Mammoth Lakes. Whether you want to soak up surrounded by snow is completely up to you as there are plenty of soothing spots to pick from.
Best Winter Hot Spring Spots:
Astoria Hot Springs (Wyoming)

Berkeley Springs State Park (West Virginia)

Goldmyer Hot Springs (Washington)

Hot Springs National Park (Arkansas)

San Antonio Hot Springs, Spence Hot Springs, (New Mexico)

Strawberry Park Hot Springs (Colorado)

Terwilliger Hot Springs, Toketee Hot Springs (Oregon)

Explore the Night Sky
The winter solstice is a great time to go out for a stargazing excursion. Bring along warm clothing and a warm beverage and park your RV in an area with minimal to no light pollution. I'd recommend finding a good pair of binoculars for a closer look at constellations and planets. Telescopes are nice but they do come with compromised mobility. You can also take the chance to go out on a night hike if you're headed to a trail that's open after hours. The peaceful nature sounds at night make the perfect pairing for night sky watching. Have a stargazing app on hand to help get familiar with what you're observing. We're often so amazed by the beauties surrounding us that it's easy to forget that there's a whole other landscape to explore just by looking up. If you're lucky, you might even catch a shooting star!
Best Winter Stargazing Spots:
Arches National Park (Utah)

Central Idaho Dark Sky Reserve

Cherry Springs State Park (Pennsylvania)

Joshua Tree National Park (California)

Mt. Rainier National Park (Washington)

Saguaro National Park (Arizona)

Hop into a Hot Air Balloon
Ballooning has to be one of the best ways to view nature from above. Even if you're afraid of heights (like me), I highly recommend trying it out. The initial launch as you lift off the ground can be a little unnerving, but once you've reached drifting height, everything goes quiet and you're surrounded by a peaceful view of the world below. Share the experience with someone you love and pick a destination you'd be thrilled to have an aerial view of. Don't forget to bring your camera! While you'll surely be taking a slew of photos, be sure to remind yourself to look away from the lens for a moment to take in the exceptional view.
Best Winter Spots for Hot Air Ballooning:
Albuquerque, New Mexico

Asheville, North Carolina

Grand Canyon, Sedona (Arizona)

Lake Tahoe, Napa Valley, San Diego (California)

Rocky Mountains, Colorado

St. Augustine, Florida

Quechee, Vermont

Cozy Up Beside A Campfire
A crackling fire can be enjoyed virtually anywhere on the map. Fire up a bonfire at the beach or create a fireside haven while you're boondocking in the wilderness. Go all out and bring your camp chairs, blankets to lay out for the kids, and some snacks for your pup. Make a meal over the open flame and finish off the evening with some s'mores, hot cocoa, or apple cider. There's nothing like catching up with the ones you love most in the heart of nature under the starry night sky. Kick off the event while the sun is in the sky so you can enjoy a stunning sunset view while you're out having a great time.
Have a Movie Night in Nature
Whether you're boondocking or taking the RV out over the weekend, round up the family for a flick in the great outdoors. You can set up a projected screen outside your RV or cozy up around the motorhome TV. Make a special event out of it by prepping some snacks whether you're craving popcorn or a winter-worthy dessert. A family-favorite board game around the dinette or beneath your patio awning is a great way to connect and kick off the evening. Stay in your pj's and have the kiddos bring along their favorite stuffies. This serves as a sweet and simple change of scenery from the confines of your forever home.

Take on the Snowy Slopes
Winter is a wonderful time for the truly active. Go skiing, snowboarding or sledding to your heart's content. If your kiddos are thrill-seekers too, you can bring them along to the bunny slopes. Whether you wish to treat yourself to a resort visit or would like to conquer some natural snowfall, you have several icy spots to accommodate your adventure needs. Montana's Big Sky Resort can never let you down with over 400 inches of annual snowfall. Steamboat Springs in Colorado has an incredibly diverse variety of slopes for the whole family to enjoy. Lake Tahoe's seasonal ski lifts open to the public annually, providing a breathtaking view of surrounding nature. Now is the time to gear up and get your frost on!
Best Winter Sport Spots:
Aspen, Keystone, Telluride (Colorado)

Bend, Oregon

Deer Valley, Park City Mountain (Utah)

Jackson Hole, Wyoming

North Conway, New Hampshire

Stowe, Vermont

Sun Valley, Ketchum (Idaho)

Taos, New Mexico

Whitefish, Montana

Have a Snow Day With the Kids
Nothing beats family time in the snow. Bundle up the kiddos and take them out to play in the frost! Build snowmen, make snow angels, build snow forts and challenge them to a snowball war! You can even bring along a blanket to have a picnic in the snow! Some sports can be enjoyed year-round, so if the kids are partial to football or soccer, bring a refreshing new angle to the game by playing a few rounds in the snow. If the windows of your RV are covered in frost, invite the little ones to draw out a picture and sign with their names. Don't forget to take their photo beside their masterpiece! Once the kids are tuckered out, you can continue the fun inside the RV with some snowflake arts and crafts or by bringing a bin of snow inside for them to play with some paint!
Try Something Wild: If you're in an area that has below-freezing temperatures, try blowing bubbles outside and watch them freeze!

Spend a Winter Day With Your Furry Best Friend
Cold climates mean more activity without breaking a sweat. The winter also brings new exciting landscapes for your four legged best friend to explore – so why not take the time to bond with your pet? If your dog has a short fur coat, treat them to a winter jacket to keep them safe and warm from the cold. You can also invest in booties if you want to go the extra mile (and if your pup allows it). Go hiking, running or playing fetch with your pup. If you're crafty with snow, you can create a snack-time scavenger hunt. If you're comfortable with skis and you have a large dog, you can harness and leash up for a bit of skijoring – a cross between cross-country skiing and dog sledding. Should you be road tripping by Lancaster (PA), be sure to stop by That Pet Place – the world's largest pet store, filled with over 88,000 square feet of goodies for your pup.
Are you in the midst of charting out your RV adventure plans for 2022? To help you hone in on the best spots to explore across the country, check out our full list of Top RV Destinations of 2022! We're covering a healthy trail-mix of landscapes and seasons to meet every type of RV vacation goal.