We loved visiting Walt Disney World many years ago when our two children were young but wondered if we would we have fun going back as empty nesters. The answer is a resounding YES! It was surprising to see that there were quite a few of us there without little ones. No matter what your age, it's easy to embrace your inner child and have a ball at the most magical place on Earth.
Walt Disney World has four different theme parks allowing you to explore amazing new lands and one-of-a-kind attractions. Not only that, the Disney empire also includes two different water parks and a shopping and entertainment mecca at Disney Springs. You can even stay on the property at one of the 34 Disney Resort hotels, which range from an RV campground and budget-conscious options to luxurious deluxe accommodations.
Guest Post by Robin Buck
Before You Go:
As empty nesters it was much easier to plan our trip to Disney this time around. School and work schedules were not an issue in finding a good time to visit and we could go during off-peak dates for lighter crowds. It was definitely more budget-friendly to buy tickets for two people rather than for a whole family. Additionally, we were free to plan what we wanted to see and do without considering ages, heights, attention spans, or nap times of little ones.
Here are some important planning tips we learned:
• If you want to stay on Disney property, making your hotel reservations early is key – especially if you are traveling during peak periods like Spring Break, Summer Break, Halloween, or Christmas. We stayed at Disney's Fort Wilderness Campground in our RV and booked our reservations about 10 months out. Besides being close to the parks, staying on Disney grounds also gives you the benefit of easy, free transportation to the parks and early park entry.
• As soon as you have your hotel reservations, purchase your Disney Park tickets. You can buy tickets for each park separately or get package discounts for multiple parks. Do your research online because many different deals are out there, some even include hotel and park ticket combinations.
• In addition to purchasing a Disney Park ticket, you must now make a Disney Park reservation for the specific day and park you plan to visit. This allows Disney to track park attendance and control crowd levels (thank Covid-19). If you have the time, I recommend planning for a rest day or two between parks to avoid tired, sore feet.
• Definitely get the My Disney Experience app on your phone before you go. The complimentary Genie service makes everything easier by allowing you to manage your tickets, reservations, and MagicBands. It also has a Tip Board to track waiting times for rides, make dining reservations, order mobile food, see park maps, and much more. You can get this app anytime so make it a priority to spend time getting comfortable with all the features before you go.
Planning Your Time:
One thing we had forgotten is how much walking and standing and waiting happens at theme parks. Keep that in mind when you are planning your footwear for the day. The good thing is that you can stop and rest whenever you like because it's just the two of you! Since we were only spending one day in each park, we paced ourselves so we could stay the whole time and enjoy everything.
Here are some tips to help in your preparations:
•Get a good night's sleep so you'll be ready for an early start (we love having the RV and our own comfy bed). If you are staying on any Disney Resort property you get early park access and can take the free shuttle bus service to each park. It's great to beat the crowds and get in line early for popular attractions.
•Choose whether you want to pack some food or drinks to take with you. There are a lot of food options in the parks from sit down meals to quick pick-up snacks. We wanted to experience some restaurants, but we brought our own food on a few days to cut down on expenses.
•Decide if you want to purchase a Park Hopper Pass to allow you to visit more than one park a day. We purchased this for our visit but knowing what I know now, I would skip it. It is advertised as giving you flexibility, but we typically spent a whole day in each park and really didn't have time to run over to another park. (Park Hopper Plus also includes the water parks and mini golf).
•Figure out if you want to purchase Genie + for fast Lightening Lane entry to rides and attractions. This was a game changer for us and definitely worth the $20 extra cost. We never waited more than 10-15 minutes for a ride or show when others waited up to 3 hours (in the standby lanes) for the most popular ones! You can start scheduling your rides using the app as soon as you get in the park.
•For the 2 most highly popular attractions in each park, Lightening Lane access has to be purchased separately even with Genie +. These entrance options can be purchased starting at 7 am each day and fill up very quickly. Prices range from $7-20 per ride. Since it was only 2 rides, we felt this was worth the expense to save very long line waits—these are the ones that can be several hours long.
At the Parks:
We spent a whole day in each park to get the most out of our visit. We started when the park opened and stayed for fireworks at the end. Good planning using the Genie+ helped us to get in all of the attractions we wanted to see, and still allowed time for rest breaks and food. We came all this way to experience the magic, so we wanted to enjoy it all!
Here are some tips for each park:
•Animal Kingdom has more than 2,000 animal species over its 500 acres. Our favorite rides were Avatar Flight of Passage and Kilimanjaro Safaris (we love seeing animals), but there are so many good ones here. Make sure to see the 145-foot-tall Tree of Life which has over 300 animal carvings honoring nature's diversity. There is a very colorful parrot show in front of it during the day and it comes to life with lights, music, and colorful images after dark each night.
•EPCOT's World Showcase makes it fun to experience attractions, culture, food, and products from 11 different countries. There are also interesting EPCOT sections devoted to world and nature discovery. Our favorites rides were Soarin'Around the World and Spaceship Earth (slightly dated, but really interesting), with Ratatouille a close third. Epcot's nightly fireworks show called Harmonious is one of the best we have ever seen and worth staying out late for!
•Hollywood Studios has attractions that center around favorite movies like Star Wars and Toy Story. We liked the Star Wars: Rise of the Resistance and Star Tours: The Adventures Continue rides. The nighttime fireworks had not resumed at the time of our visit to this park.
•Magic Kingdom is the quintessential amusement park but has a good selection of shows, performances, and shops as well. We especially liked Space Mountain, Jungle Cruise, and It's a Small World (an iconic, sentimental favorite…I'm still humming the tune!). The nightly fireworks over Cinderella's Castle are worth staying for at this park as well.
•We spent an afternoon at Disney Springs which is a great place if you want to do some shopping and eating. We thought Cirque du Soleil's Disney show called Drawn to Life was even better than some of their other shows we've seen in Las Vegas. We also visited Disney's Fantasia miniature golf courses where 2 different levels offered something for everyone. We did not go to the water park due to time and mostly the weather in early January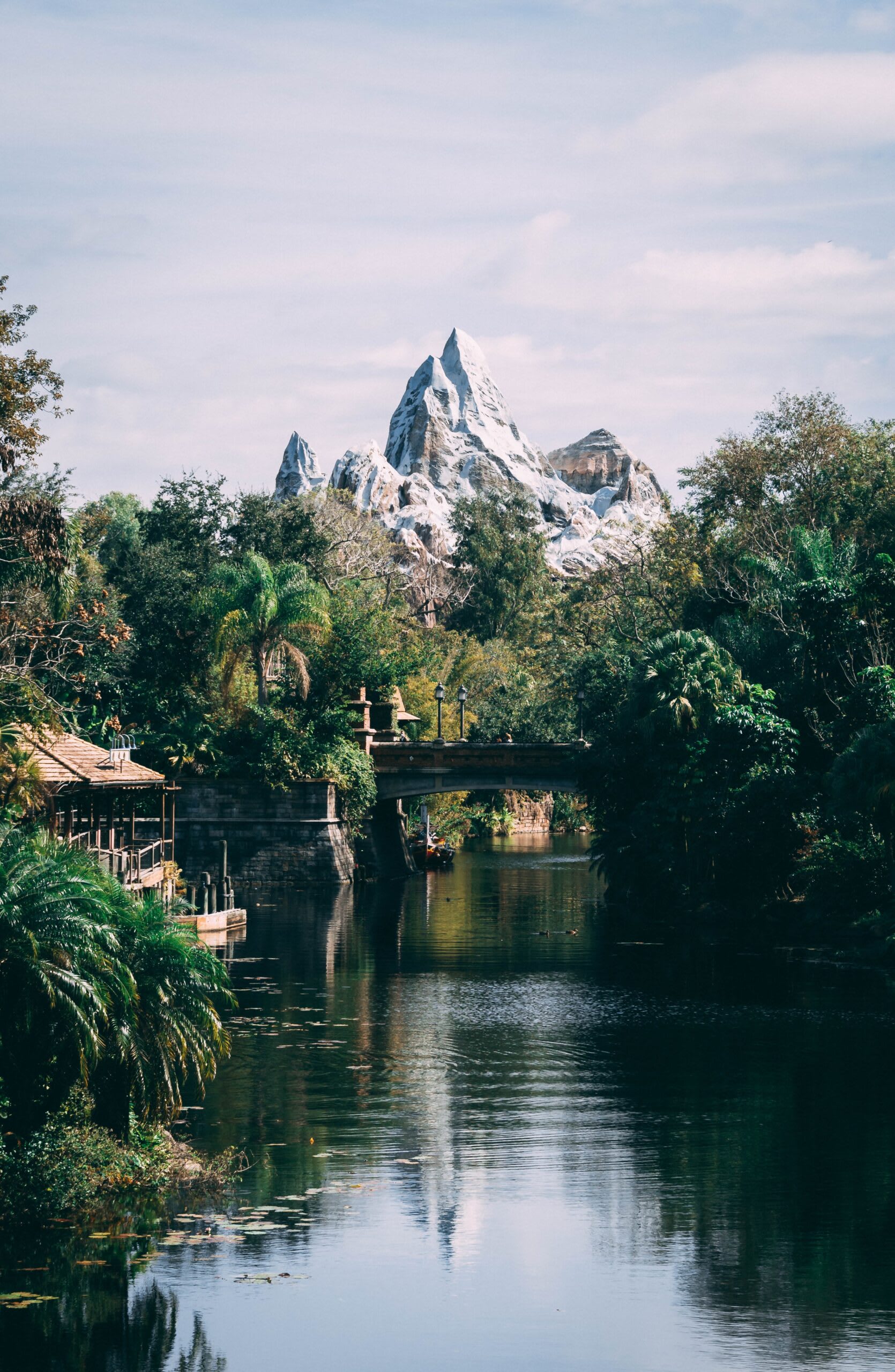 Enjoy Being Empty Nesters:
We loved our stay at Disney, from the campground at Fort Wilderness to all the parks. It was fun to do things our way as empty nesters and spend as much or as little time where we wanted. Yes, I looked at all the little girls dressed as princesses and thought about being there with our kids years ago. But we enjoyed our time feeling young again on the rides, eating ice cream treats, and buying souvenirs. We decided that even though our experience was different this time, we can say that Disney still holds all the magic for adults too.
Robin and her husband, Mike, are Air Force veterans and empty nesters who travel full-time in their Entegra Anthem motorhome. Always ready to explore, they love nature and wildlife, meeting new friends, and discovering America's many hidden gems. Robin chronicles their adventures and experiences on her travel blog RVing with Robin.